USA vs. Mexico: Evaluating Jurgen Klinsmann's 1st Game With USA Men's Soccer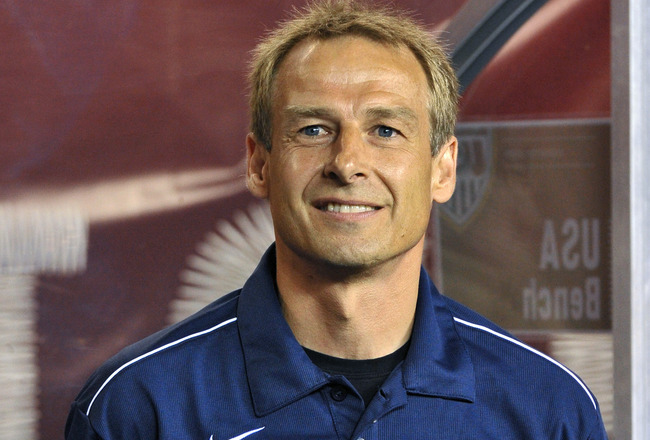 Drew Hallowell/Getty Images
The United State's Men's National Team is a team on the rise. There is more youth and talent coming through the system then there ever was before.
The United States is still not a soccer nation, and that is why hiring Jurgen Klinsmann was the right choice. Klinsmann is a man who wants to have control over the workings of the system and will help the United States model itself after successful European countries.
Bob Bradley was a great coach that deserves respect but he brought us the furthest he could. His tactics were becoming stale and needed to be reinvented, but he was not changing, so the United States Soccer Federation had to make a change.
Jurgen Klinsmann had his first game as the United States last night in a friendly against Mexico. It ended as a 1-1 draw, but there were many things to take from it.
First Half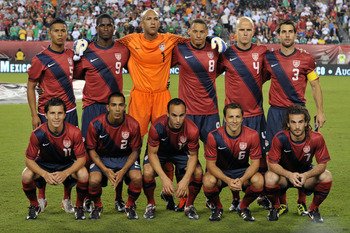 Drew Hallowell/Getty Images
Jurgen Klinsmann was expected to start a very offensive minded lineup but instead put three holding midfielders into his five-man midfield.
This dictated how the first half went.
Michael Bradley, Jermaine Jones and Jose Francisco Torres all started together, and it almost seemed like Klinsmann was auditioning the trio.
All three players are defensive minded who pass from deep. Torres has a little more flare then Bradley and Jones, but the other two are more hardnosed players.
It would have been interesting to see what would have happened if Maurice Edu was also healthy and available in this game. Would he too have been auditioned with the trio?
The midfield seemed very clogged at times, and the quick Mexican team took advantage. They held onto the ball and worked their way around the United States 18-yard box for a lot of the first half.
Mexico got a goal by firing a cross and putting out a leg for it to ricochet off of. The goal was not Mexico's most impressive work in the half but they deserved something for how they kept the Nat's on their heels.
The United States on the other hand ended the half with zero shots, zero shots on goal and zero corners. This was not what people expected out of Klinsmann; it seemed more Bob Bradleyesque.
Second Half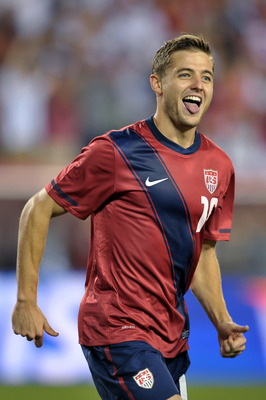 Drew Hallowell/Getty Images
Jurgen Klinsmann made changes during the second half that sparked the offense and made the United States show life.
Klinsmann brought on Brek Shea, Juan Agudelo, and Robbie Rogers whose speed and aggressiveness helped open up the game.
All three players did not look afraid to challenge the Mexican players and this came together when Shea used his strength to fend off a defender and send a one touch pass across the goal where Robbie Rogers had run away from his man and was standing alone to tap it in.
The national team was on the board and kept pushing the pedal after this.
In the second half, there was a penalty call that appeared to be missed when Landon Donovan got clipped in the box, and there was a yellow card given to a player who should have been shown a straight red.
These points are not brought up to wine that the United States got cheated like most people will claim. They are being brought up to show how the United States was the ones testing El Tri's backline and winning the battle in the second half.
This second half is exactly what Jurgen Klinsmann was brought in to do.
Brek Shea, Robbie Rogers, Landon Donovan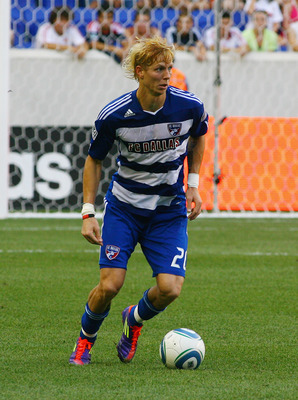 Andy Marlin/Getty Images
These three players impressed in the second half of the game.
Brek Shea's demeanor was entirely different from his other caps. He was a player with confidence who was showing why he deserved to be there.
He made good runs, linked with his teammates well and displayed speed and strength that are going to be needed if the United States wants to contend with the stronger soccer nations.
Robbie Rogers is a player who seemed like he was on the outside looking in.
Last night Robbie Rogers in his limited action looked like a player who wants to grow and develop into an international caliber player.
He used his speed to stretch defenses and his runs off the ball looked intelligent and very different from ones he was doing the past two campaigns for the National Team.
Has Rogers proven himself certainly not yet but if he keeps playing like this under Klinsmann he might just get himself back into the fold.
Landon Donovan looked like the Donovan of the Gold Cup in the first half. He was on the field and had a few touches but never got integrated into the game.
In the second half when Klinsmann brought on more speed, it gave Donovan more freedom offensively, and it saw him running and attacking the Mexican defense and taking chances.
Donovan in the box near goal is what the United States National Team needs, and in the second half, it was something fans saw.
The real question with Donovan will be if Klinsmann will give him this offensive liberty all of the time.
Edgar Castillo and Jose Francisco Torres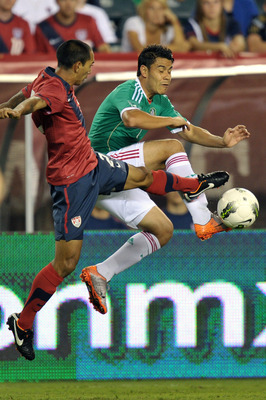 Drew Hallowell/Getty Images
Two question marks of the night were Edgar Castillo and Jose Francisco Torres.
The two players did not seem involved in the game. Both appeared to be lost at times.
Edgar Castillo was good defensively, but when it came to being on the ball, he looked sloppy and lost.
Castillo had bad give away's and shanks to round off his offensive performances.
Jose Francisco Torres did not help his cause. Many fans were asking for Torres to be given a chance under Bob Bradley and were upset with his lack of opportunities.
If Torres continues to utilize his opportunities to put in bad performances where he seems like he does not want to get involved then he is going to get pushed out by the likes of Kyle Beckerman who looked surprisingly good in the game with his one-touch passing and poise while in possession.
Grade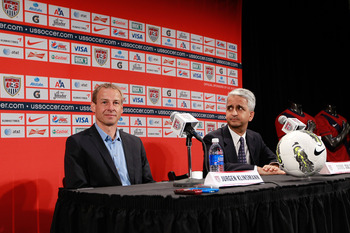 Chris Trotman/Getty Images
Jurgen Klinsmann's performance as manager was admirable. He has a lot of room for growth, but it is certainly not a bad result in his first game.
He had a mix of A- and B-team players which is factored into this decision. Klinsmann deservingly got a B+ for this performance.
He put on the changes that impacted the game and displayed how he is going to put his trust in youth during the game.
This type of attitude is what will mark his time as the United States Men's National Team coach.
His ability to make changes to force the hand of the opponent is going to be important. He will create game plans that have an emphasis on different tactics and stick to them he will not be looking like he is making it all up on the fly.
He also will be bringing in young and new faces as the older players who have been so trustworthy for years start to hang up their boots.
An emphasis on youth development and giving youth chances will help the United States start to battle against the bigger programs in the world.
Is Klinsmann the man that will make us into one of the best in the world? Probably not we are very far from that right now, and his tenure as coach would have to be for a very long time for him to do that.
Klinsmann will put us on the path to get there though and a good guide is what we need right now.
Klinsmann will bring the United States even further than his predecessors and as long as our team is continuing this growth fans should be proud and pleased with the team.
Keep Reading

United States (National Football): Like this team?