England Riots: Premier League Opening Weekend Under Fire in London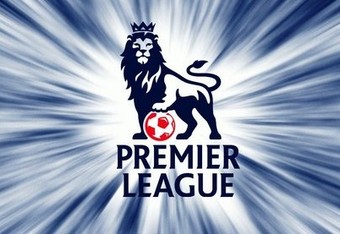 With the dawning of the 2011-12 Barclays Premier League season a mere two days away, the excitement is palpable, as teams prepare to wage battle on football pitches throughout England.
Unfortunately, the mood has dimmed over the last week, as turmoil sparked by a police-involved shooting death in Tottenham has spread from North London to cities across the nation.
On Aug. 4, an incident surrounding an attempted arrest resulted in the shooting death of Mark Duggan, an alleged gang member who was being targeted in a sting operation by London Metropolitan Police.
Initially, a peaceful protest was held to voice displeasure over the manner in which police handled the arrest which led to the shooting and the lack of information provided in regard to the fatal incident.
That protest soon became violent, with segments of the crowd attacking police cars, while burning and looting buildings as riots erupted in the streets of London.
Pre-existing tensions in the area provided a springboard for the violent drama, as race issues, economic depression and lingering frustrations culminated in a tumultuous uprising.
The unrest caused four Carling Cup matches to be postponed upon recommendation by police, due to safety concerns.
Matches between Charlton Athletic/Reading, West Ham United/Aldershot Town, Crystal Palace/Crawley and Bristol City/Swindon were moved to later dates to allow for the situation to stabilize.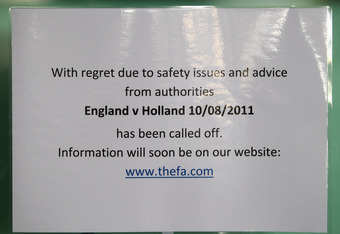 Julian Finney/Getty Images
A round of international friendlies, to be held in the London area were also canceled, as police could not guarantee the safety of supporters traveling through the areas under continuing threat of violence.
On Tuesday, Aug. 9, the friendly between Nigeria and Ghana, which was to take place in Watford, was canceled as a precautionary measure.
The next day, the highly-anticipated match between England and the Netherlands, to be played at Wembley Stadium on Wednesday, Aug. 10, was called off due to further safety concerns.
These cancellations prompted significant concern over the potential postponements of matches over the coming weekend.
In a joint statement, the Premier League and the Football League moved to quell fears over the upcoming fixtures, stating that they are constantly reviewing the situation but do not expect to cancel matches outside of London.
Over the course of the ensuing week, violence, arson and looting has spread from London to Manchester, Liverpool, Bristol and numerous other municipalities.
Thankfully, reports are emerging that the tension is subsiding, with reports of incidents down after a significant police presence was deployed in areas of significant disturbances.
Still, police have concerns over the ability to protect hundreds of thousands of fans who would have to travel through potentially dangerous areas en route to the weekend's football matches.
Footballers themselves have even weighed in on the subject, with many speaking out in support of the police recommendation to postpone the scheduled fixtures.
Tim Cahill of Everton, scheduled to open the Premier League season at the epicenter of the entire ordeal in Tottenham, spoke out in favor of rescheduling the matches later in the season.
Speaking out on the matter after Australia's 2-1 win over Wales on Wednesday, Cahill was quoted as saying, "We could only play for the right reasons. The main thing is, you have to think about the police who are working day in, day out."
He continued, as he said, "The ambulance, the firemen - they are human beings. We need to reward them, people need to help them. I know it's not up to us, but that is important. For us if we have to sacrifice an extra week at the end of the season to finish off the games, then so be it.
For me, being in England for 14 years now, it's important that everyone pulls together and makes sure we get back together again. You have to make sure no one gets hurt.''
One of Cahill's scheduled opponents, Rafael Van der Vaart of Tottenham, shared the same sentiment, as he said, "I ask myself whether the league matches at the weekend will be able to go ahead. Right now, I can't imagine it."
Van der Vaart had also been scheduled to play in the canceled Netherlands friendly against England, of which he said, "I saw the TV pictures from London and the chaos there at present is unbelievable. With things as they are, there is simply no way to organise a big international match safely."
Michael Steele/Getty Images
His teammate, goalkeeper
Heurelho Gomes, admitted his concerns, as well as those of other players when he said, "We talk to know what's going on. The subject is usually the fact that people think that this only happens in Brazil, these episodes of violence, they think they are safe in England. But the truth is that you are not relaxed anywhere in the world anymore.''
With such widespread violence in several city centers around England, one can understand the concerns of police, the leagues and players.
Though we've been eagerly anticipating the thrilling return of football action after a summer of waiting patiently, occasionally real life interrupts to put our passions in perspective.
As badly as we desire these matches to continue on, the realization that peace and safety are of paramount concern must take precedence over our fervent love of football.
This article is
What is the duplicate article?
Why is this article offensive?
Where is this article plagiarized from?
Why is this article poorly edited?