USA vs. Mexico: 5 Things Jurgen Klinsmann Learned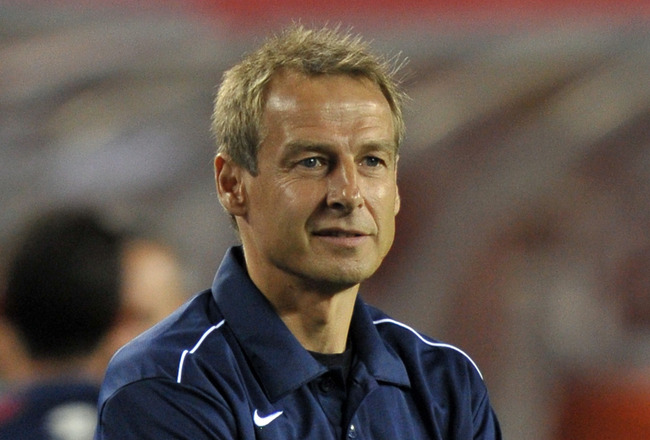 Drew Hallowell/Getty Images
Jurgen Klinsmann's reign as the coach of the US Men's National Team got off to a good start Wednesday night with a 1-1 friendly draw against Mexico in Philadelphia.
The first half was pretty much a nightmare for the US. Mexico ran all over the pitch and passed the ball wherever they wanted.
Despite that, Mexico's goal came out of nowhere, as Klinsmann noted during hafltime.
It was as entertaining a friendly match as you could want, and here are five things that the new American coach learned from USA vs. Mexico.
5. Defense Still a Problem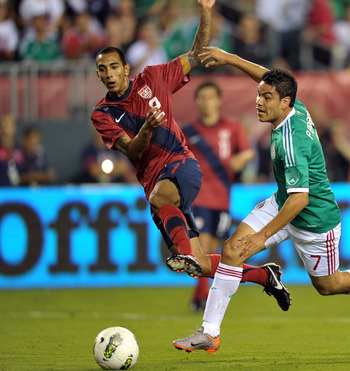 Drew Hallowell/Getty Images
The defense was woeful against Mexico in the Gold Cup Final, and it was understandably altered for this friendly rematch.
Edgar Castillo and Orozco Fiscal joined Carlos Bocanegra and Steve Chreundolo in the back line, and while both were good, neither locked down the position.
Oguchi Oneywu is a completely different player since he injured his patellar tendon, and it's a shame after the promise he showed in the 2009 Confederations Cup. It leaves Bocanegra without a solid partner in the center of defense.
At left-back, Castillo showed good skill and pace at getting forward, but his defending didn't cut it. Defending set pieces was also not incredibly convincing, especially when it came to getting second balls.
Defense is definitely Klinsmann's biggest area of concern.
4. Ball Watching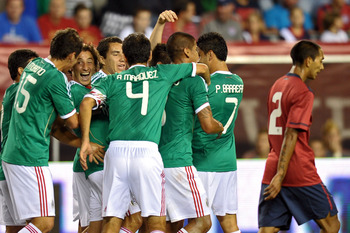 Drew Hallowell/Getty Images
For much of the first half, the US got caught ball watching and were lucky Mexico only punished them with one goal. In real games, it'll be at least two.
The US looked confused and lost much of the time during the first half, and the shape broke down too easily.
The US were clearly a different side after halftime, even before the substitutions, but that's not always enough.
Jurgen Klinsmann needs to figure out how to inspire his team during the half because sometimes, halftime can come to late.
3. Michael Bradley Is a Holding Midfielder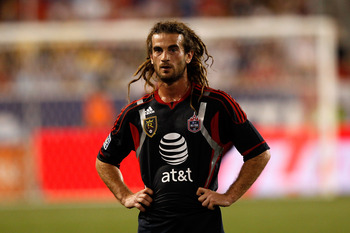 Mike Stobe/Getty Images
Kyle Beckerman did a good job as a holding midfielder on Wednesday, but it meant Michael Bradley was pushed forward and was ineffective.
Bradley is better at holding the ball, winning it and at setting off the attack, so he is certainly someone you don't want to see wasted during the game like he was against Mexico.
The two could make a good pair sitting just in front of the back line, or Beckerman could push a little farther forward.
Bradley was never selected just because his dad was the coach. It's because he is good at controlling the game, and that's what the US need to do more of throughout a match.
2. Let Landon Play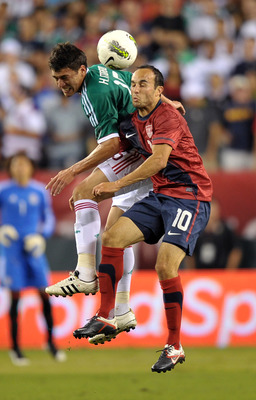 Drew Hallowell/Getty Images
If Jurgen Klinsmann wants 10 Landon Donovans, he better make sure they're the useful kind.
The Landon Donovan in the first half against Mexico was restricted, rarely got forward and spent most of his time chasing the ball.
In the second half, he moved up to just behind the center forward, and the team was much better for it. He was one of the numerous players moving forward with the ball and getting in dangerous positions, and had he slid the ball across the face of goal a time or two, the US could've snuck away with a win.
Donovan is pretty useless as a lone striker or on either wing. Sitting right behind the striker however, he can get on the end of loose balls just outside the area and he can create chances from the middle of the pitch.
And that's the kind of Landon Donovan that's worth having more than one of.
1. One Striker Isn't Enough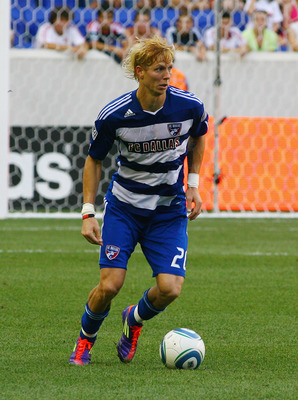 Andy Marlin/Getty Images
One central striker just doesn't cut it in any form of football these days, on any level. And neither does four in midfield, so that's something Jurgen Klinsmann will need to find a way around.
Edson Buddle was all by himself up front in the first half and could not do a thing about the way the game unfolded.
Juan Agueldo came on in the second half along with attacking midfielder Brek Shea, and Landon Donovan pushed forward as well, pretty much giving the US at three-man front line, with goal scorer Robbie Rogers in the mix as well.
Clint Dempsey can play as a striker when he comes back to the side, and he and Donovan play very well off each other.
Shea was probably the biggest bright spot for the US in this match, and he's more than earned his call-up for the next match.
Conclusion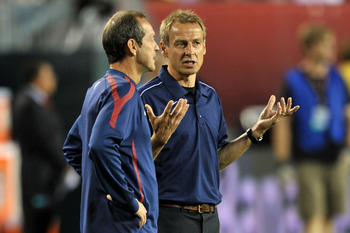 Drew Hallowell/Getty Images
Jurgen Klinsmann had a great first match in charge for the US, and all that was missing was the meaningless win in a friendly match.
The first half showed him a lot of problems that need fixing with solutions not that difficult to fathom. The second showed him what he has to build on.
He can also call-up Clint Dempsey and Stuart Holden for the next friendlies, so he hasn't even seen everything the team has to offer yet.
Overall, a bright start indeed to the Klinsmann era in the USA.
Keep Reading

United States (National Football): Like this team?