Manchester United Transfer News: Today's Latest Gossip on Wesley Sneijder Deal
August 10, 2011
Valerio Pennicino/Getty Images
Manchester United's quest to land Inter Milan star Wesley Sneijder is coming to an end, as United have nearly completed a move that would make them instant contenders to beat Barcelona in the Champions League next season.
The move would fill the only real void in United's roster, giving them the dynamic playmaking midfielder they lack, and would confirm their status as heavy favorites to grab the Premiership title for the second straight season.
According to a report from Mirror Football, United believe they can complete a deal for the 27-year-old dynamo within the next two days, bringing an end to a courtship that has lasted throughout the summer (and even stretches back to January). 
Per that report:
The Dutch midfielder was hoping to hold formal talks with the Premier League club in London on Thursday, following his country's friendly international with England at Wembley.

But the riot-induced postponement of the fixture has moved that process forward, and now the 27-year-old will speak with his club, Inter Milan, on Wednesday to seek permission to begin negotiations in earnest.
The deal is believed to be worth approximately £32 million to Inter, who are strapped for cash and could use a big influx like that in the near future. 
In fact, the only real hurdle left to clear is the salary issue. Sneijder is currently making  £250,000-per week at Inter, but paying him that kind of cash would throw off United's pay scale, in which Wayne Rooney is supposed to be the highest-paid player. However, the club believe they've found an acceptable compromise with the Dutch playmaker, in a deal that would pay him close to  £190,000 plus image rights fees he wasn't entitled to at Inter.
Even Sneijder seems to be ready to leave the Italian giants, as an ESPN Soccernet report indicated that he'd fancy a move to United. 
Per Sneijder himself:
Asked if he was keen on a move to Manchester United, Sneijder has now said in a video interview with nos.nl: "Yes, but Manchester United haven't made an official approach yet. There have been unofficial talks, there have been contacts, but then there are always contacts. I have contacts with everybody - you know that [laughs].
From the sound of things, everything here has taken place off the record. United haven't made an official approach as of yet, but that seems to be because United wants the official process to go as smoothly as possible.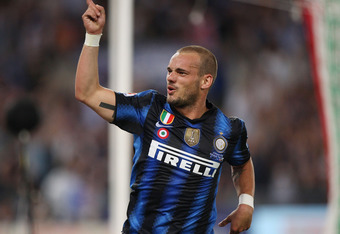 Paolo Bruno/Getty Images
If United manage to finish a deal to grab the Dutch superstar, he gives United the final piece of the puzzle they need to all but lock up a second straight Premiership title. 
Sir Alex Ferguson's club has been in need of a playmaking midfielder for the last couple of seasons, and Sneijder fills that role beautifully. His ball-handling skills and passing ability make him the perfect complement to the weapons already in United's arsenal. While players like Anderson have the skills as a passer, Sneijder's ability to make runs and score from distance adds a wrinkle that few of the other central midfielders on United's roster possess.
On top of that, the Dutchman gives United a clutch performer in the midfield. He's been downright stellar in big games in his career, and doesn't shy away from the big stage. For a club like United, he's a perfect fit. 
Even Sneijder's demeanor as a competitor and leader makes him a great fit at Old Trafford. He's a proven leader, and was one of the clubhouse captains at Inter, and won't let his club quit on a match. 
While it's tough to see a deal being completed in the next couple of days, it is a real possibility for United. He's a perfect fit for Ferguson's squad, and if United have agreed to terms with Inter unofficially, it wouldn't surprise me to see this one get done in the next couple of days. One way or another, a deal looks imminent, and it would appear that United are going to get the man they wanted in the midfield, after all.