English Premier League: The 11 Best Youngsters to Watch in 2011/2012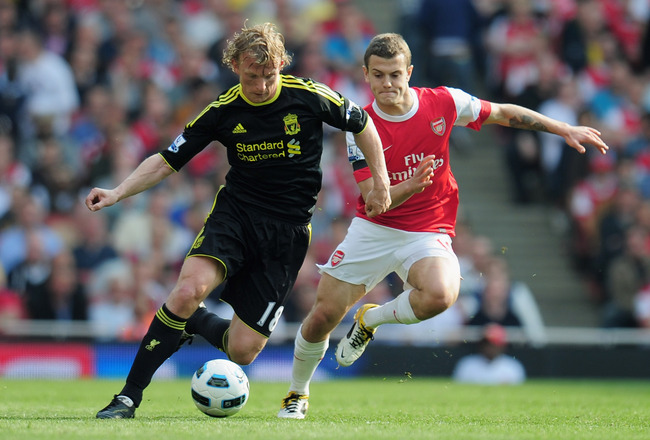 Shaun Botterill/Getty Images
The English Premier League will commence in under a week provided the notorious riots subside rather than intensify. It is destined to be a stunning campaign as the influence of investments, young development and new tactics ensure a more tense and thrilling campaign then the previous.
Although there is talks that the shock riots that have emerged in London and have since spread to Liverpool, Manchester and Birmingham could result in the postponement of the commencement of 2011/2012 campaign, it is expected that the season will begin come the weekend.
The Premier League is widely considered the best football league in World Football, boasting the best players and the best youngsters. Maturity is something that is vital in the EPL and due to the high number of young guns who grace the English pitches, it is predominantly a blessing watching young talent grow.
It is astounding to think that some of the best players in the Premier League are still in their teenage or early 20s. Last season's PFA Young Player of the Year, Jack Wilshere, is only 19 yet conveys amazing maturity and composure in Arsenal's midfield. Furthermore Wayne Rooney debuted as a 16-year-old for Everton in 2002 and has now become one of the best strikers in the world and amassed over 400 professional appearances.
Youngsters will again thrive in 2011/2012 with more and more teams turning to internal youth players to fill voids left or unfulfilled by older, more experienced men. To tribute the upcoming campaign, BleacherReport establishes the 10 best youngsters to watch in 2011/2012.
One may argue what defines a youngster, as many young players possess the experience of older players. This slideshow focuses more on the players yet to fully blossom in the English Premier League.
10. Pajtim Kasami, Fulham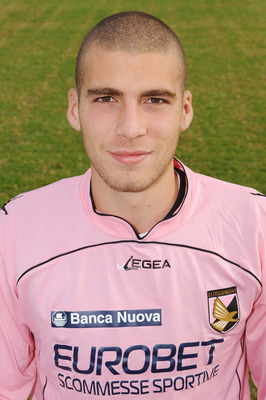 Tullio M. Puglia/Getty Images
A summer signing for Fulham from Italian outfit Palmero, the Swiss midfielder is an immensely promising prospect who was beginning to rise to fruition last season. An imposing, creative and intelligent midfielder, Kasami amassed 24 appearances in 2010/2011 and was touted as one of the best youngsters in the Serie A.
The 19-year-old is set to play a strong role in Fulham's upcoming Premier League campaign with newly appointed manager Martin Jol impressed. Kasami recently showed well in the U-21 European Championships, conveying great flair and passing as the Swiss advanced to the final before losing to Spain.
The Cottagers are eager to embark on a strong campaign and challenge for UEFA Cup qualification and the added height, power and creativity that Kasami can enforce is sure to help the Londoners.
9. David Hoilett, Blackburn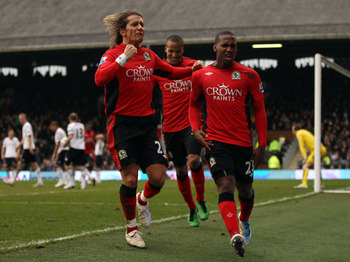 Richard Heathcote/Getty Images
The Canadian striker began to fulfill his promise last season as his energy, goals and form became a bright light in an otherwise dark season for Blackburn. The 21-year-old amassed 28 appearances and six goals as Rovers narrowly avoided relegation.
Hoilett now possess adequate experience in the Premier League and with a strong opportunity to cement his position in the Blackburn forward line, many are expecting the Canada international to thrive in 2011/2012.
An academy junior, Blackburn managed Steve Kean is eager to secure Hoilett on a long-term contract. A strong, quick and clinical forward who can play anywhere in the front line, David Hoilett is certainly a youngster to watch this season.
8. Ryo Miyaichi, Arsenal
Stanley Chou/Getty Images
The Japanese winger has developed rapidly since signing for Arsenal in January. After impressing the Gunners' scouts for over a year, the teenager was secured and immediately loaned to Dutch outfit Feyenoord for the remainder of the 2010/2011 season.
Miyaichi enjoyed a stellar stint in the Eredivisie with constant displays on the wing of emphatic pace, balance, efficiency and composure. In 12 appearances, in which he tallied three goals and five assists, the Japan U-21 star acquired media nicknames such as "Ryodinho" and "the Japanese Messi" for his phenomenal displays.
This summer the 19-year-old has furthered his development at Arsenal, immensely impressing on the Gunners' preseason campaign of Asia and in the Emirates Cup. Miyaichi has now been granted a work permit and Wenger is excited about the youngster.
7. Ciaran Clark, Aston Villa
Shaun Botterill/Getty Images
Touted as a youngster who has the ability to become one of the best defenders in the Premier League, Ciaran Clark enjoyed a promising season in 2010/2011 in which the 21-year-old amassed 21 appearances and four goals.
A versatile player who can play all across the defence and the midfield, the Irishman proved to be a strong contributor with tenacious tackling and composed playmaker abilities. Clark has been at Villa Park since the age of 11 and now possessing sufficient experience.
New manager Alex McLeish has been impressed with the defender's work rate, so many expect Ciaran Clark to make his presence in 2011/2012.
6. Alex Oxlade-Chamberlain, Arsenal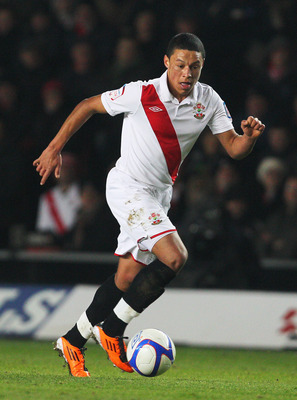 Clive Rose/Getty Images
Considered the best teenage forward in England, Oxlade-Chamberlain recently completed a £15 million move to Arsenal after being chased by the likes of Manchester United, Chelsea and Liverpool.
Blessed with blistering pace and a vicious finish, the Englishman has starred in 2010/2011, Chamberlain's 41 appearances and 10 goals resulted in a place in the PFA League One Team of the Year and a call-up to England's U-21 squad.
Still only 17, Chamberlain has a glistening future and with Arsenal eager to enhance their attack further, the Englishman's speed and skill will do just that. Whether Chamberlain can help Arsenal eradicate their six-year trophy drought remains to be unseen, but it is certain the teenager is one to watch in 2011/2012.
5. Conor Wickham, Sunderland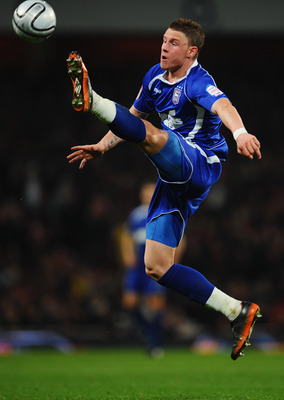 Clive Mason/Getty Images
Sunderland's marquee summer signing, Conor Wickham, was secured from Ipswich Town for £12 million after being chased by almost every Premier League club. The English striker will fill the void left by Darren Bent, who departed to Aston Villa in January.
Wickham is a tireless worker whose physical presence enables him to thrive in the English game. The 18-year-old made his debut as a 16-year-old in 2009 and has since gone on the manage 72 appearances for the Tractor Boys.
Experienced and tough, Wickham is a star of the future whom many believe will thrive with Sunderland's tenacious and compact style of play. Big things are expected from the teenager, who is an imposing presence who can also perform on the wing.
4. Kyle Walker, Tottenham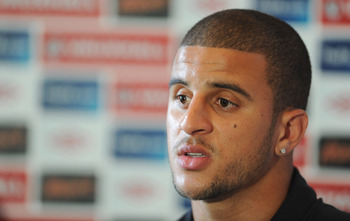 Michael Regan/Getty Images
The English full back emerged onto the scene last season with a hugely impressive loan spell with Aston Villa during the second half of 2010/2011. Loaned from Tottenham, Walker made 15 Premier League appearances for the Villans and came into the England reckoning.
A strong, tenacious and quick right back, the 21-year-old is expected to finally receive a long-awaited first-team opportunity at White Hart Lane after gaining experience on various loan spells. Harry Redknapp has struggled to fine a sufficient, consistent right back for Tottenham and after a hugely strong U-21 European Championships this summer, in which Walker made the Team of the Tournament, it is sure to be a big season for the youngster.
3. Gael Kakuta, Chelsea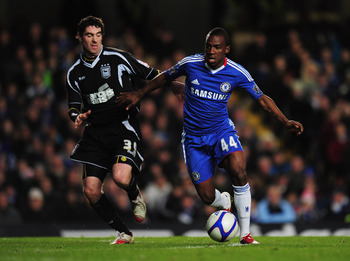 Shaun Botterill/Getty Images
The exciting winger who caused the notorious transfer saga when he joined Chelsea, Gael Kakuta is ready to step up and become an integral part of the Blues' first team with Andres Villas-Boas eager to utilize the younger squad members of Chelsea's aging team.
A quick and skillful winger who possess great flair, balance and a scintillating cross, the Frenchman is currently impressing with France at the U-20 World Cup and is returning from a strong short loan spell with Fulham.
Many believe if the 20-year-old receives an opportunity then he will thrive. However there are rumours of a Premier League loan spell is on the cards. Nonetheless the young gun is one to watch in 2011/2012.
2. Josh McEachran, Chelsea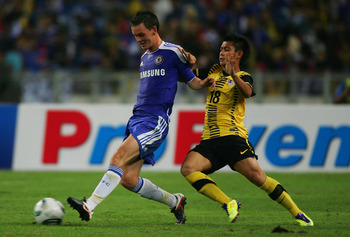 Stanley Chou/Getty Images
The Chelsea teenager is highly rated in England and many believe the midfielder has the ability to become the next Frank Lampard. The 18-year-old was impressive in limited opportunities during his debut season in 2010/2011, amassing 17 appearances for the Blues.
Sharp, incisive and intelligent, the teenager is set to become a big part of Chelsea's midfield in 2011/2012 and many believe the Englishman can emulate Jack Wilshere's efforts last season. McEachran has already represented England at U-21 level and one cannot rule at a full senior national cap emerging this season.
=1. Danny Welbeck, Manchester United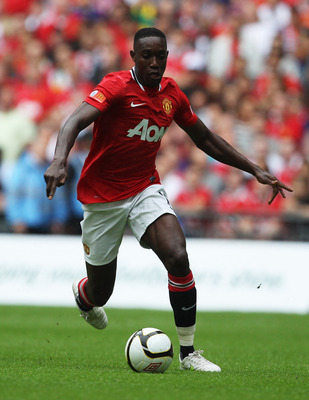 Clive Rose/Getty Images
The young striker is ready to become an integral part of Manchester United's squad and their title defence in 2011/2012. Returning from a stellar loan spell with Sunderland and an impressive preseason, the 20-year-old recently debut for England and is rated highly by Sir Alex Ferguson.
The versatile forward amassed 28 appearances and six goals for the Black Cats last season and Welbeck is set to develop further in 2011/2012. Fast and surprisingly strong, the Englishman typifies Manchester United's clinical forward line.
With opportunities arising at Old Trafford, many expect big things from Danny Welbeck.
=1. Tom Cleverley, Manchester United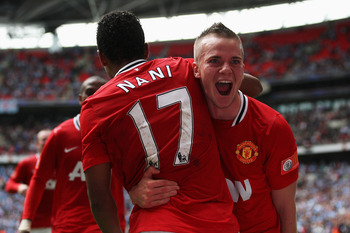 Ian Walton/Getty Images
Tom Cleverley has more than earned a Manchester United place.
In 2009/2010 the exciting youngster was loaned to Watford in the Championship, where Cleverey received Watford Player of the Year honors with 35 appearances and 11 goals. Last season the Englishman starred whilst with Wigan Athletic in the Premier League, providing a bright spark in their dark attack and concluding the season as one of the Latics' best with 25 appearances and four goals.
A tough, quick, composed and intelligent midfielder, Cleverley was a huge force in Manchester United's recent FA Community Shield triumph over Manchester City. The 21-year-old electrifying presence helped Sir Alex Ferguson's men claw back from 2-nil down to win 3-2.
With Paul Scholes' retirement in May, there is a void in the United midfield and Tom Cleverley is set to take up the role, providing huge excitement for Manchester fans worldwide.
Keep Reading

Arsenal: Like this team?