Manchester United: 8 Reasons They're Going To Win the League Again in 2011-12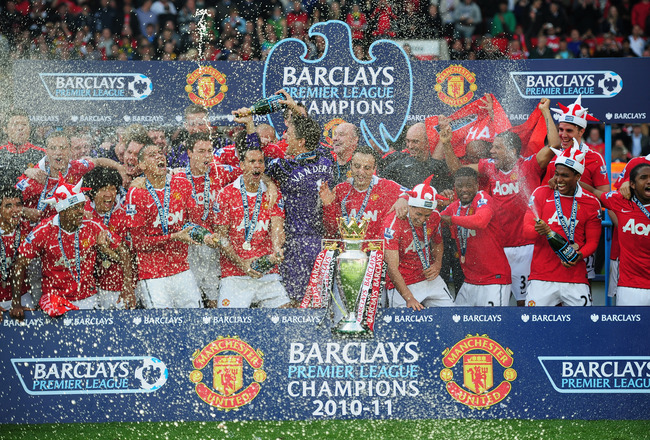 Shaun Botterill/Getty Images
Manchester United recently completed a successful preseason campaign with an eye on a record 20th league title.
After wiping the floor clean with the best teams available across the pond, the Red Devils squared off against their tormentors of a few weeks ago when they took on Barcelona at the FedEx Field near Washington D.C.
More than 81,000 fans watched as a young United side excelled against a depleted Barcelona XI that lacked the talent of Lionel Messi and Xavi.
That being said, United started just three players (Rio Ferdinand, Nemanja Vidic and Wayne Rooney) who played at Wembley, whereas the Barcelona team featured six players, including David Villa, Andrés Iniesta and Pedro, who lifted the Champions League trophy in May.
If that effort wasn't impressive enough, United provided a trailer of what their fans can expect in the coming season in the mother of all Community Shields against crosstown neighbors Manchester City.
It was vintage United on display at Wembley—a ground which has been some sort of a curse for the Red Devils recently.
The Red Devils dominated the majority of the match, except the brief seven-minute period before the break where City scored two goals completely against the run of play.
It was, in Wayne Rooney's words, "a footballing lesson" taught by the Red Devils to their noisy neighbors, who have verbally challenged United's title prior to the new season.
Not only did United quieten the neighbors and grab the bragging rights in Manchester, they sent out a signal of intent to the whole Premier League—nay...the whole world—that this is just the beginning.
It has given fans like me plenty of hope for the next season and I believe I'm echoing the sentiments of Red Devils across the world when I say that the future is Red, the future is United.
Here's a bunch of reasons as to why I (we) think so:
Transfer Activity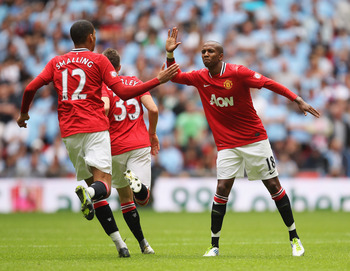 Ian Walton/Getty Images
After having their bottoms handed to them by Barcelona twice in the last three years, Manchester United have finally decided to act by raiding the transfer market.
While rival clubs are just about stepping into the transfer pool, Sir Alex Ferguson has already spent more than £50 million and has acquired a goalkeeper, a defender and a winger. More importantly, he's done so by keeping in mind the club's policy of buying young.
David de Gea, Phil Jones and Ashley Young have an average age of 21.6 years and are quality additions to the Manchester United squad. Preseason matches have confirmed that they have gelled well with the team and are getting accustomed to the Manchester United way of life.
Add to that the arrival of Chris Smalling last December and you have one of the most robust and fruitful pieces of transfer activity done by the club in a long time.
United's new boys are bound to be spurred on by the illustrious profiles of the players sharing their locker room and will be gunning to get a piece of all the glory soon.
Never-Say-Die Attitude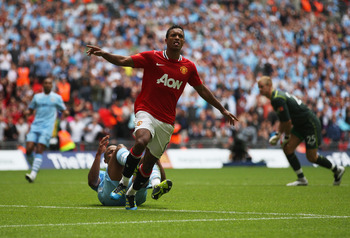 Ian Walton/Getty Images
So petrified is the United squad of facing Sir Alex Ferguson's renowned hair dryer that the players have the never-say-die attitude instilled into their veins.
Manchester United cannot be written off until the final whistle has been blown; it doesn't matter if they're at the bottom of the Mariana Trench.
There have been numerous instances in the recent past when United have stared down the barrel at a certain point in the match only to muscle it away, take control of it and go bazookas.
Manchester United have been criticized of doing things the hard way more often than they would have liked to. But where's the fun in doing otherwise?
What's important is that the players refuse to take no for an answer and you can never be guaranteed of three points against United, even if they are 5-0 down.
The Red Devils will make you work your socks off for the entire 90 minutes and are just waiting for a lapse in concentration of the opposition to make their pounce.
Manchester City became the latest team to learn this the hard way.
Young Trafford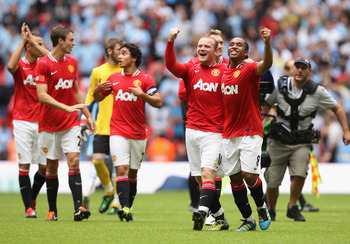 Ian Walton/Getty Images
With the retirement of veterans such as Gary Neville, Paul Scholes and Edwin van der Sar, Manchester United will sport a very young look next season.
Ryan Giggs, one of the few United players in their 30s, will be feeling like a grandpa next to some of the toddlers in the squad.
At one point in the Community Shield, the average age of the Manchester United team on the pitch was 20.1 years!
But what sets this bunch apart from other young teams such as Arsenal is that the Manchester United team has always been a good blend of youth and experience.
Several members of the team such as Nemanja Vidic, Wayne Rooney and Nani are both young and experienced, and will have the added responsibility of guiding some of the younger, inexperienced players forward.
The youngsters have gained a lot of know-how from their more experienced teammates over the years and seem eager to prove their worth to the manager.
Chelsea Are Creaking and Unstable
Shaun Botterill/Getty Images
The Chelsea squad has been criticized of being too old in the past.
Owner Roman Abramovich finally decided to act on the criticism and fired the 52-year-old Carlo Ancelotti, who won them the double in his very first season at Stamford Bridge. Abramovich replaced him with one of the youngest, albeit successful, managers in the world—André Villas-Boas.
A step in the right direction, Roman, but I don't think the fans are going to be satisfied with that.
Chelsea have won a lot of trophies in the last few years, but the fact remains that the majority of their squad is aging and lacking in creativity.
Next season, nine of Chelsea's first-team members will be in their 30s.
Experience always helps, there's no doubt about that, but you've got to sprinkle some youth in there too.
Chelsea is looking to sign Luka Modric from Tottenham, and have recently acquired the services of 18-year-old striker Romelu Lukaku.
But there's a lot of instability and insecurity within the team, right from the manager to the players. Knowing Abramovich's nature and past record, you never know when he'll get tired of his latest toy and chuck it away.
Arsenal Are in a Crisis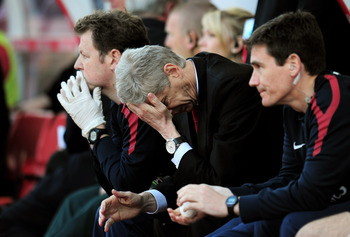 Shaun Botterill/Getty Images
Arsène Wenger's job isn't the most enviable one in the world right now.
The Arsenal boss of the last 15 years has won three league titles and four FA Cups, but none of them have come in the last six years.
Arsenal is one of the most youthful and creative sides in the Premier League, but have been unable to convert their qualities into silverware.
Wenger, who has been praised for his policy of breeding youngsters in his squad and maintaining a judicious financial model, is now beginning to face flak for the same reasons.
The fans want to see some silverware and have realized that the current squad is just not good enough to provide them that.
Along with the fans, even some members of the squad have become disillusioned with Wenger's vision for the future and are beginning to question his approach.
Arsenal have made a couple of signings this season, but none which would have completely satisfied the fans and players.
Club captain Cesc Fàbregas and instrumental playmaker Samir Nasri already want out. If Wenger does end up losing one or, worse, both players, things could go even more downhill at the Emirates, if that's even possible.
Manchester City Are Just Not There Yet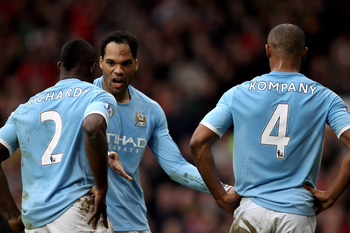 Alex Livesey/Getty Images
Manchester City are looking like the biggest threat to Manchester United's title next season.
The Sky Blues knocked United out of the FA Cup last season and are definitely a stronger outfit this time around with the acquisitions of Sergio Agüero and Gaël Clichy. They could prove to be a major hindrance in United's quest for a 20th title.
However, Roberto Mancini's side also have the Champions League to look forward to in the coming season. These will be untested waters for City and completely different from what they've come up against so far.
Manchester United, on the other hand, have been contesting on both fronts for ages and have ample experience of handling the pressures.
While City may be in a position to challenge United for the title, the question remains as to whether they can and will make it their sole priority.
Also, with the possible departure of club captain Carlos Tevez and numerous other changes to the squad, they aren't the most stable side in the Premier League.
Characters such as Mario Balotelli just add to the fun—for United fans that is.
Liverpool Aren't Either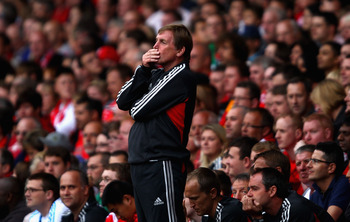 Clive Brunskill/Getty Images
After a forgettable 18 months since finishing second in the league in the 2008-09 season, Liverpool seem to be rising from the ashes under the majestic Kenny Dalglish.
After taking over from a clueless Roy Hodgson midseason last year, King Kenny wasn't able to propel Liverpool back into the top four. But he has brought about a sense of security and belief within the squad.
Under Dalglish, the Liverpool players have regained their confidence and seem determined to get back to winning ways.
Liverpool, along with United, have been one of the most active teams in the current transfer window and have acquired the services of Jordan Henderson, Charlie Adam and Stewart Downing.
Andy Carroll and Luis Suárez, who joined in December last year, will welcome the new additions to the squad as Liverpool plan their strategy to win back their kingdom (read perch) from Manchester United.
Without any European distractions next season, Liverpool could prove to be a major threat and look likely to break back into the top four.
However, not even the most optimistic Liverpool fan would predict a title win.
Not yet.
Sir Alex Ferguson Isn't Done Yet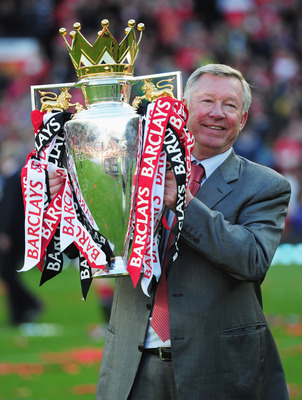 Shaun Botterill/Getty Images
Many people thought that Sir Alex Ferguson would finally call it a day after fulfilling his ambition of knocking Liverpool off their perch last season.
But the 69-year-old Scotsman wants even more.
You could say that Ferguson has got another team to knock off the perch before he punches out his time card one last time of what has been a glorious managerial career.
Barcelona have humiliated his beloved team twice in the recent past, and Sir Alex would love to get one over the Catalan giants before retiring.
Apart from that, he's got the task of carrying forward the legacy he's built for the club he loves so much and make sure that it's on the right path.
United have lost integral members of their squad in Paul Scholes, Edwin van der Sar and Gary Neville. Ryan Giggs also isn't getting younger, although his performances beg to differ.
It's a tricky time for the club and Sir Alex will want to make sure that United doesn't free-fall after losing such quality players.
Ferguson will want to be there for his club in this rebuilding phase, probably the last of many he's already been through.
But as long as the wily Scotsman is at the helm and hungry for more, Manchester United will continue to attract the sparkling metal like a powerful magnet.
Keep Reading

Manchester United: Like this team?