Manchester United: 6 Things That Alex Ferguson Learned from the Community Shield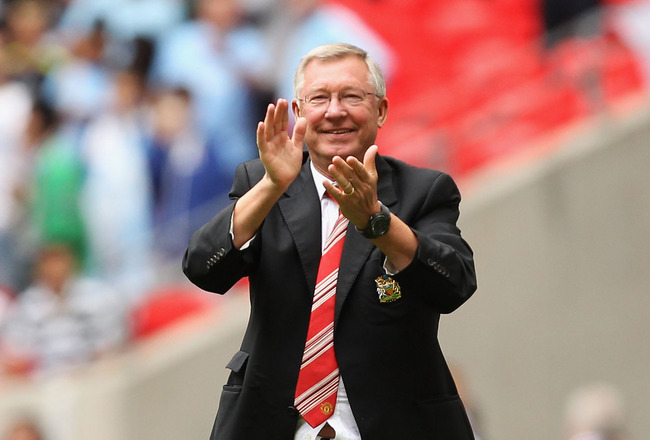 Ian Walton/Getty Images
Alex Ferguson witnessed the good, the bad and the beautiful as his side produced a sensational second-half comeback to silence their noisy neighbours, Manchester City.
The Community Shield is supposed to be a charity event, a semi-friendly curtain raiser for the season to come, but Wembley was the scene of the first battle of a conflict between the two tribes from Manchester that will rage all through the new campaign.
This was a clash of sometimes visceral intensity, a game that turned out to be the perfect scenario for the United manager to truly take stock of his players following the far more gentle preseason tour of the USA. What he will have seen will, at first, have worried him somewhat but by the end of it all, as his team enjoyed their celebrations, he will have come to some crucial conclusions.
Phil Jones : The Next Giant of Old Trafford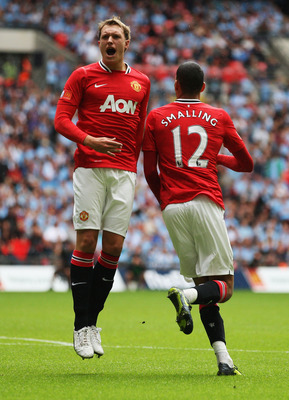 Ian Walton/Getty Images
The £16.5 million signing from Blackburn Rovers offered evidence that suggests he could become the steal of the summer.
His entrance onto the biggest of stages could not have come at a worse time. United were two down as he took the field at the start of the second half alongside fellow substitute Johnny Evans. The pair replaced first-choice centre backs Rio Ferdinand and Nemanja Vidic while David de Gea was keeping goal like a cat on a hot tin roof.
Yet the 19-year-old who doesn't even have a full Premier League season behind him performed like a battle-hardened veteran. He didn't just defend in his own box; he pushed United's whole back line forward to pressurise Manchester City into panic mode.
The coming season is supposed to be about Jones finding his feet. He's already done that. Such was his composure, self-confidence and control at Wembley—against all the odds—that Alex Ferguson now knows he is ready for almost anything.
Jones faces a steep learning curve in Champions League games to further his education, but as a player, as a warrior, as a leader, the young man is already growing into a giant.
Tom Cleverley Is...Very Clever Indeed
Jonathan Daniel/Getty Images
Half a game, even giving a performance as good as he did against Manchester City, does not make Cleverley the new Paul Scholes, even if, at times, he played in the image of a certain ginger personage. But the kid has a real chance.
Wesley Sneijder remains Alex Ferguson's last summer target and, against the great teams of Europe, his vision, experience and ability to unlock defences would still be of enormous benefit. Yet in Cleverley, who replaced Michael Carrick after the interval at Wembley, we saw a 21-year-old who is not only ready for the big time but is determined to embrace the challenge.
He did not put a foot wrong, he did not waste a pass that mattered and it was his final touch that allowed Nani to grab his team's equaliser at the end of a mesmerising move that was Barca-like.
Ferguson had suggested that after his season-long loan at Wigan, Cleverley was primed to play an important role in the coming season. He found out at Wembley how right he was. Cleverley is a star in the making.
Nani: Cristiano Who?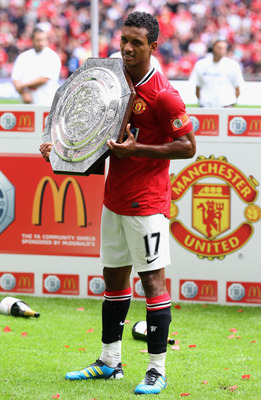 Clive Rose/Getty Images
Little wonder he is pictured holding the Community Shield. He owns it.
The Portuguese winger was supposed to be Cristiano Ronaldo Lite and at times he can be maddening when he gives the ball away needlessly but then again wide men have always done that. But put the ball in front of him and let him run at defences and he produces terror.
Nani was supposed to be heading out this summer with the arrival of Ashley Young and the impressive return of Antonio Valencia, but Ferguson learned that this fiesty attacker doesn't just have bags of self-confidence. He is not scared to prove he is the real deal.
Pace is everything in the modern game, especially allied to control, and Nani has both in abundance. He's not a shy boy and that has created some friction between he and his manager in the past, but what is clear is that on the back of last year's growth spurt he is turning into one of United's big-game performers, as his two-goal display against Manchester City clearly underlined.
David De Gea: A Work in Progress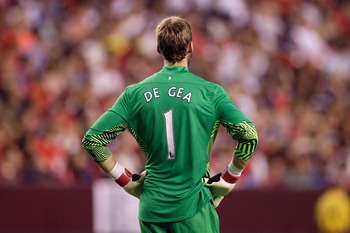 Rob Carr/Getty Images
The 20-year-old celebrated more than most of his teammates after Nani scored his runaway injury time winner...or was that just sheer relief?
He found himself caught in no man's land as Joleon Lescott scored the first of Manchester City's goals and he reacted too late and dived too slowly to stop what was not exactly a wonder strike from Edin Dzeko, even if the ball did swerve and dip a little.
Goalkeepers who cost £18.3 million are supposed to be able to deal with shots like that when they are a yard inside their near post. He is a talent, no doubt. His reaction save from Adam Johnson with the score at 2-2 turned out to be as crucial as it was good.
But his manager, having put such store into someone so young, will know now that his coaches have to work hard on the Spaniard to get him up to speed with the English game, which is far quicker and physical than La Liga.
Most important, Ferguson will know that after his traumatic day at Wembley, he must ensure that the youngster's ego is not damaged to the extent that he becomes—perish the thought—Taibi Two.
Danny Welbeck: No Sweat, a Real Workhorse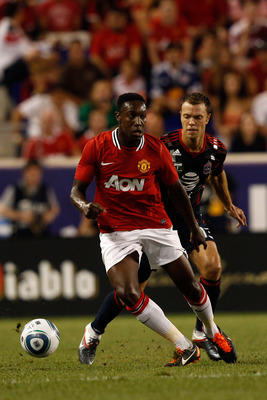 Mike Stobe/Getty Images
Welbeck was promised his chance by Alex Ferguson this season and he showed against Manchester City that he is determined to take it having returned from his year on loan with Sunderland.
His running, especially in the second half when he and his teammates chased down their opponents, was vital to that stunning comeback win. How many goals he will score himself is open to question, especially as Javier Hernandez is the favoured front line partner of Wayne Rooney when fit.
Yet Welbeck showed his manager a willingness to work himself into the ground for the good of the team, although by the time he was replaced late in the game by Dimitar Berbatov, he hardly looked like he had broken sweat.
Ferguson has always said he believes in the young striker and Steve Bruce would have paid plenty of money to keep him at the Stadium of Light permanently. The United manager saw someone at Wembley who is very, very ambitious indeed.
Chris Smalling : Right Back to Success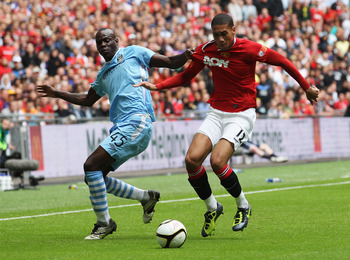 Clive Rose/Getty Images
Smalling is supposed to be the new culture vulture of United's central defence but a year from making his debut in the Community Shield, he produced a marvelous cameo performance as an emergency right back. It was so good that Alex Ferguson will know now he is a viable alternative in that position.
The departures of Wes Brown and John O'Shea suggested the manager may have left himself light in this position but Smalling answered an important question and did so well that Manchester City manager Roberto Mancini replaced Mario Balotelli with Adam Johnson.
Smalling sometimes miscontrolled the ball on his overlaps, but not often, and his deft header set up the comeback that Nani finished so splendidly.
Added a new string to his bow, and one that might be personally important given that Phil Jones made such an impressive second-half performance.
Keep Reading

Manchester United: Like this team?