Manchester City vs Manchester United: 6 Predictions for the Community Shield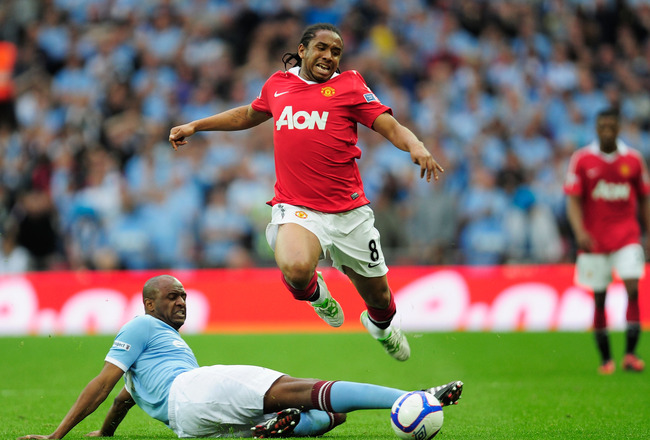 Jamie McDonald/Getty Images
Four of the last five Community Shield winners went onto win the English Premier League.
Manchester United have won 18 Community Shields, whereas Manchester City haven't appeared in a Community Shield since 1973.
Five seasons ago, Manchester City were fighting off relegation, nowadays they are making rapid ascension into the upper echelons of European football.
With around two hours to kick off, let's see how many predictions I can get wrong, and after the game has finished, make sure to remind me never to imitate Nostradamus.
Manchester City 2-0 Manchester United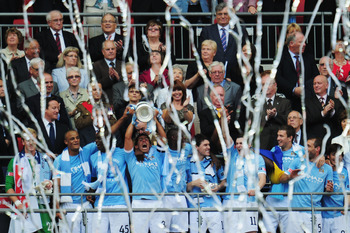 Shaun Botterill/Getty Images
In the last five Manchester derbies, the biggest winning margin has only been two goals, when Manchester United beat Manchester City 3-1 in the Carling Cup.
It's Manchester City's time to shine, and with the squad they've bought, it should bring them success.
Last season, when the going got tough, Manchester United gritted their teeth and fought their way out of trouble.
Though this Manchester City defence marshaled by Vincent Kompany combined with arguably the best defensive midfielder in the game in Nigel De Jong should shut down Manchester United.
This would have been different if Chicharito was playing, though he's still nursing his way back from concussion.
Sergio Agüero to Score off the Bench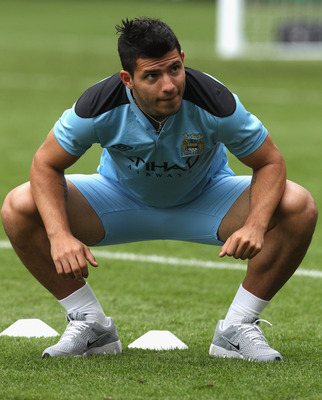 David Rogers/Getty Images
According to BBC Sport, Manchester City's £35 million signing Sergio Agüero will start off the bench.
Agüero was in top form during the Copa América, and assuming manager Roberto Mancini utilises Agüero as an impact sub, then it's probable his Romário like instincts in the box will see him score on debut.
Mario Balotelli To Do Something Stupid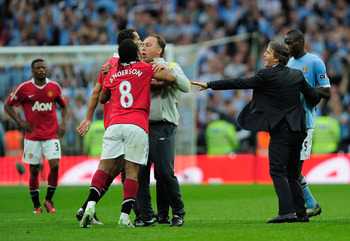 Jamie McDonald/Getty Images
Here are just some of the stupid things Mario Balotelli has done in past seasons.
Taking a penalty off Samuel Eto'o.
Wearing an A.C. Milan shirt on national television even though he's an Inter Milan player. So it's like him wearing a Manchester United shirt on Soccer AM.
Trowing his Inter Milan shirt away after his team just beat Barcelona.
Doing his best impressions of Nigel De Jong's kungfu kick in a pivotol Europa League game against Dynamo Kiev.
Epicly failing with that backheel against L.A. Galaxy even though he's through on goal.
So trust Mario Balotelli to do something stupid in the Community Shield.
Tom Cleverley To Start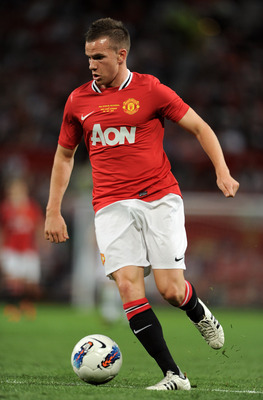 Chris Brunskill/Getty Images
With Michael Carrick out, Darren Fletcher just returning to training, coupled by Tom Cleverley's impressive pre-season form—it's only logical to start Cleverley.
Last season's pre-season, Cleverley looked great, yet wasn't given a chance.
He's a classy operator and great distributor.
Seemingly he has Giuseppe Rossi written all over him in that he can't break into the first team, but will end up becoming a first rate player without Manchester United.
Last season, I recall Cleverley having two outstanding games for Wigan Athletic against Birmingham City and Wolverhampton Wanderers.
Both games, Cleverley was very influential in Wigan gaining a victory.
In hindsight, those two games saved Wigan Athletic from relegation.
Man of the Match: Yaya Touré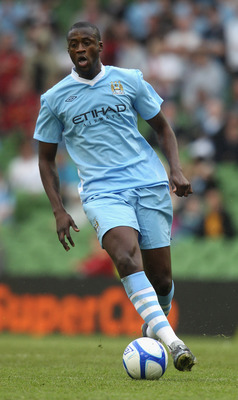 David Rogers/Getty Images
People don't understand how impressive Yaya Touré was last season, he played a totally different role he had at Barcelona.
At Eastlands, he's more box-to-box, he has more of a say in Manchester City's offensive game whereas at Barcelona, he sat in the middle, won the ball and passed it to Xavi.
The only thing Touré needs to improve is his efficiency, because he needs to score more goals and provide more assists if he gets into the same positions he did last season.
Like Nigel De Jong, Touré is vastly underrated, because those two are the driving force of this Manchester City midfield.
Please also read European Football Transfers: Top 10 Rumours of the Week
Ferguson Time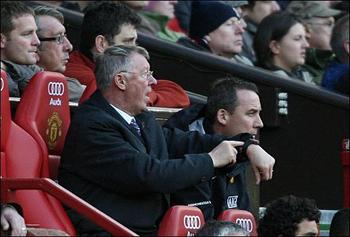 Keep Reading

Manchester United: Like this team?