Manchester United vs Manchester City: Predicting United's Starting 11 at Wembley
August 6, 2011
Alex Livesey/Getty Images
With the imminent collision of two of the biggest names in English football in Sunday's FA Community Shield, the new season rises up tantalizingly, ready to wash away the footballing drought of summer.
For this clash of old-world grandeur against nouveau riche, much will depend on the soldiers that United boss Sir Alex Ferguson selects to carry forth the flag of a post-Scholes Manchester United.
Sir Alex often uses the Community Shield as a run out for some of his younger charges. However, the added impetus of putting United's upstart neighbors firmly back in their place could push the Scot to name a starting 11 fearsome enough to challenge the starting 300 of Spartan king Leonidas.
In addition, formerly "young" players like Danny Welbeck and Tom Cleverley have matured enough to make strong claims for first-team football this season.
Sir Alex seems to be grooming the latter especially as a dynamic midfielder a la Frank Lampard. For much of United's preseason tour of North America, Cleverley performed—and impressed—as a playmaker. 
Revenge O' the Shea
Ever-reliable John O'Shea departed for Sunderland this summer along with Wes Brown. Both men will be missed, especially O'Shea, who played his heart out for the club in a variety of different positions, including a stint as goalkeeper.
Here's hoping that selling him to the Black Cats doesn't come back to haunt us. O'Shea didn't score many, but he usually scored against the big boys.
Of the big names, Chicharito has sustained a concussion and seen little action since his return from Gold Cup duty for Mexico while our Ginger Prince has entered the pearly gates of retirement.
Right back Rafael da Silva will also miss the game through injury.
However, signing a pair of twins who are perennially injured is a cunning plan because between the two, they make up one complete player.
United's four-season-long nearly-man, Owen Hargreaves, departed Old Trafford to a mixed response. Personally, this columnist would have loved him to make a glorious comeback after years of battling chronic knee problems.
Then again, this columnist also harbors hopes of a glorious Elvis Presley comeback tour.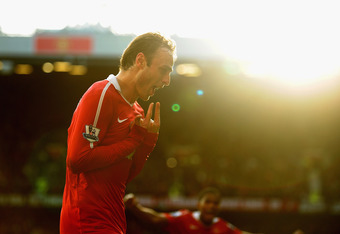 Laurence Griffiths/Getty Images
The Vampire Strikes Back
United's in-house vampire has sporadically taken time off from his busy schedule of sulking, promoting the Twilight trilogy, and haunting Manchester blood banks to play the odd 45 minutes.
While Berbatov is being squeezed out, Welbeck (and to a lesser extent Federico Macheda) has taken full advantage of the limelight. 
In midfield, the aforementioned Cleverley has put in a few sparkling performances in preseason, but only time will tell whether he can replicate them on the Premier League stage.
New signing Ashley Young was even given a thorough demonstration in composure on the ball by none other than an original Fergie fledgling—David Beckham—during United's game against the MLS All-Stars. Young played in every game on the tour, raising questions as to whether Sir Alex is trying to milk as much as possible of the £18 million transfer fee from him before the important games actually begin.
To be fair to Young, his performances have not been bad by any means. However, an £18 million price tag comes with stratospheric expectations.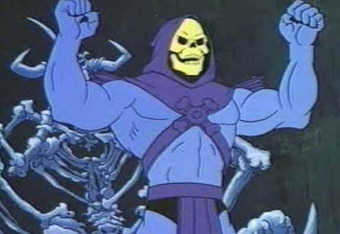 Needless to say, if part-time Michael Jackson double and full-time frustration merchant Nani consistently puts in better performances than you during preseason, it doesn't bode well for the next eight months.
In-house keeper Anders Lindegaard showed some flair in preseason, playing an excellent few games. The Dane was at times reminiscent of United legend Peter Schmeichel, who last year, ironically, slammed Lindegaard as being "not good enough" for United.
In fact, Lindegaard showed such presence and command of his area that when third-choice keeper Ben Amos came on in the second half of games, he looked like an opening act following the Rolling Stones.
So perfect was United's preseason that even He-Man's arch nemesis managed to score a goal. French winger Gabriel Obertan chipped in with a goal against the Seattle Sounders to win a closely-fought contest 7-0 for the Red Devils. 
Return of the Red-Eye
Having won his months-long fight against pink-eye or strep or whatever succession of viral infections it was, Darren Fletcher is back!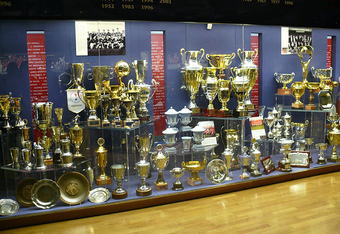 While he may not start against City, he should come off the bench in the second half. Hopefully, his return will signal the end of the sustained run in the starting 11 of Brazilian madman Anderson and the beginning of another eight months of whining from part-time Arsenal manager and full-time hypocrite Arsene Wenger.
In other news, Michael Owen started the season in great form while Wayne Rooney blew into preseason in thunderous fashion, scoring a hat-trick within 45 minutes in his first game. Park Ji Sung has been reliable as ever, and captain Rio Ferdinand seems to have got over the niggling back problems that kept him out for much of the last season. 
Who Will Start?
Bearing in mind that Sir Alex will go all out to quash those noisy neighbors, here is the starting 11 we expect to see when the Red Devils take the field at Wembley on Sunday.
GK
Anders Lindegaard
DEF
Fabio da Silva, Rio Ferdinand, Nemanja Vidic, Patrice Evra
MID
Nani, Tom Cleverley, Anderson, Ashley Young
FWD
Wayne Rooney, Danny Welbeck
Substitutes
de Gea, Smalling, Jones, Giggs, Valencia, Berbatov, Owen
Disclaimer
The columnist apologizes to any Manchester City fans reading this article for the complete lack of objectivity. He also wishes them the very best on Sunday, with the full knowledge that they will end the day seeking comfort in the lone FA Cup that found its way to the Etihad Stadium after so many years *grin*.
 We apologize: That was uncalled for. Winning an FA Cup takes a lot of effort. Of course, Sir Alex has now won so many FA Cups that he carries one around as a port-a-potty for his youngest grandson. But still...