NY Cosmos Write Chapter 1, Paul Scholes Writes Fairytale Ending
August 6, 2011
Chris Brunskill/Getty Images
The New York Cosmos dusted off their boots after a 25-year layoff, and paid tribute to Paul Scholes, the English legend who said goodbye to Manchester United after a career that lasted 17 years.  Yet the veteran looked in perfect form in a game that Hollywood couldn't have written any better for him to play out.  And while the Cosmos sputtered in the beginning like an engine that had been idle for a quarter century, they showed some positive signs when the final whistle blew.
The day was a book of two tales.  The game was a testimonial to the legend of Paul Scholes, who many of the world's best players, from Zidane to Xavi, call the best midfielder of the last 15 years.  But it was also a prologue to the long-awaited second coming of the legend of the New York Cosmos.  Both names are known equally around the world to fans of the beautiful game and both were on display on this day.
Old Trafford was sold out for this historic match, and fans cheered on not only Scholes and their club, but also Cosmos players, especially fan favorites Dwight Yorke, Gary Neville, and Nicky Butt.  While New Yorkers would cheer Cosmos' Honorary President Pele, who was in attendance, it was the visitors' Director of Soccer, Eric Cantona, who got the crowd singing.  In a great moment for both Manchester United and France, King Eric was greeted to "Start spreading the news. Eric is back here today." Ironically, it was sung to the tune of, "New York, New York".
Just minutes after kickoff, both Portuguese star Nani and Bulgaria's Berbatov reminded Cosmos fans just how big an undertaking this would be, just missing the target after chipping over American goalkeeper, Brad Friedel.  With so many international names on the pitch against the American club, the opening goal would still have to come from the man of the day.  Paul Scholes received the ball from a corner kick about 25 yards from goal, took a touch, and his trademark strike of the ball sent the fans into a frenzy. 
In the next few minutes, Scholes put his stamp on the game with two brilliant balls.  First, he received the ball at his own 30 on the right side, yet found Manchester's latest acquisition from Aston Villa, Ashley Young, 40 yards away on the opposite touchline.  Second, he appeared to take on the defense, and instead, played a beautiful ball that sent Brazilian Rafael behind them. 
The Cosmos defenders were under constant pressure in the opening, and it took World Cup Champion and former Golden Ball winner Fabio Cannavaro's well-timed block to keep Nani out of an empty net.  The Cosmos had their first shot when Wayne Bridge tested United's new goalkeeper from a set piece, but De Gea was up to the challenge.  Three minutes later, Freidel would be tested again, but this time from the penalty spot.  Scholes was fouled in the penalty area, but ever the quiet professional, he refused to take it.  Instead, he handed it to Wayne Rooney who launched it against the bottom of the crossbar, and it bounced into the net.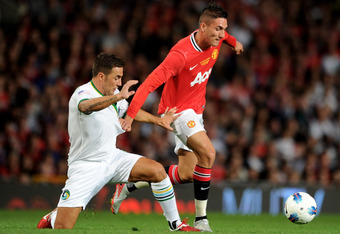 Chris Brunskill/Getty Images
While the Cosmos lineup consisted of a mix of veterans that Old Trafford fans were well aware of, one Cosmos academy player, Yanik Reyering, would become a name they all knew by the end of the match.  Scholes was sent through the Cosmos defense and may have taken an extra touch in the area. The young German Reyering made a brilliant tackle that saved Freidel.  In doing so, Reyering anointed himself the villain on this day reserved for Scholes, but made King Eric Cantona smile.  At the half, the score was still 2-0, the same scoreline when Manchester United faced off against MLS All-Stars.  However, while MLS had created chances in their first half, the Cosmos were still trying to find their legs, and their identity.
Four more goals would find the back of the Cosmos' net for United, but the Cosmos began to see that identity emerge.  Anderson and Welbeck doubled the lead from two to four, and Diouf added a pair himself for a 6-0 final score.  But by then, the match had been decided, and was no longer the most important outcome. 
Having Cannavaro alongside him could not hurt, but Reyering was a very bright spot in the Cosmos defense, making numerous tackles, saves, and marking in the penalty area quite well.  The other shining light came from Chad Calderone, who minded the Cosmos net for the second half.  If Freidel was busy in the first half against United's starters, Calderone was working a double-shift, as it seemed the reserves were even hungrier to impress their manager, Sir Alex Ferguson.  Itching to show that they belonged in the red shirts, there were some intriguing match-ups. Italy's former U21 player Macheda, signed by United from Lazio's academy, took on his nation's former captain Cannavaro, and got inside him on a cross that he nearly put away. 
But even when he was fishing the ball out of the net, Calderone looked like a goalkeeper you'd start a new club around.  A standout for Kellenberg High School in Long Island, NY, Calderone also trained professionally with AC Colorno in Northern Italy, and looked like he belonged alongside Cannavaro and Macheda. 
Despite not having enough possession against a top-caliber club like United, there was promise when some of the younger attacking players stepped on the pitch.  The best chance for the Cosmos came from perhaps the biggest name from their U23 roster, Bulgarian player Stefan Dimitrov.  Dimitrov arrived in the US after his father won the lottery, and has played for the Chicago Fire.  Proving why Cobi Jones, manger and US Hall of Famer, calls him a goal-scoring threat, he split two United defenders only to miss the target.  Still, a smile could be seen on his face after the play, knowing he was nearly the answer to the trivia question, "Who scored the first Cosmos goal after their 25-year hiatus?"
While that question was not answered, and many remain as the club tries to become the 20th team of Major League Soccer, some were answered.  The New York Cosmos name is still widely recognized and respected around the world, perhaps more than any American club name.  This recognition allowed them to attract this Scholes farewell match, a sellout at Old Trafford, greats like Eric Cantona and Pele to coach, with players for this match that totalled over 1000 international caps. 
Although the final score was 6-0, both the Seattle Sounders and MLS All-Stars lost to United on their home soil this summer, 7-0 and 4-0, respectively.  As much as playing with Freidel, Cannavaro, and Keane can help Calderone, Reyering, Dimitrov, and Murphy, the poise of these four will also carry over to teenagers Iraheta, Diaby, and Gaitan, all of whom got to savor the experience.
Becoming a successful club in professional soccer is no easy task.  The women's league has troubles, as do a large percentage of teams in the Italian, Spanish, German, French, and English leagues.  But the teams that survive those troubled times usually come through it more successful.  If any team were to capitalize on today's game, it would have to be one from New York.  It would have to be the Cosmos.  The next questions to tackle will include getting a stadium built, raising the $70-100 million necessary to enter Major League Soccer, and finding a perfect blend of young local players to mature under leadership of wiser, veteran players.  But the Cosmos saw this formula succeed once. I think the time is ripe for the Big Apple to see them do it again.      
Still, today was about Scholes.  He displayed a bit of everything that made his career as magical as it was.  17 years with one team is unheard of in today's marketplace for footballers.  But for the right type of player, playing for the biggest club in one's country can be incentive enough to make that commitment.  Cosmos fans can hope that perhaps Iraheta, Diaby, or Gaitan might become that type of legacy in Cosmos white, the player that remains with the same club from first match to farewell testimonial. Today's performance was something out of a fairytale.  But it's a fairytale that those three teenagers, who were born around the same time Scholes first wore United red, can dream about.  And perhaps bring to Cosmos Country some day.