5 Reasons Why Americans Should Like Soccer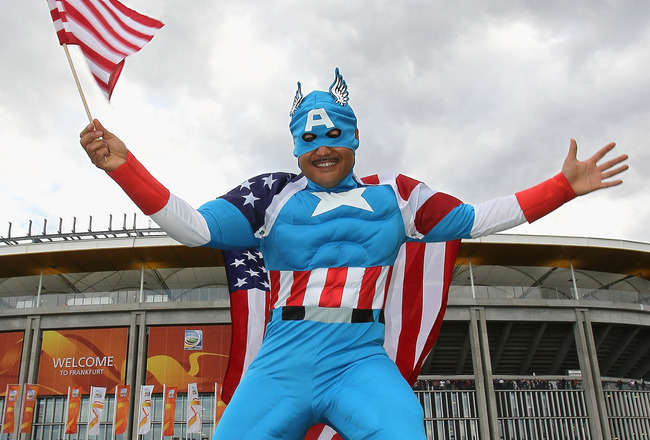 This guy's got the right idea!
Christof Koepsel/Getty Images
My name is Eric, and I'm an American. I like good beer, old cars, head-hunting linebackers, chin music, posterizing dunks and botched National Anthems.
I was raised by a man with an OU Sooners tattoo on his calf. I love American sports. I do, however, have a dirty little secret. I also love soccer.
Yes, the other football. Spare me the "boorrrriiiiiiing," alright? Sure, the 33rd minute of a goalless midseason EPL match might drag a bit, but no more so than two offensively inept NFL teams in a 9-6 "defensive battle" or an 18% team shooting night in an NCAA Basketball Final.
I assure you that soccer is worth worshiping just like any other sport.
Drama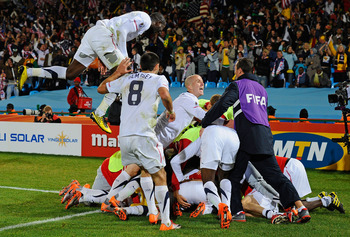 USA/Algeria Celebration
Kevork Djansezian/Getty Images
No other event has the ability to transcend the world of sports like the World Cup.
Every four years, the world (and a handful of Americans) stops everything they are doing for a month to drink from the World Cup. Years of qualifying narrow down the 32 best national teams to compete for bragging rights that are far more heralded than Olympic Gold.
Tradition, pageantry, drama… it's all there. Think of the implications of matches like USA vs. England and Germany vs. Poland from a historical perspective. These countries were once at war, and now they are playing soccer. Trust me, it's a big deal.
Landon Donovan's last gasp against Algeria in 2010 was as heroic as it gets, improbably sending us to the top of our group over world power England.
We finally found a sport we didn't invent (football), steal (golf), or dominate (basketball). We are the "Outlaws" and the world hates us for it. Fun!
Athleticism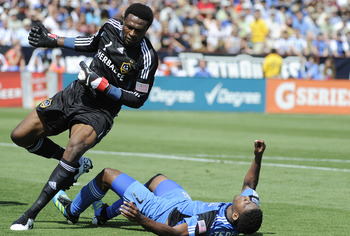 LA Galaxy Goalie Donovan Ricketts is a FREAK and could play the hybrid DE/LB in a 3-4.
Thearon W. Henderson/Getty Images
Top flight soccer players are some of the most fine-tuned athletes in the world.
A quick trip to YouTube can silence any doubters. Do yourself a favor and spend your lunch break watching some of soccer's greatest feats, like Cristiano Ronaldo bending a rocket into the top corner, around a five-person wall from 35 yards. Search for "Ronaldihno" for videos of the most exciting player in recent time.
More talking points for the water cooler: Tottenham speedster Aaron Lennon would jog past Ricky Henderson's stolen base record, Spanish midfield wizard Xavi could survey the field and hit his 4th option on the run while avoiding a blitz and AC Milan money-maker (and Tae Kwan Do expert) Zlatan Ibrahimovic would bend Brock Lesner over his knee.
Rivalries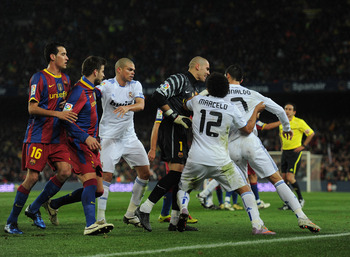 A minor scruff in an "El Clasico" from last season
Jasper Juinen/Getty Images
Arguably the most storied and heated rivalry among club teams is Real Madrid and FC Barcelona, two teams that compete in the Spanish La Liga.
Their 212 meetings, dubbed "El Clasico," date back to 1902 with the all-time series separated by only three wins and eleven goals. The teams represent the two largest, wealthiest cities and the two main political parties in Spain.
In the 1930's, fascist dictator Francisco Franco (and Real Madrid supporter) had the FC Barcelona president executed and threatened the squad at gunpoint during half-time of a match that was square at 1-1. The Barca players lost 11-1.
To further add to the rivalry, there have been 35 players switch between teams, each met with increasing hatred by the vacated side's fan base. Luis Figo's return to Barcelona after leaving for Madrid in 2000 saw, among bottles and smoke bombs, the head of a baby pig thrown at him from the stands.
No, I'm not making this up. Yankees/Red Sox? UNC/Duke? Not even close.
They Need Us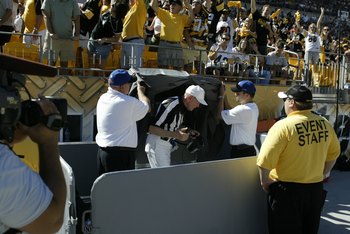 The Replay Booth. Coming to a pitch near you?
Rick Stewart/Getty Images
Whether they like to admit it, world soccer needs Americans.
We have not been afraid to tinker with the rules of our sports in the name of fairness. Soccer desperately needs a way to review goals and keep referees from taking over a game. However, they continue to fumble around with different gadgets and technology, unable to get it right.
They could learn a thing or two from us, seeing that we were able to implement review technology into football and basketball fairly easily. American medical and conditioning practices also far outweigh those in other countries.
In 2004, Jurgen Klinsmann (our new USMNT coach) was hired as the German national team coach and was initially criticized for using American training and fitness programs. They stopped complaining when the previously reeling German side placed third at the 2006 World Cup.
Like a high dollar face cream, a little dab of America in world soccer would help "Joga Bonito" shine a littler brighter.
It Is Something New!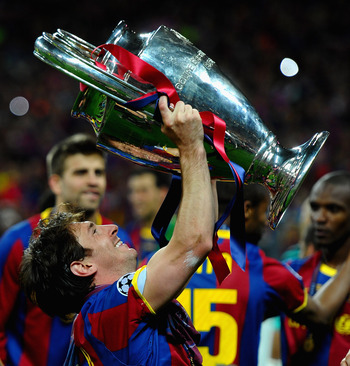 Lionel Messi, the world's best player, holding the coveted UEFA Champions League trophey.
Laurence Griffiths/Getty Images
I first caught the fever during the 2006 World Cup.
The sport nabbed my attention and I purchased EA Sports' FIFA video game. For me, this was a great way to get introduced to the sport. You can learn the rules, names of star players and top teams, and find a new outlet to dominate your friends.
I later became fully immersed during the 2010 World Cup. At that point I knew enough the pick my favorite players and teams and begin following the drama of the different leagues (England, Spain, Italy).
This year I joined a Fantasy Soccer league and have really begun to dig into teams, players, and league history. I'm even mulling over joining an indoor soccer league to have another way to injure myself. Doesn't this all sound fun?
It is a chance to learn about and fall in love with an entirely new sport! If you can get past the traditional American anti-soccer mindset (which I did) you will find a fun and exciting new world waiting for you.
Keep Reading