Liverpool Transfer Rumours: 5 Potential Destinations for Joe Cole Next Season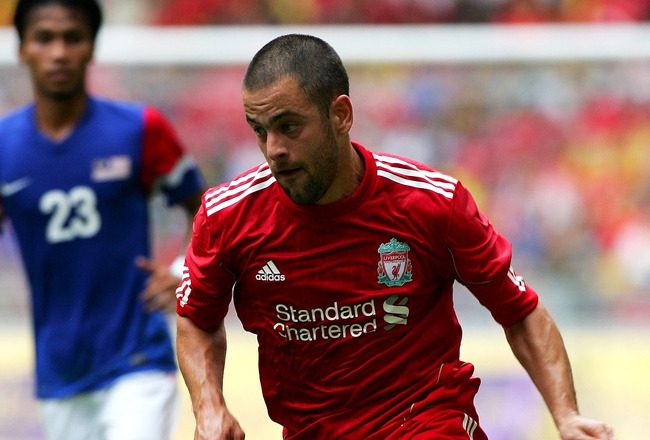 Stanley Chou/Getty Images
When Roy Hodgson snapped Joe Cole up on a free transfer, some people were calling it the steal of the summer.
It didn't really didn't turn out that way though.
Joe Cole's Liverpool debut ended early with a straight red card in the season-opener against Arsenal at Anfield, and it didn't get any better.
He was either injured or just plain bad in his first season for Liverpool, scoring just three goals (four if you count the one from Jamie Carragher's testimonial in September) all season.
He fell out of favor when Kenny Dalglish came back, and with Charlie Adam, Jordan Henderson and Stewart Downing joining the Reds this summer, the midfield is packed at Anfield, so Cole doesn't have much hope of a spot on even the Reds' bench.
So, will he be leaving Merseyside soon, or will Joe Cole still be in red after the Aug. 31 deadline passes?
Let's take a look at some of his options.
Tottenham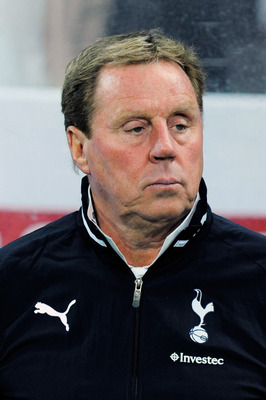 Gallo Images/Getty Images
At the end of last season, rumours were swirling that Harry Redknapp wanted to bring Joe Cole to Tottenham in an attempt to resurrect his career.
Old 'Arry apparently wanted the Englishman so bad he was willing to pay £5 million for the midfielder.
I was all for this deal, but it was a smoke screen in the end. No bids were ever launched, and Spurs appear to be no longer interested in Cole.
Cole's weekly wages of £90,000 were reportedly a stumbling block in his move to White Hart Lane (who the heck thought up that deal?).
On second thought though, I don't know if I could've stomached it had Redknapp managed to work some magic and suddenly make Cole useful again.
Aston Villa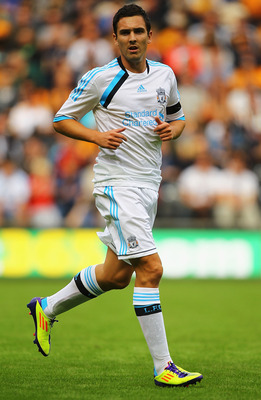 Matthew Lewis/Getty Images
Liverpool had trouble convincing Aston Villa to let go of Stewart Downing, and they even threw Joe Cole into the bid at one point.
Villa was only interested in money, so now, that's what they've got, while the Reds have both Downing and Cole and only one spot.
But Villa now have a problem, seeing as their best wide players have been sold, with Ashley Young going to Manchester United a few weeks before Downing's move.
They've recently acquired Charles N'Zogbia, but he is not known for his crossing ability, leaving Darren Bent and Gabriel Agbonlahor to fend for themselves.
An experienced player like Cole could help Villa out, and seeing as the season and transfer deadline are coming up fast, they may look into him a bit more in the coming month.
West Ham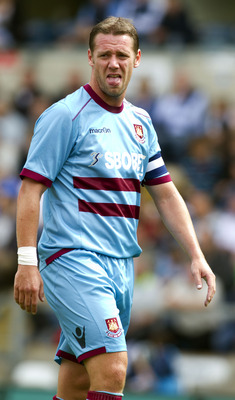 Ben Hoskins/Getty Images
West Ham is not planning on staying in the Championship long.
They may have lost Demba Ba and Carlton Cole, but it looks like they'll be holding onto FWA Player of the Year and midfield maestro Scott Parker, and new boss Sam Allardyce has also brought in Kevin Nolan.
And now, Big Sam reportedly wants Joe Cole to return to Upton Park.
Cole's £90,000-a-week wages present a problem for the East London club, and the Reds offering to pay some of those wages while Cole is on a season-long loan isn't incredibly likely.
High wages for both players means Cole and Parker probably both couldn't play for West Ham at the same time without some wage help in the case of Cole, and personally, Liverpool paying about £45,000 (or fewer) to be rid of Cole isn't the worst thing in my mind (can we get that from Roy Hodgson?).
Don't hold your breath though.
Hamburg SV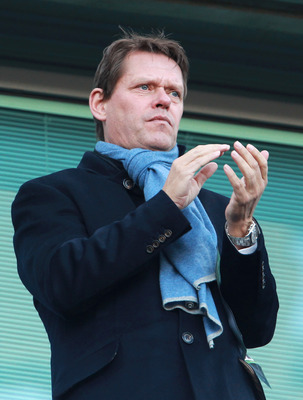 Phil Cole/Getty Images
The one overseas offer for Joe Cole is coming from an old friend of his in Frank Arnesen, former sporting director of Chelsea and now with German club Hamburg SV.
Hamburg were reportedly willing to pay all of Cole's wages if he came to the club on a season-long loan.
This is unlikely though because Cole would probably rather stay close to home and warm the bench at Liverpool instead of going to Germany.
Liverpool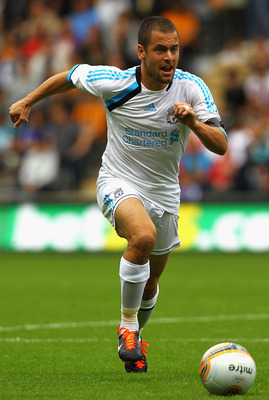 Matthew Lewis/Getty Images
Sadly, Liverpool looks to be Joe Cole's most likely home this season.
But let's turn it around and look at some positives.
First off, maybe he could bounce back after a poor season. Cole has said that a lack of sleep due to his new daughter is what caused his poor form last year. (Smooth move dad. She'll love hearing that in a few years.)
With the year behind him and the sleepless nights hopefully done, maybe the 29-year-old can find the form that made him a star for Chelsea.
And on the bright side, at least the Reds aren't as dependent on Cole rediscovering his form as Chelsea are on Fernando Torres.
Secondly, perhaps Kenny Dalglish can get the best out of him. Cole has said he wants to fight for his place, and King Kenny will appreciate that tenacity and may reward him for it.
Assistant manager Steve Clarke has said Cole just needs to seize his opportunity, and he can be a success at Liverpool.
He would need to have a huge turnaround in fortunes to find his way back into the starting lineup, so if he stays with the Reds for at least six more months, he'll likely be nothing more than a bench player.
The ridiculous wages Cole is receiving may be a thorn in the side of Liverpool and the supporters, but remember, John Henry's other team is the Boston Red Sox. He's had to pay a lot more for a lot less in return.
Keep Reading

Liverpool: Like this team?