FC Barcelona: Five Conclusions from Their Thiago Alcantara-Inspired Audi Cup Win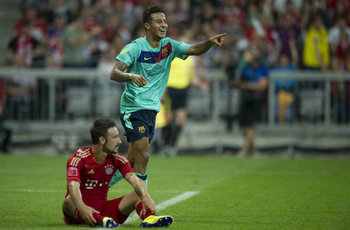 Barcelona have started their preseason in exactly the same way they ended last season: winning and playing beautiful football.
The Catalans have won the Audi Cup, featuring Internacional, AC Milan and Bayern Munich, with young prodigy Thiago Alcantara being the undisputed Player of the Tournament.
Barcelona managed to win this preseason tournament even without players like Lionel Messi, Xavi Hernandez and Carles Puyol, among others, beating Internacional and the home side Bayern Munich in the final, with the brilliant Alcantara scoring three of the team's four goals in the tournament.
The following are five early conclusions from Barcelona's early preseason performances, namely in the Audi Cup:
You can follow me on Twitter @Manueltraquete.
1-the Squad Remains Hungry for More Success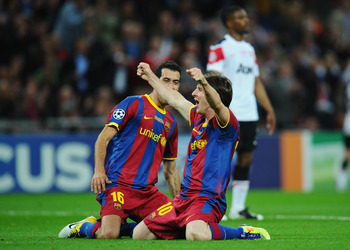 Clive Mason/Getty Images
It must bring great joy to Barcelona supporters all around the world seeing players like Andrés Iniesta and David Villa, who have won everything there is to win in football and then some, put so much effort in a simple friendly match.
It's clear that even the veterans of the squad preserve the same hunger for success as they showed in Pep Guardiola's first season. Add Alexis Sanchez and possibly Cesc Fabregas to mix, two players who will definitely be hungry for trophies, and you have a squad that will be competing as if they had never accomplished anything before (which is kind of true for Cesc and Alexis, after all).
Winning the fourth consecutive league and back-to-back Champions League are the goals in Guardiola and the players' minds.
2-There Is No Depth Issue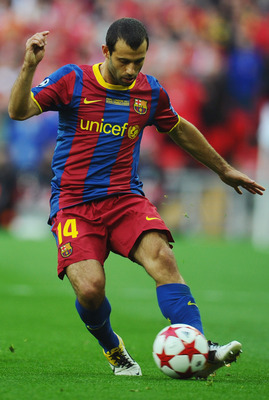 Clive Mason/Getty Images
Last season, many people argued that, while Barcelona had the world's greatest starting XI, they did not have squad depth. They obviously couldn't be more wrong.
The Audi Cup once again showed that Pep Guardiola has several reliable and quality reserves he can call upon at any time.
Players like Thiago Alcantara, Jonathan dos Santos, Seydou Keita, Jonathan Soriano, Fontás, etc...have once again proved they're more than capable squad players, with the likes of Jonathan and especially Thiago likely to become much more in the near future.
When players like Javier Mascherano and Alexis Sanchez join the team, not only will Barcelona have the greatest XI in the world but also some spectacular depth in every position.
3-The Team Can Be Brilliant Even Without Lionel Messi and Xavi Hernandez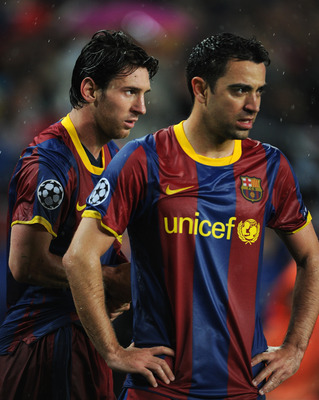 Jasper Juinen/Getty Images
Lionel Messi is the world's best player and Xavi Hernandez the world's best center midfielder.
Barcelona are not the same team without these two players, but they can still play some brilliant football without them. The solution is to give Iniesta more playmaking responsibilities and play Villa centrally.
The Iniesta-Thiago duo produced some great football in midfield, and an attacking trio of Alexis Sanchez, Pedro Rodriguez and David Villa seems excellent on paper.
Barcelona have all the players they need to remain very competitive next season even if these two mercurial talents are sidelined for some reason.
The side has so much quality from top to bottom that Pep can rest his stars this season without a very significant loss in quality.
4-Cesc Who? Thiago Alcantara Is More Than Ready for First Team Action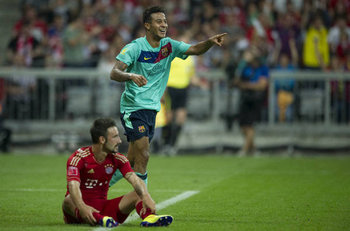 This is hands down the main thing we learned from this preseason tournament.
Thiago Alcantara was the undisputed star of the tournament, he was simply phenomenal. His message is clear: he is ready to take an active role next season.
The 20-year-old La Masia graduate barely put a foot wrong, was successful in most of his passes and dribblers, oozed flair and creativity and scored three goals, including two in the final, a header and a beautiful curling shot from 25 yards.
Thiago's sensational talent means that FC Barcelona clearly do not need Cesc Fabregas. The Arsenal captain will be welcomed if he comes, but the club will be alright if he doesn't.
Judging by the way Thiago has been performing since the end of last season, even if Cesc comes it's only a matter of time before he's behind Alcantara in the pecking order.
The last La Masia graduate to score in a friendly in Munich had been Lionel Messi. This might very well be a sign of things to come...
5-Barcelona Have Enough Quality To Win Everything Again and Remain on Top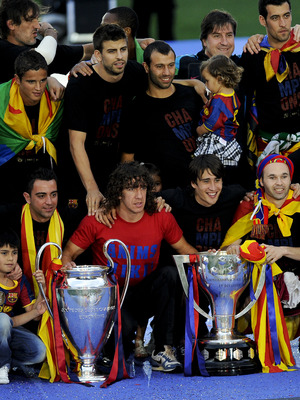 David Ramos/Getty Images
This is the most evident conclusion. Not only do Barcelona have the hunger, but also the quality to repeat their success from last season.
If they were already the world's best teams, the addition of Alexis Sanchez, the emergence of Thiago Alcantara and the possible addition of Cesc Fabregas only make the Catalans an even more fearsome outfit.
Barcelona are the clear favorites to defend their La Liga and Champions League titles.
Not only that, but many of the club's stars are very young, which means that the club is likely to stay on top for many years to come: Lionel Messi, Pedro Rodriguez and Gerard Piqué are 24 (as is Cesc Fabregas), Sergio Busquets and Alexis Sanchez are 22, Thiago Alcantara is 20, Andrés Iniesta is 27 and even Victor Valdés is young for a goalkeeper at 29.
Most of these players haven't even hit their peak yet. Even the likes of Xavi Hernandez and Carles Puyol don't look like retiring any time soon.
FC Barcelona have a brilliant team for the present and for the future. Their fans can definitely dream of continuing this golden era in the club's history.
You can follow me on Twitter @Manueltraquete.
Keep Reading

FC Barcelona: Like this team?