Aston Villa: Charles N'Zogbia Is Much Better Fit Than Stewart Downing
July 26, 2011
Michael Regan/Getty Images
Aston Villa have pulled off something of a masterstroke in the summer transfer window, selling Stewart Downing to Liverpool for £20million and replacing him with Charles N'Zogbia from Wigan Athletic for just £9.5million.
With personal terms set to be a formality, N'Zogbia is poised to pen a five-year deal at Villa Park, as manager Alex McLeish goes about replacing Downing and Manchester United newboy Ashley Young.
Of course, Downing's transfer value, as well as his worth to Aston Villa and now his new Anfield employers, cannot be understated.
In the Premier League last season, Downing scored seven goals from the wing and tallied nine assists, whilst proving his stellar fitness and professionalism by playing in all 38 matches.
He also made 85 key passes in total, which was better than the likes of Steven Gerrard, Nani, Cesc Fabregas, Rafael Van der Vaart and Ryan Giggs, who were all supposedly credited as being among the top 10 passers in the 2010/11 campaign.
So it's clear to see why he was such an asset to Aston Villa, and why he was wanted by both Liverpool and Arsenal amongst others.
It's also evident to see why the Reds shelled out £20million for him, considering he has consistently produced the statistics he did in 2010/11 for many seasons, and, at 27, is a proven Premier League performer entering the peak of his career.
Downing also fits into Kenny Dalglish's transfer policy of preferably signing British talent; the only have football to worry about when they join Liverpool, instead of being weighed down by adapting to a new culture and lifestyle.
Lastly, and perhaps most importantly, Stewart Downing is also the player Liverpool have needed most in the transfer window: an old-fashioned, touch line-hugging winger who breaks the modern day mould in the Premier League with his natural ability and tendency to deliver crosses best from the byline.
And so, we all know why the Reds were willing to pay so much for the England international.
However, it's also clear why Aston Villa were only too keen to sell—providing they got the right price.
When Alex McLeish insisted Downing was not for sale, one can only assume he was bluffing so Liverpool or Arsenal would match the going rate.
And that's because Downing is a player who would've been something of a flop in the new McLeish regime at Villa Park.
For a start, Downing told the media prior to Big Eck's arrival that he wanted to leave the Villans in search of UEFA Champions League football. 
After Ashley Young's departure, he again made it clear in the media that he wished to go onto bigger and better things.
When McLeish took over as Villa boss, he inherited a key figure in the Aston Villa squad that no longer wanted to play for the club and therefore didn't want to play for him.
While Downing might not have kicked up a fuss had he stayed, he certainly wouldn't have been happy in a Villa shirt, with such disdain potentially spreading corrosive animosity throughout the group.
And if you take the human aspect out of it, Downing also doesn't fit in McLeish's tactical philosophy.
The Scot always has a rather central attacking focus with his teams, with the ball usually ending up at the strikers' feet in the final third, instead of his head or chest—the best way to do that is to pass it through the middle, attacking the heart of the defence.
Touch line-hugging, byline-crossing wingers like Stewart Downing don't really fit into McLeish's system, hence why David Bentley and Jean Beausejour failed to make a significant impact at St. Andrew's last season—McLeish tried turning them into something they're just not.
So with than in mind, who better to replace Stewart Downing at Aston Villa than Charles N'Zogbia?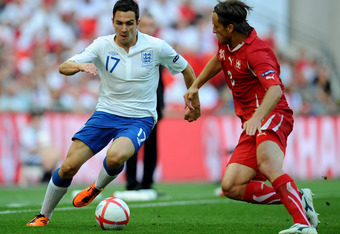 Clive Mason/Getty Images
Tactically, N'Zogbia fits better into McLeish's way of thinking, as the France international is a winger who prefers to cut inside and seek options through the middle as opposed to running for the byline.
He's naturally more flashy than Downing and instinctively looks to link up with the strikers as he himself goes in search of goals and assists.
N'Zogbia is certainly a greedier player than Downing, but it fits into McLeish's and Aston Villa's footballing philosophies perfectly, emphasized by the fact the Frenchman scored two more league goals than Downing in four fewer games.
No matter the manager, Aston Villa like to have on the pitch both playmaking wingers and wingmen playmakers, interlinking an attacking central midfielder with a goal-seeking wingers—it's the reason why James Milner and Ashley Young scored so many goals and earned big money moves.
And, no matter the club, Alex McLeish likes to have wingers who can cut inside and take over the playmaker role through the middle—it's why Birmingham City won the Carling Cup, with Arsenal's defenders losing their marking strategy thanks to McLeish's tactical unpredictability.
Alex McLeish and Aston Villa fit each other perfectly, and Charles N'Zogbia fits both Villa and McLeish perfectly.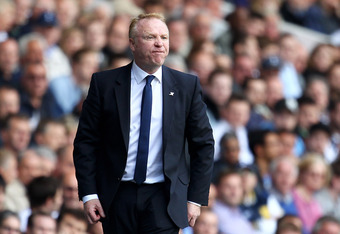 Julian Finney/Getty Images
So on the tactics board, N'Zogbia is a much better name for McLeish than Stewart Downing.
And on the human side of things, N'Zogbia again is a much better member of the squad for the new Villa boss, considering the flashy French winger is a man who would much rather play for his manager than Downing.
It's no secret Alex McLeish tried to sign N'Zogbia for Birmingham in 2009, having an £8million bid rejected, offering proof that McLeish is a man who believes in the player and his talent.
N'Zgobia failed at Newcastle United because he wasn't loved by his managers. He then went to Wigan Athletic, where boss Roberto Martinez took him under his wing, and flourished. Following McLeish's latest bid for N'Zogbia, it's clear the big Scot will do exactly the same.
Then if we see through the eyes of the board of directors, Charles N'Zogbia becomes a much bigger financial asset than Stewart Downing.
N'Zogbia is two years younger than Downing, and if he signs a five-year contract with the club, will have a very high resale value if he performs well, considering he'll be entering the peak of his career with a long amount of time left on his contract.
His current value is £9.5million, but if he scores the same number of goals next season and just makes two more assists—quite likely with Darren Bent in attack—he'll have performed even better than Young did right before his £16million move to Manchester United, but with more years left on his contract, something which would quite possibly see his market valuation double.
Then he scores one or two goals more and makes a few more assists the season after, he'll have proven himself as a consistent top-level performer entering the peak of career—and thus having potential to do even better—still with three years left on his contract, which would most likely see his transfer value rise above that of Downing's current valuation, with the player being the same age as Downing is now.
So overall, it can well be said Aston Villa have pulled off a genius transfer move selling Stewart Downing and using only half the money to sign Charles N'Zogbia, a player more suited to both the team and the gaffer, and an asset more suited to boost the club's coffers.