Tottenham and Chelsea: A Battle of Kind Words for Luka Modric's Affection
July 25, 2011
Gallo Images/Getty Images
If there's any concrete piece of information that we can all take away from the weeks following Luka Modric and Tottenham chairman Daniel Levy's meeting to determine whether or not the club would entertain offers to transfer Modric to a higher-standing Premier League side, it's that Modric is not at all pleased with Levy's handling the situation.

In fact, it would be a pretty safe bet to say that Modric is livid with Daniel Levy and his unwavering stance on keeping the midfielder at White Hart Lane through the summer transfer season.
In what could yet prove to be the media tirade of the summer, Modric slammed Levy following the meeting, saying the chairman "talked to me arrogantly. He arrogantly let me know that he doesn't even want to know what I have to say." Soon after, Modric accused Levy of threatening his career, and ultimately threatened to submit a formal request of transfer away from North London.
Whether the accusations leveled by Modric are credible or not are irrelevant, given the vast amount of insight that these statements have provided us to Modric's perception of the men holding a tight grip on his lengthy contract. That perception is, without any level of doubt, not very positive.
I've already made my arguments regarding just how large of a role Modric's perception of Tottenham could play in this exhausting ordeal, and how much Levy had better hope the Croatian midfielder's perceptions of him as a chairman don't extend to his feelings toward Spurs as an organization.

Both Tottenham and Chelsea, it would seem, have come to the same conclusions regarding the benefits of looking good in Modric's eyes if they have any wishes of seeing him play for their clubs in the coming season.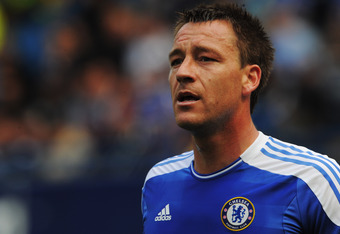 Michael Regan/Getty Images
Immediately following the meeting earlier this month, teammate Raphael van der Vaart was the first to attempt a bit of damage control and repair Modric's perception of Spurs as an organization heavily associated with disrespect and deceit, showing his support of Modric's difficult situation by admitting, "It's not easy when a club wants to buy you," adding "we're all happy that he's staying."
Van der Vaart sang the wantaway midfielder's praise by telling Sky Sports, "It is great to keep the players and [Modric] is fantastic."
Last week, Chelsea captain John Terry chimed in as well, expressing a clear desire to play with the Spurs star, telling of the challenge he's faced in playing against Modric on the pitch, and providing a glowing appraisal of Modric as a "world-class" force in midfield.
"He's a world-class player who is very difficult to play against," Terry said. "He's very agile, very quick and a great finisher like we've seen over many years."
With such publicly expressed words of kindness, don't think that Terry hasn't considered how the positive remarks could make the grass at Stamford Bridge look significantly greener than it is at White Hart Lane for Luka Modric. Especially when the would-be teammate happens to be one of the greatest modern footballers in England.
More recently, Spurs manager Harry Redknapp jumped in, speaking highly of Modric's focus and level of play in preseason matches, despite Modric's disapproval of Tottenham's position. Said Redknapp, "His attitude has been first class," adding, "He only knows one way to play. He is a fantastic boy and a great professional.
"Certain players just have that extra bit of class," Redknapp concluded.
The only participant in this saga that hasn't seemed to have gotten the memo about the potential benefits of stroking Modric's ego is new Chelsea boss Andre Villas-Boas. While Tottenham's position continues to be that the midfielder is worth significantly more than what Chelsea has offered thus far, Villas-Boas continues to insist that he is not, even recently calling the club's valuation of Modric "incredible."
Chelsea, he insists, will survive and contend with or without Modric on the roster.
Still, with Chelsea in a position to offer Modric significantly higher wages on top of Champions League football in the coming year, they can certainly afford to be coy. Spurs, on the other hand, don't have such luxuries as Modric continues to hint at a desire to do everything possible to force a move.
While things have been quiet while Tottenham has been out of England on their preseason tour, expect Chelsea to resume their whispers in Modric's ear about how glorious his life could be if only he were wearing blue instead of white.

As Spurs attempt to hold on to Modric despite every challenge Chelsea manufactures, and as Chelsea attempts to lure him away with more and more promises of success, expect the praise for Modric from both sides to continue piling on for weeks to come.