U.S. Soccer: Playing To Win the Game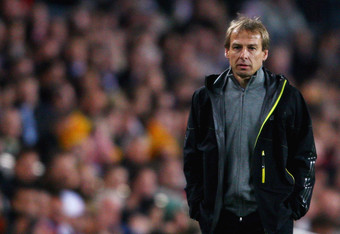 Jurgen Klinsmann
Jamie McDonald/Getty Images
Sometime after the Women's World Cup, while our nation was distracted from the waning performance of the U.S. men's national team, there began a discussion on the venerable BigSoccer.com about the notion of us as fans getting back to discussing the future of our men's squad.

In the course of the conversation a my inner fire was lit as a passionate fan of the world's game due to a particular statement in the thread: "There is no incentive to fire Sunil or Bob if we are going to have the attitude that anything less than winning every single tournament is unacceptable."
To me, and many other fans of the national team, and I believe fans of sports in general, that attitude is an atrocity. Sports are not about lining up to compete. Sports are about winning. Anyone can compete.
I made note to the individual that the attitude in question was absolute crap:
"Do you know why the SEC wins the national title every year, why the Yankees have 27 World Series rings, why the Red Wings have 11 Stanley Cups, how did the New England Patriots dominate the NFL for 6 years and almost go undefeated in the modern era, and how were the Braves able to win 14 straight division titles to become the most dominant regular season team in the 142 year history of baseball," I asked.

Because winning is everything! And the expectation to win drives teams to work harder, get better, and execute."
My passion was not meant to be directed at the individual who relayed the original statement, and my apologies in hindsight if he took offense. My statement was rather directed at the attitude that perpetuates itself by certain factions of the U.S. fanbase that we should not expect achievement.

The United States as a country fails at nothing in sports. We have at one time or another dominated in practically every field of play imaginable, except one: soccer. There are reasons for this, likely too many to mention, in some ways we are still playing catch-up—something that we as a sporting nation are not accustomed to.

But without a doubt we are a nation of athletes, and there is no reason to believe that we cannot be victorious at the highest levels of the sport of soccer.
There will be many factors that go into achieving those levels of greatness, but one of the most important must be a mental fortitude.

I don't believe that the actual players on the field are without this mental toughness, endurance and expectation. This has been made clear by their tenacity in play late in games like that of win in the 91st minute against Algeria to vault the U.S. to a group stage victory in the 2010 World Cup. But those expectations also come from the leadership on the bench, the front office, and the fan base.
"I'm so sick and tired of the mentality of our federation and our fans, that "it's OK to lose." No it's not. It's not OK to lose. Does that mean that I or anyone that agrees with me is brain dead and doesn't understand that we won't lose or we won't win every tournament? Of course not. But the U.S. needs to carry itself with such a dominant attitude and expectation for victory that our mere presence on the field frightens opponents in a way that defies logic," I continued.
This week, I believe the United States Soccer Federation made a move that indicates that it desires to win at the next level with the firing of head coach Bob Bradley and the hiring of Jürgen Klinsmann.

Bradley was a fine coach and a gentleman on and off the field and completes his tenure with the national team with a 43-25-12 record with several key tournament wins, and almost led the team to its first major tournament championship at the 2009 FIFA Confederations Cup. I will allow other commentators to access the capabilities of incoming coach Klinsmann. But what I believe is important here is the message that it sends to the team and to fans: "OK is not good enough."
"You play to win the game. You don't play it to just play it. That's the great thing about sports. You play to win. And I don't care if you don't have any wins, you go play to win. When you start telling me it doesn't matter, then retire, get out, 'cause it matters." - Herm Edwards, 2002
This article is
What is the duplicate article?
Why is this article offensive?
Where is this article plagiarized from?
Why is this article poorly edited?

United States (National Football): Like this team?