Manchester United: 5 Reasons They're Going to Struggle in England in 2011-12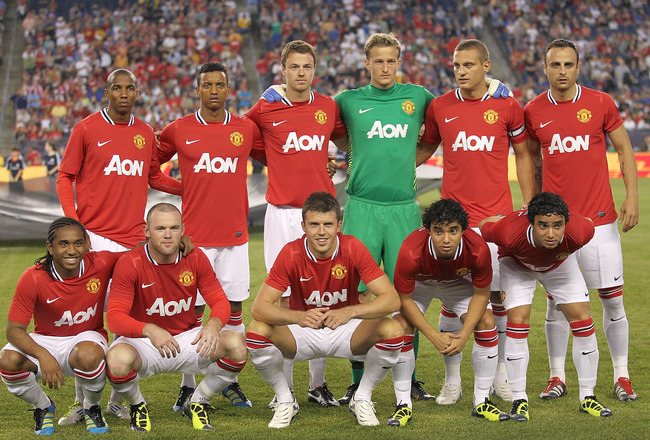 Jim Rogash/Getty Images
Manchester United will be looking for their unprecedented 20th English league title but they will have to get over some road blocks in order to achieve that goal.
They are well on their way to getting their legs back following a win over the New England Revolution of the MLS, 4-1.
It will be easier said than done as they have to get over retirements, new additions and most of all, their key opponents, who seem to get better every year, Chelsea and Man City. That will be discussed in the upcoming slides so without further ado, here are five reasons Manchester United may struggle in 2011-12.
Edwin Van Der Sar Retirement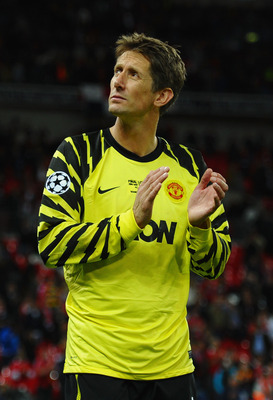 Laurence Griffiths/Getty Images
For the first time since the 2005-06 season, Edwin Van Der Sar will not be the starting goalkeeper for Man Utd.
His retirement spells the end of an era that saw Van Der Sar backstop "The Red Devils" to four Premier League titles, a FIFA Club World Cup, three FA Community Shields and the 2007-08 UEFA Champions League title.
This spells the beginning of David De Gea's career with United. Previously, a member of Atletico Madrid of La Liga, De Gea established himself as a top young goaltender in Europe.
De Gea was highly sought after and with him in net for Man Utd, they have a 20-year-old that could be their future on the back end but for the immediate future, will it be Man Utd's Achilles heel?
The pressure of success can get to plenty of players and for some, it takes at least a year for elite players to get used to a team dynamic before their success helps the team get better.
Case in point, Wayne Rooney. When he came over in 2005, Man Utd finished in third for the second straight year. Since then, they haven't finished out of the top two.
It's a process and as the last line of defense for a high profile squad, the young De Gea will struggle in his debut season, which will lead to struggles for the entire team to achieve league title No. 20.
Rio Ferdinand Injury Bug/Questions on D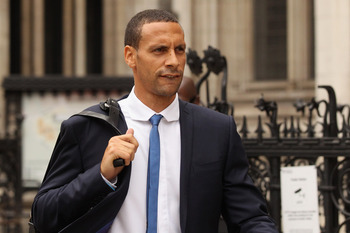 Oli Scarff/Getty Images
Rio Ferdinand is one of the most well known defenders for Man Utd and for good reason. He has been with the squad since 2002 and at 32, he has had some of the worst injury plagued seasons in recent memory.
Numerous knee and back injuries limited him to 29 appearances for the club in 2010-11 (19 Premier League matches) and 21 appearances in 2009-10 (13 Premier League matches).
Does the arrival of Phil Jones help shore up Ferdinand's injury bug? Will Ferdinand play up to par in 2011-12 or will he be in the treatment room more than on the field?
This uncertainty will force the 19-year-old Jones to step up and be a key performer on the defense along with Nemanja Vidic.
The loss of John O'Shea is also a burden that Man Utd will have to deal with this season.
With many changes happening to the defense, expect Man Utd to give up more than the 37 Premier league goals they surrendered in 2010-11.
Paul Scholes Retirement/Midfield Help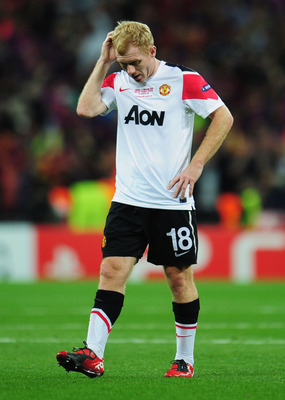 Shaun Botterill/Getty Images
Van Der Sar wasn't the only Man Utd player to retire this past offseason. Paul Scholes spent his entire career with United and his leadership quality will be missed in 2011-12.
He had a big drop off in goal production in his final years but without his presence, it will be up to Ryan Giggs, Park Ji-Sung and newcomer Ashley Young to help out the back end more frequently, now that the squad is getting younger.
The forwards haven't changed so in terms of offense, Wayne Rooney, Dimitar Berbatov and Javier Hernandez can bare that responsibility as normal. They will just need to be counted on to lead the offense more often as Man Utd could play a more defensive game.
The reshaping of Manchester United's starting lineup will be something that they will struggle to adjust with when they begin their Premier League season.
Is Barcelona in the Heads of Manchester United?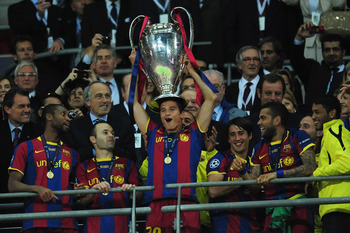 Shaun Botterill/Getty Images
It may have nothing to do with the Premier League crown but after the 2011 Champions League final loss to Barcelona, it left a sour taste in the mouths of Man Utd fans everywhere. The shots on target were 12-1 Barcelona and the possession was in the favor of the Spanish club by a count of 63 to 37 percent, enough said.
With the possibility of a rematch in this year's final (speculation, you can't count out these two teams from meeting again), does Man Utd have a shot this year?
You can bet that with all the changes, Man U are concentrated on getting back to form as quickly as possible to reach the UEFA Final once again but with the dominance shown by the 2011 champs, will Man U let that effect them in their UEFA Qualifiers and in the Premier League?
Two different leagues, sure, but for the players left from that loss, it will be mind over matter. There is no rest for the weary and will also raise the question on what is more important, a Premier League title or a UEFA Champions League title.
If they over think it, they could have neither.
Just food for thought.
Man City on the Rise?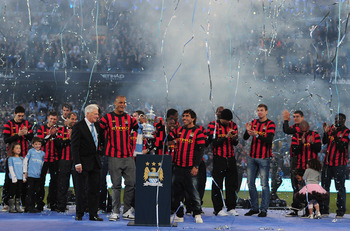 Jamie McDonald/Getty Images
One of the biggest road blocks in the way of Manchester United this season will be their cross-town rival, Man City.
Carlos Tevez has been undecided on whether he wants to return this season and will cause a shake up in Man City's play either way.
However, you cannot deny that since Roberto Mancini's arrival, Man City has been a force in the Premier League and has gone on to success that they couldn't even bare to think of before.
Remember, this is a team that was regulated back into the Premier League only 10 years ago and struggled for a while after. Now, they have an FA Cup to defend and a Champions League berth.
This success doesn't look to be over and Man City is a legitimate threat to pass Chelsea this season, perhaps even Man Utd.
When one rival succeeds, the other falls and with that, will Man City persevere and claim their first Premier League title?
Yes, this is not a direct reason why Man Utd will struggle but considering the success of Man Utd over the years, anything short of first place this season will lead to questions involving struggle.
Again, food for thought.
What do you think?
Keep Reading

Manchester United: Like this team?