EPL Predictions: Power Ranking Each Club's Captain Heading into the Season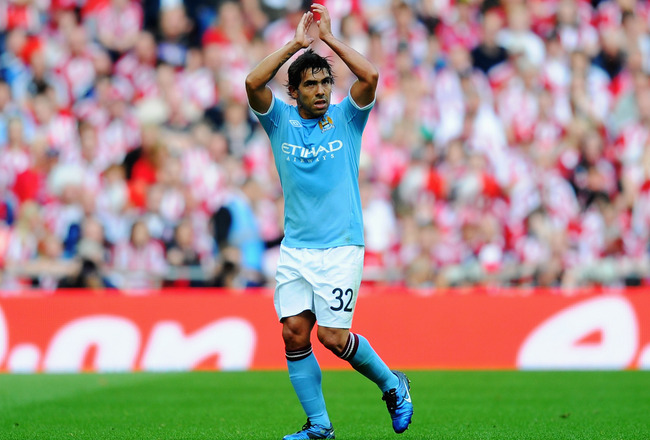 Mike Hewitt/Getty Images
Very few positions in sports are as big of an honor and responsibility as the captaincy of an English Premiere League team.
Captains must lead by example; they must be the life of their team and be able to lift the other players on the pitch when the entire team is down. A captain can't give up on a game, or a ball that's just away from him because his entire team looks up to him for morale.
Additionally, they lead not only the players on the field, but they lead the club's fans and guide the entire direction of a team. Thus, the captaincy is no small responsibility; one man's actions and attitudes guide the entire team and everything affected by it.
Thus, each of the 20 men who have been bestowed with this honor are truly a unique hero in their own right.
With the new season just a few short weeks away, here is my power ranking of how each of these captains stack up against one another.
20. Karl Henry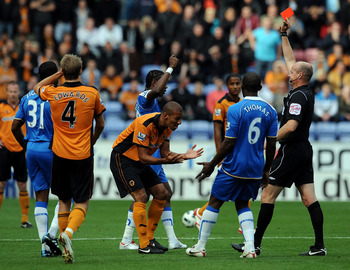 Chris Brunskill/Getty Images
He's brave, he's bold and he's absolutely fearless when it comes to putting his body on the line in a challenge.
But when it comes to discipline, the picture really says it all for Karl Henry's game.
Henry has possibly the worst disciplinary track record of any of the captains in the Premiership this season, amassing eight cautions in his 29-appearance campaign last term in addition to one sending-off.
I realize that yes, he is a defender, but, at the same time, it really doesn't help to argue for the Wolverhampton Wanderers captain when he hasn't scored a goal in the league for over three seasons.
There's no doubt that he leads by example by playing extremely aggressive and laying it all out on the table for his team without hesitation.
And it also helps that he's a local boy, hailing from Ashmore Park in Wolverhampton, adding to his fan appeal.
However, that leadership also seems to go completely missing off the pitch as he's become notorious for running his mouth to the press concerning opponents, referees or any of the like, creating an absolute PR disaster for the club.
For his combined conduct both on and off the pitch, I place Karl Henry at the lowest spot in my power ranking of the EPL captains.
19. Lee Cattermole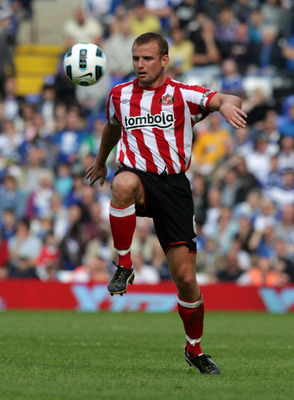 Ross Kinnaird/Getty Images
There's no questioning his presence in the locker room when you consider that Lee Cattermole has been given the armband by both Middlesbrough and Sunderland in his career.
Now having been at the helm at the Stadium of Light for a full season, Cattermole has established himself as a true leader for the Black Cats with rugged physical play and some extremely hard tackling.
His primary role as a defensively-minded central midfielder has given the squad both a reliable presence against attacking forwards and a good sense of distribution to the squad's attacking forwards.
However, Cattermole also does have a record as a bit of a nutter when it comes to discipline.
Cattermole appeared in only 23 games for Sunderland last season, and it's pretty easy to see why as he was suspended for several matches due to accumulation of 10 cautions and two red cards.
As much as Cattermole is respected, it's got to be difficult for a squad to have its leader out for close to a quarter of the season due to suspensions and bans for discipline.
18. Gary Caldwell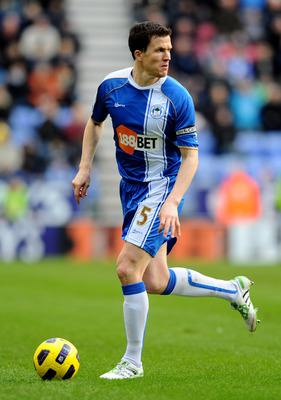 Mike Hewitt/Getty Images
He's a solid player defensively who Wigan Athletic are happy to have, however Gary Caldwell ranks rather low on our captaincy list because, like others before him, Caldwell too struggles with discipline.
Just last season, Caldwell found his number in the referees' book on seven different occasions, as well as being sent off once.
Between suspensions and injuries last season, Caldwell only appeared in 23 games last term in the Premier League.
One of the biggest responsibilities a captain has to his team is that he needs to be there on the pitch to lead, and Caldwell missed several games due to the results of some of his undisciplined play.
However, that being said, Caldwell has also found a key role at Wigan right alongside his brother Steven—under his leadership, Wigan are still yet to be relegated from the Premier League since they were promoted for the first time six seasons ago.
It's hard to argue with that.
17. Stiliyan Petrov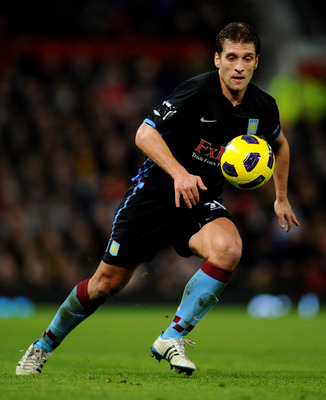 Clive Mason/Getty Images
The Bulgarian-born captain of Aston Villa, Stiliyan Petrov has brought a solid defensive presence to the Villains midfield.
He's frequently a favored choice for Alex McLeish to fill out the midfield, and his solid play and ability to distribute the ball and push play forward offensively set him apart as one of the great distributors in the game.
However, Petrov has never really found the form he had during his years at Celtic, where in 312 appearances he scored 65 goals.
In 180 appearances for Villa, he only has eight tallies.
Still, Petrov has been trusted with the captain's armband since the opening of the 2009-10 campaign, and Villa finished last season in the top-half of the table, showing the team is not missing much in the way of leadership.
16. Chris Brunt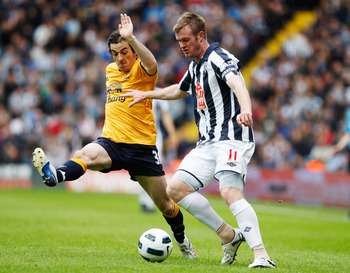 Mark Thompson/Getty Images
He hasn't been captain of West Bromwich Albion for too long, but Chris Brunt has made a name for himself among the fans and his teammates.
The physical midfielder led the Baggies in scoring in 2008-09 with eight goals, and has guided them to the top flite of English football.
He was given the armband in January 2011, making him one of the newest captains in the Premier League.
However, he has some big shoes to fill if West Brom really want to make a splash next season.
His scoring curtailed significantly last season, netting only four goals in 34 appearances, while he also started to show some fleeting discipline, accruing nine of his career 12 yellow cards last season.
Now entering his first full season as club captain, it wouldn't surprise me if he starts to come under scrutiny for his leadership.
15. Ryan Nelsen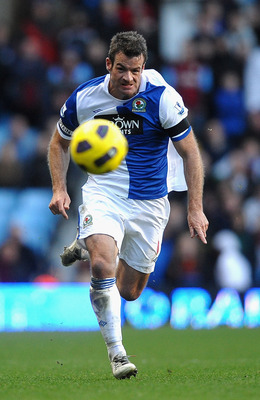 Laurence Griffiths/Getty Images
One of only a select few players on this list who aren't of English heritage, Ryan Nelsen hails from the small country of New Zealand. For a player coming from a country that, up until recently, wasn't even in the top-70 of FIFA's World Rankings, he's accomplished quite a lot.
Nelsen is a skilled defender who has an unusually good grasp of play in his opponent's end as well as his own.
In addition to only earning himself four yellow cards (and one send-off) last season, Nelsen scored three goals, something very few defenders in the EPL could do.
When a player can lead by example for his squad and bring them out of relegation by his play and his motivation to his teammates, you have to give some respect to him.
You also have to respect how far Nelsen has come considering his background.
Nelson developed at the American collegiate level, playing for both Greensboro College and then Stanford University, before being drafted into Major League Soccer and then transferring to the EPL.
Very few players can come from that background over to finding such success in the Premiership.
14. Fabricio Coloccini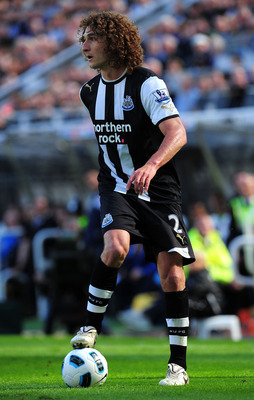 Stu Forster/Getty Images
Without question, Fabricio Coloccini is the newest captain to the English Premier League, as he was tabbed by manager Alan Pardew as the club's captain for next term on July 8.
Coloccini has developed a reputation as a solid defender for the Magpies, earning himself the nickname "Mr. Reliable" from former manager Joe Kinnear.
However, his consistency has been known to waver at times, and this has brought him some criticism. He was part of the defense that became so streaky that it cost Newcastle a place in the top flite in 2009.
However, since then, Coloccini has found his form again and thensome, now not only playing solid defense, but actually joining in on the play offensively as well.
This style of play has made him a more well-rounded player, and one Pardew would love to see continuing these forays forward come next season.
However, because of his lack of experience with an armband, Coloccini does fall down this list a little bit.
13. Kevin Davies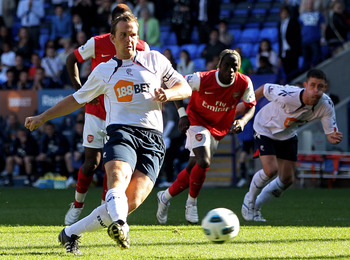 Michael Steele/Getty Images
The hard-nosed captain of Bolton Wanderers certainly has a reputation around the league, and that's of a guy who's not afraid to foul someone.
Kevin Davies has worn the armband for Bolton Wanderers since January 2009, and holds the record of committing more fouls than any other player in the history of the Premier League, including a single-season record of 121 last term.
You'd think for a defender this would be expected, but here's the kicker: Davies is a forward.
Last season alone, his near-reckless play earned him a whopping 10 yellow cards.
On the flip side of this aggression, however, comes the fact that he is also one of the most-fouled players in the league, using his blinding speed and clever ball work to force defenses into desperate situations.
Davies also has a nose for the net, scoring eight times for Bolton last term.
He's a respected veteran who has even earned himself an international call-up to the England squad (making his debut in a 0-0 draw against Montenegro), but Davies' discipline doesn't necessarily help the team in all situations, and more often than not is simply the reason Bolton are giving up so many free kicks.
12. Carlos Tevez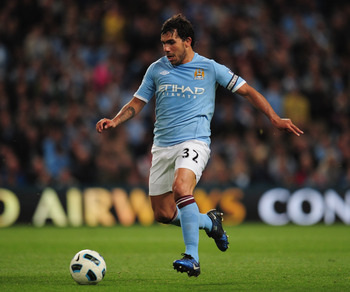 Shaun Botterill/Getty Images
Few players are as important to a team offensively as Carlos Tevez was to Manchester City last season.
His 20 goals not only won him a share of the Golden Boot (with cross-town rival Dimitar Berbatov), but led the Blues to a third-place finish in the table, securing them a spot in the UEFA Champions League next season.
Tevez's leadership really can't be argued against because he also brought the FA Cup to Eastlands, bringing the team to the final at Wembley Stadium and then downing Stoke City to bring it home.
However, the reason Tevez falls down this list is because his loyalties really don't seem to lie with the club he's sporting the armband for.
He had already given a written transfer request once, citing "family issues." The request was refused and, despite his statement that he wants to remain at the Eastlands while on the record, he has also been quoted as saying he would not even return to Manchester "on vacation" to an Argentine chat show.
No team captain should ever be that against the club they're representing—so for that, Tevez falls significantly down the list.
Plus, there's also the chance he might not even be a Blue come next season.
11. Grant Holt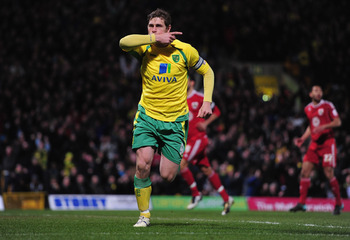 Jamie McDonald/Getty Images
Talk about another offensive force who nearly singlehandedly carried his team to a promotion to the Premiership...
Grant Holt finished second in scoring in the entire Championship last season with 21 goals, and it was his offensive talent that really made the support from the rest of his team pay off and secure Norwich City a second-place finish and automatic promotion.
Likewise, if he's able to find his scoring touch in the Premiership next season, Norwich could also find themselves staying for at least a second year.
He also he appeared in 44 matches in the league last year, while accruing only seven yellow cards.
For this reason, Holt breaks into the top half of my power rankings.
10. Ryan Shawcross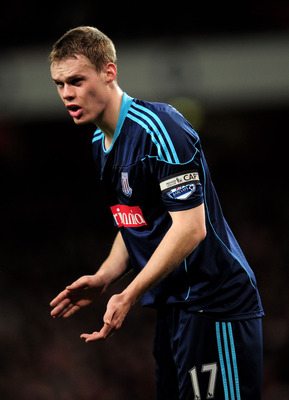 Shaun Botterill/Getty Images
Like many other sports, having a superior size and physical stature is a serious advantage.
Ryan Shawcross definitely enjoys having a head above the competition.
Standing at 6'3" (191cm), Shawcross is an imposing force in the Stoke City back-four who can quickly and easily dispose of just about any ball that's served through the air, latching onto it well before any of his opponents.
Perhaps what makes Shawcross even more impressive is the fact that he guided a team like Stoke City, who finished in the middle of the league table at 13th, to the FA Cup final.
Shawcross did also face issues with discipline due to his physical nature last season as well, however, accruing eight yellow cards and two red cards.
Shawcross has proven to be a solid leader for the Potters, however, and with one full season with the armband under his belt he will only improve even more this year, assuming he stays healthy.
9. Garry Monk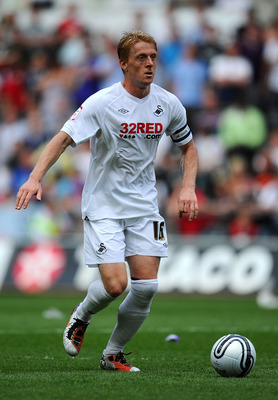 Stu Forster/Getty Images
Ever since joining Swansea City on a free transfer in 2004, Garry Monk has been extremely influential in the club's surge from League Two to their recent promotion to the Premiership.
He was initially given the armband in August 2006 when the Swans had just reached League One, and fought through a serious injury to come back for the 2007-08 season, which saw him guide the team to promotion to the Championship. Monk would score one of the critical goals in a game against Leeds United to secure this.
Though he picked up another injury in February of last season, Monk's defending was a huge factor in bringing Swansea to a start that saw them finish third in the Championship and then win the playoff to secure promotion to the top flite.
Monk now has the honor of wearing the armband for the first Welsh side to ever grace the Premiership. However, the Swans have a huge fight ahead of them as it remains to be seen whether they'll be able to survive at the top.
There's no questioning the club's success behind Monk's leadership as they've been able to surge from League Two to the premiership in just six seasons—for this, Monk is on this list as one of the best captains in the Premiership.
8. Adel Taarabt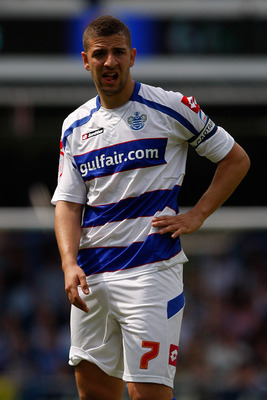 Dan Istitene/Getty Images
Queens Park Rangers are returning to the top flite of English football for the first time in 15 years, and their Moroccan International captain is a large reason as to why.
Adel Taarabt has been a scoring dream for QPR, notching a stellar 19 goals in the Rangers dominating Championship title-winning season.
Now playing in the Premier League, all eyes will be focused on this high-scoring midfielder and waiting to see if he'll be able to continue the offensive production against the best teams in the country.
However, thanks to his play, the R's have gotten this far and look primed to have possibly the best shot of any of the three promoted teams to stay in the Premier League.
The man voted the Football League's Player of the Year will have to keep his scoring and offensive magic alive however, if he wishes to keep them afloat.
However, with his talents so highly sought after by a number of other clubs, including those in the Premiership, I'd say he's just as well equipped as any to take on the challenge.
7. Danny Murphy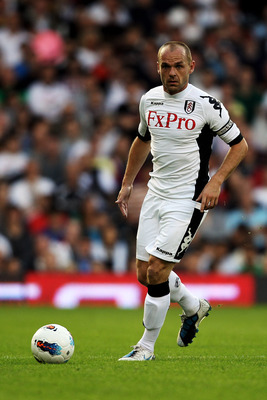 Warren Little/Getty Images
Danny Murphy was given the captaincy of Fulham at the start of the 2008-09 season, and he hasn't let his club down.
Since becoming captain, Murphy guided Fulham to its first European success, bringing the club on a shocking run through the UEFA Europa League that fell just short with a 2-1 loss in the European final.
Murphy has been known for his physical play, racking up eight yellow cards last season, but he is also a fair player, never once being sent off with the captain's armband on.
He did, however, break a consistent streak of scoring five goals per season last year when he failed to find the net even a single time.
However, Murphy's play did also lead Fulham to one of their most successful domestic seasons as well, as they finished their EPL term in the eighth-place position.
With Murphy at the helm, if the team can adapt to new manager Martin Jol's system, Fulham could surprise many again by finishing even higher on this year's table.
6. Nemanja Vidic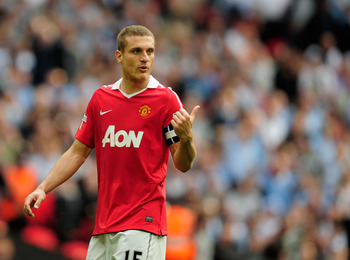 Jamie McDonald/Getty Images
Nemanja Vidic has become one of the most feared central defenders in the Premiership and, together with Rio Ferdinand, is part of one of the best central-defensive duos in the world.
He's got an abundance of experience at the Premiership and elite European levels, playing with Manchester United in the UEFA Champions League every season, and has become a near-automatic selection for Sir Alex Ferguson every game.
He's a hard-tackling and sometimes reckless defender who has been sent off before for harsh challenges, but he does also have the ability to pot the occasional goal, something nearly every manager would love to have out of their rugged defenders.
Vidic managed to find the net five times in 35 league appearances last season.
That being said, the Serbian international does have some learning to do with his leadership, having taken over the post at the start of the 2010-11 term.
After guiding the Red Devils to a Premier League title in his first season, it's hard to argue that he's the wrong man for the job, but he does still have room to improve as captain.
However, that still isn't to take away from him as one of the best captains in the league at the moment.
5. Phil Neville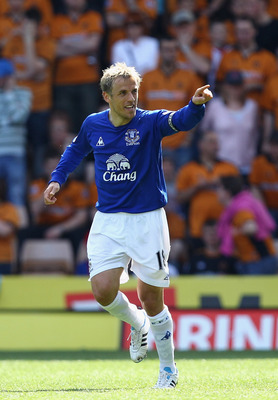 Richard Heathcote/Getty Images
It's not a common sight to see two brothers playing against each other in the English Premier League, but it's an even rarer sight to see two brothers captaining opposing teams in the EPL.
In fact, it's so rare it's only been done once: by Gary and Phil Neville of Manchester United and Everton, respectively.
Since his transfer from Manchester United, Phil Neville, the younger of the two Neville brothers, has been a staple in the Everton squad and his versatility to play in either the midfield or defense has made him one of the most useful players in the game.
Neville was named captain of the Toffees in 2007, and since then has led Everton to some moderate success, including securing a berth in the UEFA Cup tournament in 2007-08, and then again in 2008-09, a year in which they would finish runners-up in the competition.
He's also a very disciplined player, acquiring only five yellow cards last term despite appearing in 31 matches.
4. Cesc Fabregas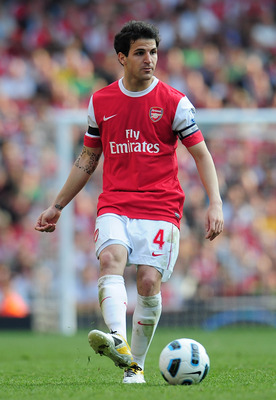 Shaun Botterill/Getty Images
The crown jewel of the lethal core of young Arsenal talents, Cesc Fabregas was dubbed team captain in November 2008.
Very few players possess the skill and the football sense that Fabregas plays with.
Known for his pinpoint-perfect passing, Fabregas has become one of the best central midfielders in the world with the ability to both score an absolutely magnificent goal with his foot skills and set up beautiful strikes for teammates by giving them a perfect ball.
This lethal combination has seen him become an integral part of the Spanish national team as well as his club at Arsenal.
Fabregas is part of a young nucleus of players that feature the likes of Theo Walcott, Alexandre Song, Nicklas Bendtner, Gael Clichey and Samir Nasri, among others.
However, despite his manager's insistence that his gem is not going anywhere, Cesc Fabregas continues to be linked with a move to his boyhood club Barcelona by the Daily Mirror, the Daily Mail, the Metro and a whole host of other sources.
Odds are, he could be out of the Emirates Stadium very soon if Arsene Wenger would be willing to sell him.
His rise to stardom has definitely been deserved and, while some may criticize him for his lack of physical stature and play, Fabregas has quickly become an elite midfielder and possibly the most talented player on this list.
3. Ledley King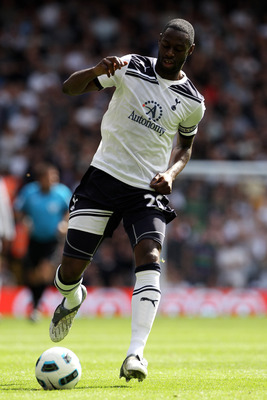 Phil Cole/Getty Images
Ledley King, without question, deserves his place in the top of this list.
The Tottenham Hotspur skipper has been hailed by former-manager Martin Jol as "The best central defender [he has] ever seen in [his] career," and by former Arsenal striker Thierry Henry as the only defender in England who could get the better of him without committing a foul.
King has guided Spurs as captain for four seasons now, and is also currently the longest-serving member of the team, having been a member since 1997.
Known for his amazing defensive skill, King is hailed for his talent in the air with his head and his composure with the ball on either foot.
Perhaps what's even more admirable is that over the last couple years, King has been stricken with knee problems for which doctors have found no effective treatments or cures. These problems have prevented King from playing more than one game per week and have prevented him from training with the rest of the team.
However, he still dedicates himself to being fit and playing at a very high aggressive level, and is a player everyone in the Spurs organization, fans and players alike, look up to.
2. Steven Gerrard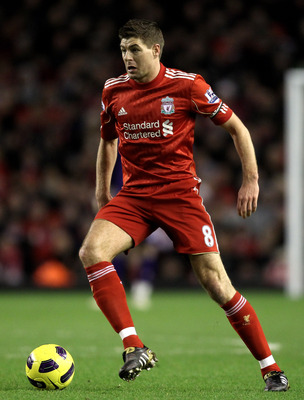 Alex Livesey/Getty Images
He's passionate, he's loyal, and Zinedine Zidane has even tipped him as one of the best footballers in the world.
Steven Gerrard has been captain of Liverpool since 2003, and has been one of the most successful skippers in club history, leading them to two FA Cup wins, two League Cups, a UEFA Cup championship and the 2005 UEFA Champions League victory.
Perhaps even more impressive is his leadership has seen him called upon to lead his country, when regular captain Rio Ferdinand was forced to miss the 2010 World Cup due to an injury.
For a club that has faced so much drama off the pitch in recent years, which has in several ways seen it bleed into the team's performance on it, Steven Gerrard has been one consistently bright spot in the lineup for the Merseyside club.
With so much success under his belt, so much poise he displays under pressure and scrutiny, how popular he is with fans and how much amazing skill he possesses with the ball, it should come as no surprise that Steven Gerrard finds himself this high up on the list.
1. John Terry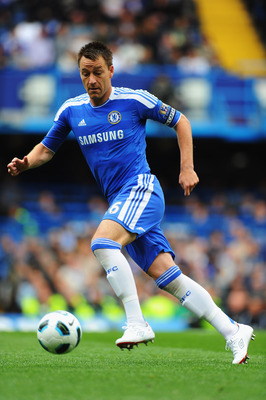 Mike Hewitt/Getty Images
John Terry is considered to be possibly the best English-born defender in the world right now, and one of the best from anywhere. In fact, he's so highly regarded that he has been given the captain's armband for his country.
Terry is also captain of Chelsea, and is the most successful captain in club history. Under his leadership, Chelsea have won three Premier League titles, three FA Cups and two League Cups as well as appeared in every UEFA Champions League competition since he took up the post.
But his leadership on the pitch goes further as he is also Chelsea's all-time highest scoring defender, with 41 goals in 501 appearances in all competitions.
There's no doubting that when you're given the captain's armband for both club and country, there's really nobody better when it comes to an EPL captain.
Keep Reading