Soccer's Popularity in America Still Likely Unaffected by WWC Win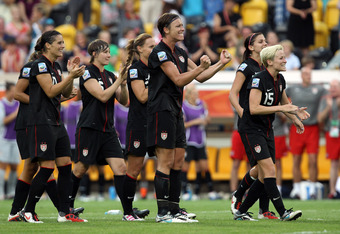 Martin Rose/Getty Images
The United States women's soccer team beat Brazil in a very dramatic game. Even with the bad calls and questionable Brazilian tactics, the game was exhilarating to watch and may well be an instant classic.
Along with games like these, the inevitable argument over soccer's popularity in the US will crop up again. This game might finally kick start the Americans' interest in soccer and finally stop fighting and love the game.
It doesn't seem likely, though.
We've been through this before in 1999, 2009 and 2010. Each time was supposed to be the time that Americans hopped aboard the bandwagon.
A few factors will keep that from ever happening.
It starts with inconsistency. For every Hope Solo penalty save, there's a group-stage upset loss to Sweden. For every Landon Donovan miracle goal (still gives me goose bumps), there's a next-round loss to Ghana or annihilation by Mexico.
Americans like winners, and while the women's teams have always been winners, they aren't the team that needs to win. It's pretty sexist, but nonetheless true: American's value male winners over female. Since the men's national team doesn't seem very close to competing at a high level, it may take a while for the US to care about international competition for more than a couple of weeks.
The MLS does nothing to help the status of the game, either. It's mostly seen as a stepping stone to bigger and better things for some and a nice place to end a career for others.
Americans like to watch the best of the best compete. That happens in the NFL, NBA, NHL, MLB and on PGA Tour. It's not always about the athletes being from America as long as they play in America. Since nearly every elite soccer player plays overseas, Americans have little interest.
It's not as if America could never embrace soccer. Interest has been shown for big enough occasions. Those occasions have been few and far between, though.
It's also not the excitement factor of the game. If Americans can watch baseball for three hours and not get completely bored, then they can watch soccer.
It's not even the rules and tactics that spoil it for the US. The NBA and NFL have plenty of floppers and the like.
It really boils down to the expectations of Americans. Americans expect greatness. They expect to be the best of the best and have the greatest talent available. They expect to be the first-choice destination for the elite.
Soccer may slowly be growing in popularity in the US, but one game won't help to push it into the big time. A few games haven't provided the push yet. It would take many big, impressive victories to give the nudge and an elite league inside the borders to finally go over the edge.
So while it may be possible someday, soccer's popularity in the US won't change overnight. Even with an exciting and awesome victory like the US women's soccer team had over Brazil.
This article is
What is the duplicate article?
Why is this article offensive?
Where is this article plagiarized from?
Why is this article poorly edited?