Everton: The Ideal XI for 2011-12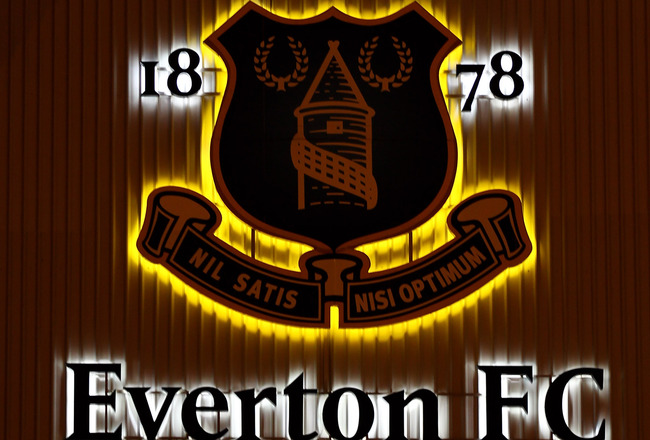 Alex Livesey/Getty Images
After an exciting 2010-11 season, Everton fans have to deal with another summer transfer window. These are often very grueling months for Everton fans, as they have to watch as the teams around them make big money signings left and right. Unfortunately, Everton's well-known money problems prevent them from making any signings themselves.
But there is still hope. In recent years, Everton have been able to make signings by selling players (i,e. Jolean Lescott). This may be happening this year. James Vaughan has already gone to newly-promoted Norwich City for an undisclosed fee (reported to be three million pounds), and rumour has it that Joseph Yobo is on the move to Fenerbahçe in Turkey for a reported fee of five million pounds. This gives Everton some transfer budget, and if Yakubu is sold, then it allows Everton to make a respectable signing or two.
Here is what a revamped, un-injured Everton side may look like in the 2011-12 Barclays Premier League season.
Goalkeeper: Tim Howard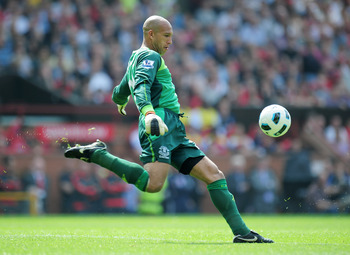 Shaun Botterill/Getty Images
Did you honestly think I would include anyone else?
Tim Howard has been a god during his spell at Everton, making stunning save after stunning save and keeping his consistency even when the rest of his team couldn't whatsoever. This is probably the easiest pick.
Right Back: Phil Neville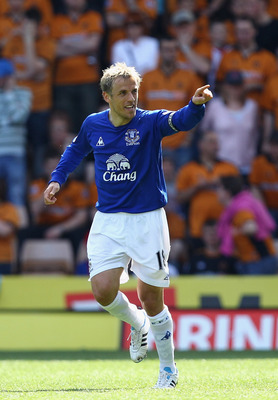 Richard Heathcote/Getty Images
This was a close one between him and Tony Hibbert, but he just gets my vote. This is due to his leadership skills. Although he is rather old, he still has some left in the tank.
Centre Back: Sylvain Distin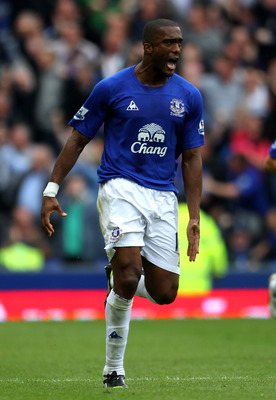 Alex Livesey/Getty Images
Sylvain Distin had a great 2010-11, and he should be able to continue that in 2011-12.
Again, this was a close race between Sylvain Distin and John Heitinga, but the Frenchman won this time out.
Centre Back: Phil Jagielka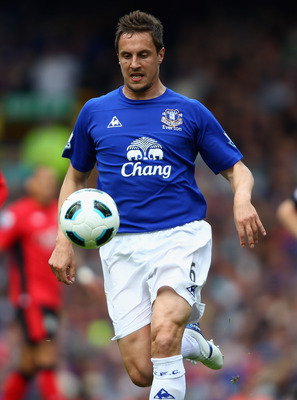 Clive Brunskill/Getty Images
The current England international gets the second centre back slot. Why? Because he has been consistent in his stay at Everton since signing from Sheffield United in 2007. You can rely on him to be a good defender, and he scores goals from set pieces as well.
Left Back: Leighton Baines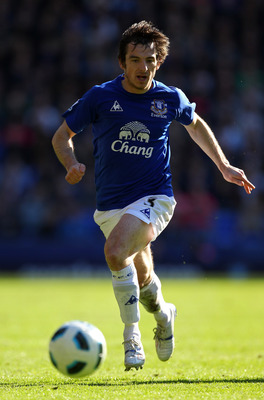 Alex Livesey/Getty Images
Once again, would I go with anyone else? Although the England man is wanted by many clubs, including fierce rivals Liverpool, being an Everton fan, Baines wants to stay. He had an excellent 2010-11, and he still has many years ahead of him. A very good player.
Right Midfielder: Mikel Arteta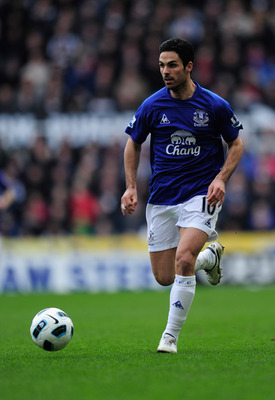 Jamie McDonald/Getty Images
In right midfielder is my personal favourite player, Mikel Arteta. The Spaniard has been a key player for the Toffees during the last decade, so it is very important he plays. He plays on the right wing here because it has been shown that he is far more effective. Last season, he played central midfield and disappointed heavily until for the Newcastle game he was switched to right midfield. He played very well in that game, and despite his injury, he was far better during the second half of the season.
Defensive Midfielder: Marouane Fellaini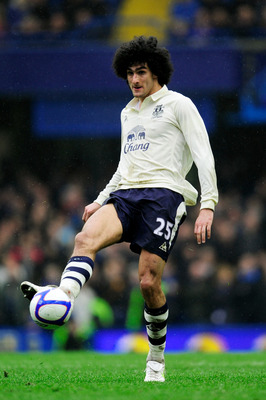 Jamie McDonald/Getty Images
In the defensive midfielder slot is the Belgian Marouane Fellaini. Although he was injured for much of last season, he is still highly effective when he plays. You can always expect a consistent performance from the Belgian just as long as he remains cool and collected.
Left Midfielder: Charles N'Zogbia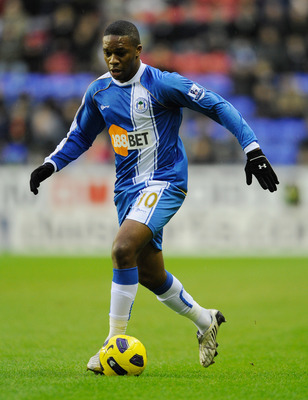 Michael Regan/Getty Images
This is the first new player included in my Everton squad. Charles N'Zogbia is a target of Moyes' and has said he would like to play for Everton. This man is blessed with pace and a deadly left foot, so he would be good for an Everton side still looking for a Pienaar replacement.
Attacking Midfielder: Tim Cahill
Jamie McDonald/Getty Images
An excellent player. He carried Everton on his back for the first half of the 2010-11 season, and if his pace doesn't decline with his age, he is a sure first choice. Can't forget to give a shout to Leon Osman, though, who could be a suitable back up.
Left Striker: Louis Saha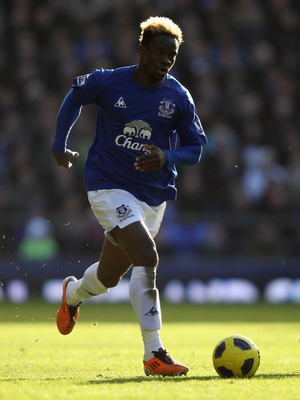 Clive Brunskill/Getty Images
Remember when I said "un-injured" at the beginning? This is who I was referring to. The Frenchman is sensational when on form, and expect him to be banging in the goals until someone pokes his leg with a pencil. Then Jermaine Beckford will play.
Right Striker: Landon Donovan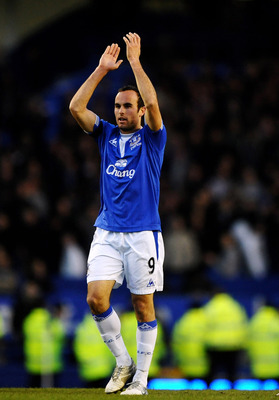 Laurence Griffiths/Getty Images
Oh, the days when he was here. They were so great. It would be awesome to have him back. Here, we do have him back. US soccer fans all know Landon Donovan as a leader who can both operate as a playmaker and a finisher. He is someone Everton fans definitely want to see in the blue shirt of the Toffees.
Keep Reading

Everton: Like this team?