2011 FIFA Women's World Cup: Final Score Update: Sweden 2-1 US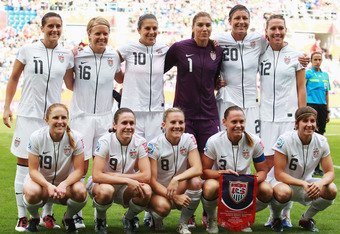 Joern Pollex/Getty Images
Sweden upset the US in the final group game for the 2-1 somewhat deserved victory.
Sweden scored a penalty and directly from a free kick in the first half, and those were enough to see them win their group for the first time.
Abby Wambach finally scored from a corner kick midway through the second half, but the US didn't play very well as a team throughout.
They were unfortunate not to score in the first half and were punished by two defensive lapses.
Amy LePeilbet gave up the penalty with a clumsy challenge and then her deflection sent Nilla Fischer's free kick away from Hope Solo.
It was the US's first ever loss in World Cup group stages.
Sweden will take on Australia, and the US will now take on Brazil in the quarterfinals.
The final group game of the 2011 FIFA Women's World Cup takes place this afternoon with Team USA taking on Sweden with first place in the group up for grabs.
Both teams are already in the quarterfinals, but the Group C runner-up will have the tough task of facing Brazil this weekend.
The winner will take on Group D runner-up Australia.
Both teams have six points from two games, but the US has the superior goal difference and only needs a draw to win the group.
Star forward Abby Wambach will start after not practicing for two days, but Megan Rapinoe will reclaim her starting spot in he place of Heather O'Reilly.
US coach Pia Sundhage says she could substitute Wambach after the first half.
Hope Solo has looked great in goal, but Sweden should be the first to really test her. Sweden has the bigger mountain to climb here, but the US's defense has been solid throughout.
Keep it here for updates throughout the game as the last quarterfinal places in the 2011 Women's World Cup are set.
Live Score: Sweden 2-1 USA Fulltime
Dahlkvist 16' (penalty); Abby Wambach 66'
Nilla Fischer 34'
And there's the final whistle. upset of the tournament so far. Sweden advance as winners of Group C and will face Australia.
US lose their first ever group game and will face Brazil Saturday. Team looks discouraged, but they've got plenty to look at to fix before Sunday.
Corner to Sweden. Not what US needed in extra time.
That goal from Abby didn't do enough. US rarely created anything as a team, just a lot of solo shots. O'Hara is going to rue that miss six yards out.
US needs to get the ball here. Time is slipping away.
Ninety minutes are up, Schelin puts it in the back of the net, but she's offside. Three minutes to be added.
Just one minute of normal time left.
I don't know how ESPN commentators Sweden played a good organized game when they've forced one save out of Solo and scored from two US mistakes.
Sweden take Fischer off, smart move, for Linda Sembrant, 88th minute.
O'Hara left all alone in the middle of the box and shoots it wide! She's got to score from there. She's only 22 and it showed there.
Fischer is pushing and kicking and wasting all sorts of time, she's already got a yellow this game.
It would be slightly poetic to meet Brazil after the drama in 2007. US has also defeated Brazil in the final of the Olympics the past two times.
Five-plus minutes to go.
If the result stands, Sweden will take on Australia this weekend and is on course to meet Germany in the semis.
US would face Brazil this weekend.
All three goals have been from set pieces. Who saw that coming?
Should've been another US corner. Obvious from a mile away.
Ten minutes left for the US to get one goal.
US have gone back into their shell a bit.
Sweden are wasting all sorts of time here.
Solo grabs it and tries to get a quick counter going. Morgan almost capitalized on some indecisiveness between Sweden keeper and defenders.
Sweden sub: Marie Hammarstrom is coming on for Dahlkvist, who scored the penalty.
Her first ball isn't good. The US need to get more players forward. Sweden don't look interested in scoring.
O'Hara has just six US caps to her name. She can make a big statement here.
US substitution: Kelley O'Hara is replacing Megan Rapinoe. Rapinoe had an OK game, not great.
Means Abby will play the full 90, so much for that ankle injury.
Schelin was running forward with the ball, but she was all alone up there. Sweden can't wind down the clock for 20 minutes.
That's six goals for the US this tournament, six different scorers and five of them coming in the second half.
Sweden look a little shell-shocked going forward.
That goal really came out of nowhere, but maybe it can rejuvenate this team to get on the same page.
That is Abby's 119th international goal, 10th in the World Cup.
This article is
What is the duplicate article?
Why is this article offensive?
Where is this article plagiarized from?
Why is this article poorly edited?