Chelsea
Chelsea FC: The Good, the Bad and the Ugly of Roman Abramovich
Laurence Griffiths/Getty Images
July 5, 2011
In 2003, Russian billionaire Roman Abramovich bought Chelsea FC from the outspoken British businessman Ken Bates.
The club was purchased for £140 million, an English record.
Abramovich told BBC News that he was planning to take the team to the "next level" and that he has "the resources and ambition to achieve even more given the huge potential of this great club."
"Football has been in terrible trouble in this country recently—it's clocked up huge debts and the transfer market has collapsed," he added. "I think what this could signal is the arrival of overseas sugar daddies. If this is the start of the super-rich invaders it'll be very, very interesting to see how the fans react to it."
He was right. It has been very interesting indeed.
The character that is Roman Abramovich began from humble beginnings. Orphaned at an early age and raised by his uncles, he would go on to become one of the richest men in the world at a net worth of $13.4 billion.
Oil would be his breadwinner, and his relentless attitude toward his competitors became his M.O.
The attitude with which he has approached his ownership position has been reflective of his intuitive sense of business. And just like a fortune 500 company, Chelsea has been a club of unimaginable quality as well as the goats of the top footballing sides in Europe under his rule.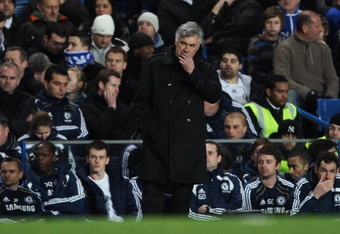 Carlo Ancelotti
Scott Heavey/Getty Images
If there were a gossip magazine (think People magazine) that specialized in football, Abramovich and his current manager would be the equivalent of Brangelina.
Every cover story would follow the tumultuous relationship between the two all the way to the dramatic end, one that no one could believe actually happened but all saw coming.
And the only reason we follow it so closely is because we love it so much.
The young Portuguese manager Andres Villa-Boas is Abramovich's newest mistress.
By this time, Villa-Boas is well aware of the irregular partnership he has entered into. He will be showered in wealth and given every aspect of the footballing world at his disposal.
But just like a trophy wife, he must keep up his appearance by winning, or his value as an accessory to the real boss lurking in the suites high above the pitch becomes nothing.
Many have lost their appeal and therefore lost their worth. Subsequently, they have been disposed of in ways that align themselves with a humanitarian version of the Russian tradition.
Few have enjoyed short-lived success and and even fewer rare praise from football's biggest oligarch. But we as fans have experienced all the good, the bad and the ugly that Roman Abramovich has brought to our beloved Chelsea.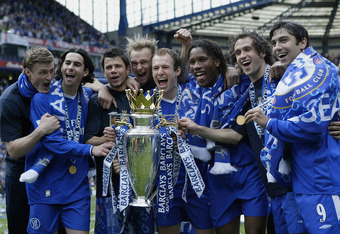 Chelsea wins their EPL trophy in 2005
Ben Radford/Getty Images
The Good
In the 98 years of the club's existence before Abramovich took over, Chelsea's trophy case consisted of one First Division title (1954-55), three FA Cups (1970, 1997, 2000) and two Football League Cups (1964-65,1997-98).
Though not barren, it had room for more and being a club from the wealthy and elite neighborhood for which the team is named after, there is no reason they shouldn't.
Since Abramovich bought the team, they have filled the trophy case with three Premier League titles, three FA Cups and two Football League Cups.
In the short space of eight years the Russian had more than doubled the trophies at Stamford Bridge.
He did this by putting unprecedented wealth into it. Buying superstars from England and abroad.
Other clubs feared him for his ability to poach their superstars with the promise of huge salaries, playing in one of the nicest communities in London and in the world's most recognizable league.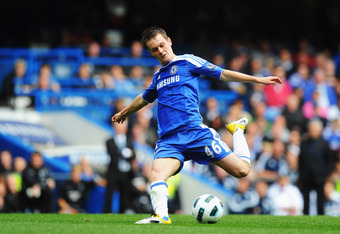 Josh McEachran
Mike Hewitt/Getty Images
Though Abramovich's understanding of the game is novice at best, he knew that to win, someone must organize the talent.
He attracted the world's greatest coaches with promises that made them quiver and drool: the chance to be the coach that would bring a team to prosperity with superstar talent, expanding facilities and nearly unlimited financial support.
Since taking over the club in 2003, Abramovich has pumped in over £750 million into the club. The astronomical numbers have done wonders for a team that had only enjoyed nominal success at its best and never established itself as a top club in England or abroad.
But today, when you see Chelsea on your schedule, you take notice.
But perhaps the best investment has been the one that is most business driven. Being a logical man and a business man, he knows the cheapest way to get a return on his investment is by producing products rather than buying them up.
Over £50 million has been invested into the Chelsea youth academy alone. With players like Gael Kakuta, Josh McEachren and Scott Sinclair becoming highly valued commodities, he has established a youth academy that is one of the most respected in the country.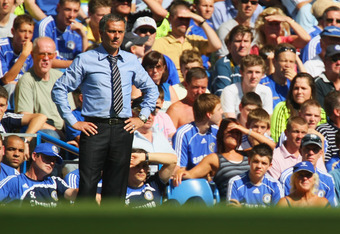 Chelsea had their best days under Jose Mourniho, but he was sacked in 2007
Richard Heathcote/Getty Images
All of this has done for Chelsea what no owner had ever been able to before. He established the world wide Chelsea brand.
To this day, teams like Liverpool, Manchester United, Barcelona, Real Madrid, AC Milan and Juventus still top the international market in paraphernalia sales and fan base.
But all those clubs have storied histories and have dominated the sport for a century. The very fact that a club who has found success only in the last decade is able to compete with these giants is a testament to what Abramovich has done for the club.
The Bad
With the rapid acceleration Chelsea has had to the top of the football world, the expectations of what they are to achieve has become almost insurmountable.
In his first year as owner, Chelsea finished second in the league after finishing fourth the previous season. By his second year they had become Premier League champs, Carling Cup winners and Champions League semifinalists.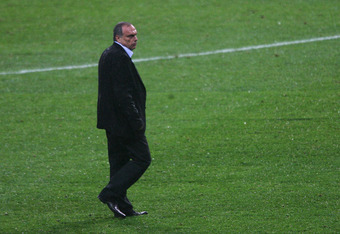 Avram Grant got Chelsea further than any other manager in Champions League, but was not given a chance to try again
Christof Koepsel/Getty Images
This became the standard for which every team under the Russian would be judged.
Attaining success with such speed and ease seems to have fooled the owner into thinking that it is not as hard as it looks to have these kind of results year in and year out.
Trophies in the league and other domestic competitions have become the minimum expected of any Chelsea manager.
Longevity is not a word you often hear around Stamford Bridge. Of the 30 players on the 2004-05 Chelsea EPL championship team, only five players (Petr Cech, Frank Lampard, John Terry, Paulo Ferreria and Didier Drogba) remain.
Compare that to eight players on Manchester United, a team that has won the EPL four times in that span, one more than Chelsea.
The lifespan of a coach can only be measured in months.
In the eight years Abaramovich has owned the Club, seven managers have been in charge. The atmosphere in a clubhouse is always contingent on the coach's disposition.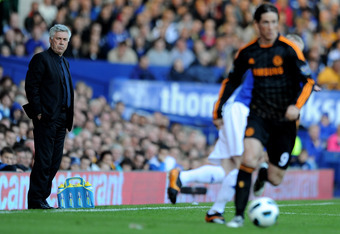 Ancelotti had his hands tied when dealing with Torres
Chris Brunskill/Getty Images
If the constant anxiety of being axed permeates throughout the team, they cannot perform.
Sir Alex Ferguson's job security is not the reason his team performs so well, but knowing that a competitive season without silverware does not mean he will be out on the street gives him the piece of mind to focus on the game.
Jose Mourinho established a team. Then Luiz Scolari established his. Then Guus Hiddink his. Then Ancelotti. And now Villa-Boas. No coach was ever allowed to go long enough to create a principle and mentality that could easily be identified as "Chelsea football."
An instantaneous reaction by Abramovich is the type of demeanor that has made him so successful financially. But in the game of soccer, patience can often be the only way to achieve supremacy.
The Ugly
If you watched the second League game between Manchester United and Chelsea, you would have seen a very chilling sequence of visuals.
As the clock counted down on the game and Chelsea's hope of securing any kind of silverware, Carlo Ancelotti was shown pacing the sidelines nervously recognizing his fate.
Abramovich sat perched in the rafters above like a vulture waiting for his prey to cease living.
When an owner becomes the face of a franchise, the on-field results often suffer. There seems to be some need amongst these type of owners to justify their seat at the head of the organization.
Because of this, Abramovich has become a border line megalomaniac in his conduct of the club's play and at times made a mockery of the club through his obsessive pursuit of the Champions League.
His presence would be felt early in his ownership with the very first altercations with Jose Mourinho in 2007.
With the team not performing at their best, harsh criticism came down from the Russian toward the manger. Mourinho's fiery personality fought back and Abramovich answered by dismissing the manager under "mutual consent."
The fans protested publicly at the games and denounced the interim coach Avram Grant, but he ignored it. This was the first time that we saw that this was not only a club that will be funded by Abramovich but also one that would be run with an iron fist under him.
Since then, the tabloids and gossip columns often refer to him when discussing the club. He is featured on cover stories and prominently placed among some of the games most successful managers and players, as if he is as much in charge of game time performance as they are.
Whether he relishes in the fame or not is unknown, but he has done little to counter it and put the focus back on the ones who truly are the ones who make up Chelsea F.C.
On the field, his teams have won every title there is to win as an English club except the Champions League.
Three of the seven coaches have had what would be considered acceptable seasons at any other club, but none were able to deliver European glory. This has become the only justification for their removal.
His obsession with winning the prize has never been so apparent as in last year's Fernando Torres saga.
Signing the striker for an English record of £50 million was suppose to add the missing piece needed to guide them to the cup. The Spaniard would never quite live up to his billing, and players like Drogba and Nicolas Anelka were having better performances.
But Torres continued to play, leaving one of the proven strikers on the bench. It soon became obvious that the decision to play Torres was coming from the top, but the effect would be felt by the impotent manager.
The need for longevity, structure, and and organized system was derailed by this egotistical quest that has seem to become more a reflection of himself than the club as a whole.
Villa-Boas will go into next season being praised as the one to bring both domestic and European glory to Stamford Bridge.
Abramovich has incredible faith in him to captain this multi-million dollar ship. But if the waters become too rough and he is not able to get them smooth again, you can expect him to be replaced swiftly.
Because of all of Roman Abramovich's yachts, homes, partners and companies, this is the one that is most public. This is the one that has him constantly featured in the media.
And this is the one that will define him to most of the world.
There is no doubting that Abramovich becoming a major owner in world football has changed the nature of the sport forever. But it is up you individually to decide if it has been for better or worse.

Like the new article format? Send us feedback!