2011 FIFA Women's World Cup: France Could Do the US a Huge Favor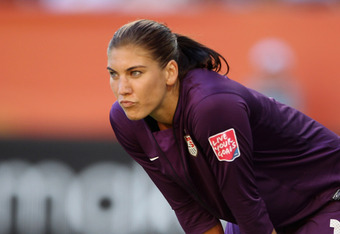 Boris Streubel/Getty Images
Germany, Brazil and the US are the favorites to win the 2011 FIFA Women's World Cup. Everyone else is just trying to keep up.
With the way the brackets were set up, assuming everything went to plan, the US and Germany would've met in the semifinals on July 13, with Brazil in the other section and an easy road to the final on July 17.
But things may not go according to plan.
Germany sits in Group A with Canada, France and Nigeria and were expected to win it easily. They hadn't bet on France dismantling Canada, however.
France defeated Canada 4-0 Thursday and sit atop the group with six points from two games. Germany also has six points, but France is plus-five in goal difference compared with Germany's plus-two.
France now has an excellent chance to win Group A and turn the table upside down.
Both teams are in the quarterfinals, but the positions are still up for grabs.
Nigeria and Canada are out and will play for nothing more than pride on Tuesday.
Canada was expected by many (including myself) to be the second team out of Group A because of their recent run, and of course, Christine Sinclair.
Scott Heavey/Getty Images
Sinclair scored Canada's only goal so far in this tournament with a superb free kick in the 2-1 defeat to Germany in the first game. Germany could've had more goals, but Canada also did not take their chances against Germany's defense, which looked anything but solid.
There's still no shame in losing to Germany, but Canada's performance against France was a different story.
Sinclair had her nose broken against Germany and was playing with a protective mask, so she may have been hurting more than we know, but her team was second best the whole 90 minutes.
France were first to every loose ball, took advantage of their chances and passed the ball between them very well.
France and Germany will face off Tuesday, and Germany have to win if they want to win the group. France will likely play for the draw, and that's a great result for them.
This is only France's second World Cup, and in 2003, they didn't make it out of the group stages.
They won't play defensively from the first kick, but don't expect them to be too aggressive going forward. France will likely load the midfield and try to cut off Germany's passing (like they did to Canada), thereby eliminating the threat of their attackers.
If France can win the group, very likely considering how solid their defense and midfield have looked so far, Germany will move to the bottom half of the bracket.
Jeff Gross/Getty Images
That means Brazil and Germany would be on course to meet in the semifinals, leaving the US to face France, or someone else, in the other half.
This is great news for the US.
Having gone out in the semifinals the past two tournaments, the US didn't want to have to face the favorite and hosts in the semis. Facing them in the final is much more desirable.
For Brazil, this is all bad. They go from having a clear path to the final to having to face the two-time defending champions in the semis.
The biggest winners here are the viewers.
We'd all much rather see the two best teams in the final, fighting for the ultimate prize, than in the semis.
Brazil may have the world's best player in Marta, but Germany and the US have deeper starting lineups and benches than Brazil.
The US can't think too far ahead though. They've got to secure their own group first, but for now, vive la France!
This article is
What is the duplicate article?
Why is this article offensive?
Where is this article plagiarized from?
Why is this article poorly edited?