José Mourinho vs. André Villas Boas: Ranking the 2 Portuguese Coaches
July 1, 2011
LONDON, ENGLAND- Jose Mourinho and Andre Villas Boas, two of the arguably best and well known (besides the likes of Carlos Queiroz) Portuguese and International coaches of the world, had equally different paths to their super stardom but each came as a protégé from Sir Bobby Robson.
Jose Mourinho
After leaving his job as a school physical education coach, Mourinho looked for paths into professional management in his hometown and became youth team coach at Vitória de Setúbal in the early 1990s. Working his way up the ladder, he accepted the position of assistant manager at Estrela da Amadora, with the manager being Jesualdo Ferreira. Later, he was the assistant manager of Ovarense.
Mourinho yearned for greater challenges, and in 1992 an opportunity arose to work as a translator for a top foreign coach. Sir Bobby Robson had been appointed as the new manager of Lisbon club Sporting Clube de Portugal and the Englishman required a local coach with a good command of English to work as his interpreter.
Mourinho began a long term friendship with Robson and they began their endeavors as coach and interpreter. In December of 1993, Sir Bobby Robson was fired as head coach of Sporting and was appointed by the Portuguese rivals FC Porto as the new man in charge, where Mourinho followed. After two seasons at the top of FC Porto, the two made a move to Barcelona in 1996. Mourinho was dedicated and proficient in his pursuit to learn the Catalan language to continue serving as assistant.
Robson and Mourinho's styles complemented each other: the Englishman favoured an attacking style, while Mourinho covered defensive options, and the Portuguese's love of planning and training combined with Robson's direct man-management.
Robson moved club the following season but this time Mourinho did not follow as Barcelona were keen to retain him as assistant manager. Then came along Louis van Gaal. Mourinho learned much from the Dutchman's conscientious style. Both assistant and head coach combined their approach to the game and Barcelona won La Liga twice in van Gaal's first two years as coach. 
Van Gaal saw that his No. 2 had the promise to be more than a skilled assistant. He let Mourinho develop his own independent coaching style and entrusted him with the coaching duties of FC Barcelona B. Van Gaal also let Mourinho take charge of the first team (acting as Mourinho's assistant himself) for certain trophies, like the Copa Catalunya, which Mourinho won in 2000.
The chance to be a head man came at the realm of Benfica in 2000. After a change in management, he left Benfica. Mourinho found a new managerial post in April 2001 with União de Leiria, whom he took to their highest-ever league finish of fifth place. Mourinho's successes at Leiria did not go unrecognised and he caught the attention of a larger Portuguese club, the familiar FC Porto.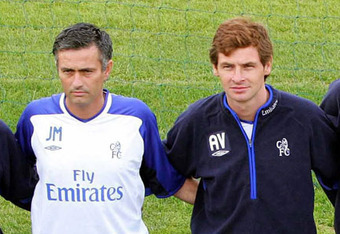 André Villas Boas
At the age of 16, Villas-Boas lived in the same apartment block as the English Bobby Robson, who was managing FC Porto at the time. Following a debate between the two, Robson appointed Villas-Boas to Porto's observation department. Under the guidance of Robson, who was impressed with his fluent knowledge of English, he got his UEFA C coaching license at the age of 17 in Scotland. He then had a short unsuccessful stint as head coach of the British Virgin Islands national team at the age of 21, before he moved onto a career as an assistant coach at Porto under José Mourinho. As Mourinho moved clubs to Chelsea and Internazionale, Villas-Boas followed.
At the start of the 2009/10 season, Villas-Boas left Mourinho's support team to pursue a career as manager, and soon found a job in the Portuguese Liga with Académica de Coimbra. At the time of Villas-Boas' appointment, Académica were at the bottom of the league and still without wins, but their luck started to change as he introduced a new style, leading them to a safe 11th place, clear of the relegation zone.
In addition to that, Académica also reached the 2009–10 Portuguese League Cup semifinals, losing against Porto at the Estádio do Dragão. His impact at Académica was immediate—not only because of solid results, but also because of the attractive football displayed by the team which led to intense media speculation linking him with the vacant jobs at Sporting Clube de Portugal and Porto in the summer of 2010.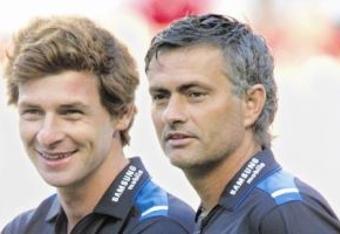 On June 2, 2010, Villas-Boas was announced as the new manager at FC Porto. While at Porto, he became the youngest manager to win a European club title. His €15 million move from Porto to Chelsea was the most expensive ever by a manager. Unusually for a manager at the top level, he has no experience as a professional player and, before becoming manager of Académica de Coimbra at the age of 31, he had no significant experience as a head coach.
On August 7, 2010, he won his first trophy when Porto beat Benfica 2–0 in the Portuguese Supercup. He followed this with three more titles: the Portuguese Primeira Liga, the UEFA Europa League and the Portuguese Cup.
Chelsea confirmed the appointment of Villas-Boas as their new manager on a three-year contract with immediate effect on June 22, 2011.
Jose Mourinho & Andre Villas-Boas 
Together they coached at FC Porto, Chelsea, and Inter Milan. They have built the most powerful teams in the world and have brought a new meaning to the term Soccer IQ. With contrasting styles of play, these two coaches will give a lot more to talk about this upcoming season.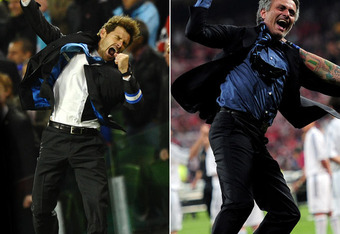 Although it is tough to compare the two because of Mourinho's longer tenure as a top flight manager, they have made extremely similar rises to the top. Going from middle-of-the-table Portuguese teams to then FC Porto and eventually Chelsea, the similarities are impressive. 
Time will tell to see if Villas-Boas' move to the Premier League was premature as many questioned the appointment of Mourinho, but he made an impact immediately with winning titles. One thing is for sure: the Portuguese National Team can reap deeply from the benefits of these tactical geniuses. 
Jose Mourinho's Titles
Supertaça Cândido de Oliveira (1)
UEFA Champions League (1)
UEFA Champions League (1)