World Football Debate: Can Lionel Messi Eclipse Pelé as Greatest Player Ever?
April 8, 2017
Jasper Juinen/Getty Images
In a seemingly endless and generally distasteful war of words, footballing legends Pelé and Diego Maradona have engaged in verbal sparring throughout the years, to the detriment of the greater world of football. No one wants to see such animosity between two of the highest-profile, and sublimely-skilled footballers the world has ever witnessed.
Embroiled in a longstanding feud for decades, the two luminaries of the beautiful game, neither seemingly content with their status among the pantheon of footballing greats, have once again lashed out, but this time, not at each other.
Maradona, the ever-quotable, and occasionally erratic Argentinian master, has repeatedly called out his Brazilian counterpart, Pelé, over the years. It has become a frequent occurrence for him to disparage Pelé in the press, denigrating him as a "relic" that "needs to return to the museum."
The Argentine legend has recently taken shots at Pelé's countryman, Neymar, star for Pelé's former club Santos, and the object of intense desire from clubs across Europe. Maradona has since denied the quotes, even "swearing on his grandson's life" that the comments didn't come from his mouth. Whether the alleged quotes are true or not, the story has once again stoked the fires of the longstanding rivalry between the two icons of the game.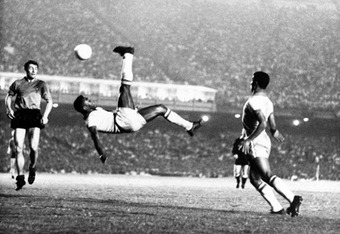 Pelé, for his part, has also engaged in the bizarre conflict that has raged throughout the years. He has taken shots at Maradona's style of play, his much-publicized lifestyle choices, and even his motivation for taking Argentina's head coaching job.
The two legends of the game, separated by 20 years in age, never did meet on the field, as Maradona's first season with Argentinos Juniors occurred during Pelé's last season with the New York Cosmos.
Though they never faced each other competitively, the two men most often considered in the debate over the best player of all time have a fierce off-field rivalry that never seems to lose momentum.
This week's most recent twist in the story came from Pelé, who had been present in Sao Paulo to witness his former club Santos win the Copa Libertadores.
While discussing the match, Pelé was asked whether Lionel Messi could potentially have already surpassed him as the greatest player ever, following Barcelona's second Champions League crown in three years. Pelé, as quoted on ESPN Soccernet, responded, "Messi better than Pelé? To get there he needs to score more than 1,283 goals."
As legend states, Pele amassed an amazing, yet completely unverifiable 1,283 goals in approximately 1,360 games between Santos, the New York Cosmos, and the Brazilian national team. What is not debatable is the fact that Pelé is the only player in history to win three World Cups, helping Brazil to victory in 1958, 1962 and 1970.
Messi, only 24 years old, has already accomplished greatness in his young career as well. The leading talisman of FC Barcelona, the Argentine maestro is widely considered to be the best player in world football today.
During his recently completed 2010-11 campaign, the diminutive forward scored a remarkable 53 goals in 55 appearances for Barcelona, while adding 24 assists. His electrifying play in his club's run to the Champions League title included 12 goals in 13 matches during the prestigious tournament.
Despite his unparalleled talents, amazing goal-scoring records and inspired play on Europe's grandest stage, there still exists a blemish on Messi's otherwise sterling reputation.
To this date, Messi has yet to shine for Argentina's national team. Though they possess a potent attack, loaded with skillful offensive players, Messi hasn't been able to slice open defenses in the same manner that he does with Barca. His incisive runs, close ball control and ability to get blistering shots off from unlikely angles make him an unstoppable force in Spain; yet those same skills haven't resulted in prolific scoring for Argentina.
Is it something lacking in Messi? Or is it possibly because Messi doesn't have the benefit of the masterful ball distribution of passing wizards Xavi and Iniesta when playing with Argentina?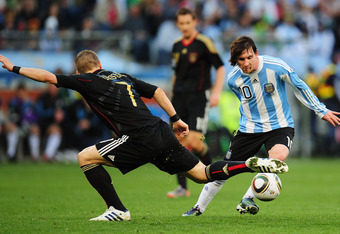 Clive Mason/Getty Images
In the 2010 World Cup, a tournament that many expected Messi to dominate, he was shut out completely, looking nothing like the scoring dynamo he is in La Liga. He was continually frustrated, missing several opportunities that most would expect him to bury under normal circumstances.
Though he didn't find the back of the net, it wouldn't be accurate to criticize his play as poor. While it's true that he took 29 shots, fourth most in the World Cup, without scoring, he was intimately involved in several of his teammates' goals. Messi only had one assist in the tournament, but his incisive passing near the opponents' box led to opportunities for teammates on several occasions. He was voted the Man of the Match in Argentina's 2-0 victory over Greece.
Of course, when compared with the monumental World Cup achievements of Pelé, at this point in his career, Messi loses this debate. With four World Cups from 1958-70, three winner's medals and 12 individual goals on the world stage, Pelé's resume is indisputably superior.
However, in his recent evaluation of the young Argentinian maestro, Pelé doesn't focus on the World Cup success, but rather on the vast disparity in total individual goals in order to illustrate his perceived superiority over Messi.
Now, Messi's goal-scoring tally pales significantly when compared to Pelé, who worked his magic on football pitches between 1956 and 1977. Pelé's astounding total of 1,283 towers over Messi's 180 club goals with Barcelona, along with his 17 for Argentina.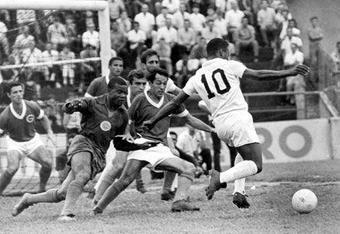 Pelé's assertion that Messi needs to catch him in goals to become involved in the debate over the "greatest player of all time" seems misguided, in my estimation.
While it seems to be a fairly safe assumption that Messi will not be able to close the gap between them of 1,086 goals, I wonder if that is even a reasonable point of comparison between the two footballers.
With no completely documented record of Pelé's entire goal-scoring ledger, and the oft-stated assumption that the lofty total includes goals scored during exhibition matches, we can surmise that the number is somewhat inflated. However, even if there were a significant portion of goals to be discarded from the official tally, the total would still be staggering, and likely a number that Messi could not ever possibly hope to equal.
There is also the debate over the level of competition that the two faced throughout their careers. While Messi's entire career has taken place in Spain's La Liga, generally considered one of the top leagues, if not the best in the world, Pelé never took his game to Europe.
Brazi's legendary football icon played his entire professional career for Brazilian club, Santos, before playing two last years with the New York Cosmos in the United States. Though the Campeonato Brasileiro de Clubes da Série A, Brazil's top league, is full of talent and has produced many stars of the world game, it has never been considered on par with its European counterparts.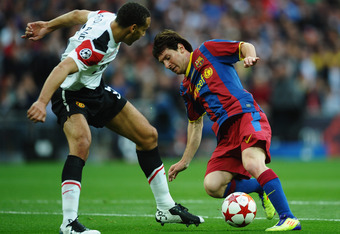 Laurence Griffiths/Getty Images
Lionel Messi has not only dominated clubs in Spain, but has scored 37 goals in 57 matches against the top clubs from all over Europe during his impressive Champions League career. His stellar play is a significant catalyst behind Barcelona's two European crowns within three years, and a major reason that they'll be favored in the competition for the next several years at least. For the last three seasons, Messi has been the leading scorer in Champions League competitions, carving up top-flight defenses of the likes of Real Madrid and Manchester United along the way.
Is it even possible that Pelé could produce anywhere near the same results against today's far more physically evolved defenders and the sophisticated defenses of modern football?
Much of the debate will always be rife with speculation, due to the legendary, folkloric nature of Pelé's history. We have seen the rare film highlights of Pelé's wondrous performances in the World Cup. There is no denying the sublime ability that the man possessed, light years ahead of anyone the footballing world had ever witnessed at the time. 
However, when viewing most of the footage available to us, it's difficult to avoid drawing the conclusion that the defenders that Pelé was embarrassing regularly, were not of the highest quality. Most of them appeared to have been rendered mere statues, as they watched the then-unseen wizardry that Pelé was capable of.
That's not to disparage Pelé in the slightest: He is without a doubt, a true master of the beautiful game, and one of the innovators that paved the way for players such as Messi.
However, Pelé himself is keen on keeping this debate alive, and as his evidence in support of his own candidacy, he chose not the team success of the World Cup, but his individual goal-scoring record to validate his claim.
While the debate will likely rage on for eternity, what does the Bleacher Report community think? Should Pelé simply be content with his iconic status and let his legend speak for itself?