Premier League Transfer Rumours: Top 10 Shock Deals That Might Yet Happen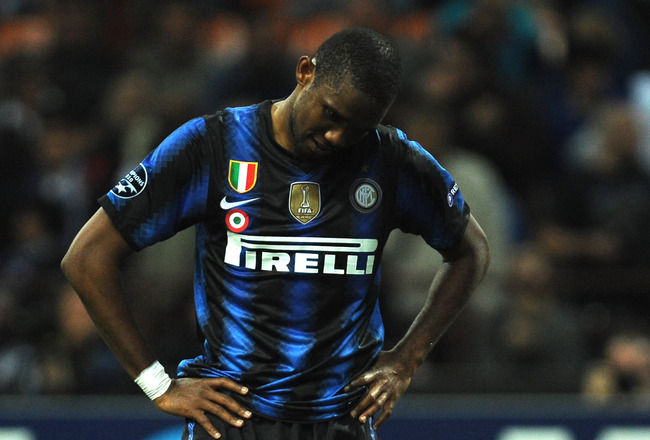 Valerio Pennicino/Getty Images
With Chelsea's announcement that André Villas-Boas will be their new manager, now the question has to be asked: who will Villas-Boas bring in?
Lets also look at some transfer rumours around the English Premier League that may seem a bit left field.
Would it shock you if Arsène Wenger signed a type of player, the same type of player he incessantly derides in the media?
What are some transfer deals that may shock you enough to dismiss it from the get go, yet could it happen?
Lets look at the top ten shock deals that might yet happen in the Premier League.
Chelsea to Sign Samuel Eto'o to Mark Andre Villas-Boas' Managerial Reign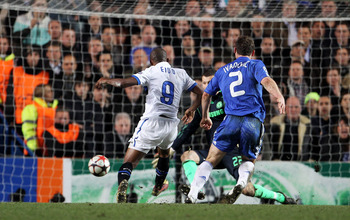 Phil Cole/Getty Images
According to Danny Fullbrook at the Daily Star, new Chelsea manager Andre Villas-Boas will mark the start of his reign by bidding for Inter Milan star forward Samuel Eto'o.
Eto'o who has become the most complete forward in world football, has flirted with the idea of playing in the English Premier League.
If Inter Milan does relinquish their star forward, owner Massimo Moratti will ensure he'll be laughing his way to the bank.
In 2009, Moratti somehow orchestrated a stratospheric transfer which saw Inter Milan not only receive €48 million but also Eto'o in return for trading Zlatan Ibrahimović to Barcelona.
Chelsea owner Roman Abramovich has paid £30.8 million for a deteriorating Andriy Shevchenko, and of course £50 million for a misfiring Fernando Torres.
Surely Abramovich has learnt to become more fiscally efficient, but one still does wonder how much he'd willing to bid for a forward who can defend, create and score.
Arsenal to Replace Cesc Fàbregas with José Manuel Jurado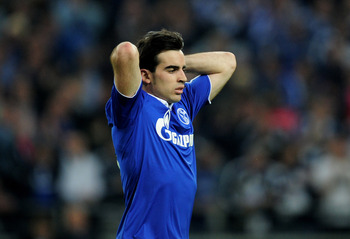 Jamie McDonald/Getty Images
According to Ben Moss at sport.co.uk, Arsenal manager Arsène Wenger has his eyes set on José Manuel Jurado as a possible replacement for Barcelona bound Cesc Fàbregas.
The deal is shocking because the rumour is based on the premise that Fàbregas will be replaced by José Manuel who?
Having watched the large majority of the Bundesliga this season, Jurado was average at best in a struggling Schalke side.
Of the 96 transfers Wenger has made since 1996, only five were players from Bundesliga clubs: Stefan Malz, Jens Lehmann, Alexander Hleb, Tomáš Rosický and Amaury Bischoff.
So if you're going to go by the odds, you'll only see Jurado at the Emirates as a visitor.
We also have to remember that Barcelona are cash strapped and desperate if you want to read into Barcelona president Sandro Rosell's attempts to devalue Fàbregas.
Unless something drastic happens, it's more than likely that Fàbregas will remain an Arsenal player for this upcoming season.
Even if he leaves, he'll leave for a big transfer fee, allowing Wenger substantial amount of money to find a higher quality replacement.
If Wenger decides to make the rare venture into the Bundesliga, Mario Götze is a far better successor to Fàbregas than Jurado.
Barcelona to Lure David Luiz Away from Chelsea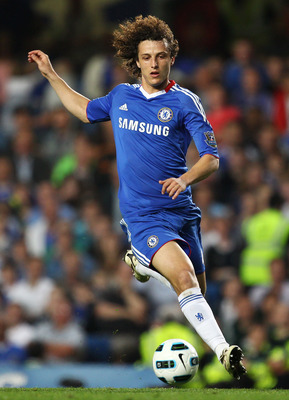 Julian Finney/Getty Images
According to Geoff Sweet at The Sun, Barcelona will bid £27.5 million for Chelsea centre back David Luiz.
Luiz who arrived from Benfica for £21.3 million, has shown off his offensive prowess, yet also given glimpses of defensive frailty.
It's not the first time that Barcelona will bid a high price for a defender.
1) €25 million to Shakhtar Donetsk for Dmytro Chygrynskiy in 2009
2) €20.5 million to Real Zaragoza for Gabriel Milito in 2007
3) €16.5 million to Villarreal for Martín Cáceres in 2008
4) €10 million to Palmeiras for Henrique in 2008
All four defenders failed to live up to their transfer fee.
It's unlikely that manager Andre Villas-Boas will let go of someone with so much promise like Luiz, especially to a rival UEFA Champions League club in Barcelona.
Joey Barton a Future Gunner?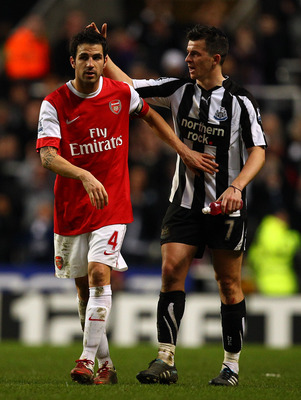 Richard Heathcote/Getty Images
According to Tom Hopkinson at The People, Arsenal are weighing up a move for controversial Newcastle midfielder Joey Barton.
Perhaps with a chip on his shoulder, Barton has proven to his detractors that he is a footballer rather than a thug.
His boisterous work ethic combined with some lovely and at times Xavi-esque passing, has seen him become such a vital player for Newcastle.
Yet owner Mike Ashley seems certain to gamble Newcastle's future by opting for prospective and cheap youth players over aging and not so cheap senior players.
Barton falls into the latter category, so perhaps Arsenal should give him a lifeline, as he'd provide some steel and quality in midfield.
Will Falcao Follow Andre Villas-Boas to Chelsea?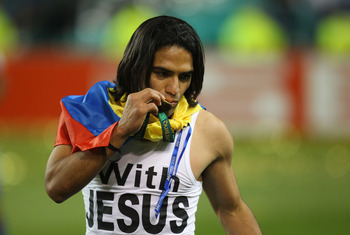 Alex Livesey/Getty Images
According to Andrea Ghislandi at Goal.com, Falcao's agent Claudio Mossio has hinted at the possibility of his client following former Porto manager Andre Villas-Boas to Chelsea.
When José Mourinho left Porto having won the 2004 UEFA Champions League, defenders Paulo Ferreira and Ricardo Carvalho followed the Special One to Stamford Bridge.
Though if Chelsea paid €15 million for Villas-Boas, how much will they have to fork out for Falcao after his 38 goal season?
Gaël Clichy to Be a Roman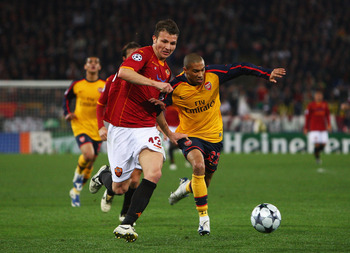 Jamie McDonald/Getty Images
According to Alan Nixon at the Daily Mirror, Roma are willing to buy want-away Arsenal left back Gaël Clichy for £7 million.
Clichy is another example of manager Arsène Wenger's expertise in scouting French talent, given he handpicked Clichy from Ligue 2 side Cannes.
Since moving to Arsenal, Clichy has developed into one of the world's best left backs, though his final product still needs polishing.
£7 million for one of the world's best left backs, and in a position where there is a clear lack of talent worldwide, seems like a slap in the face to Arsenal.
Though considering he could leave for free next year as his contract runs out, just like compatriot Mathieu Flamini did in 2008, perhaps Wenger would be wise to cash in.
Queens Park Rangers May Sell Adel Taarabt to Manchester United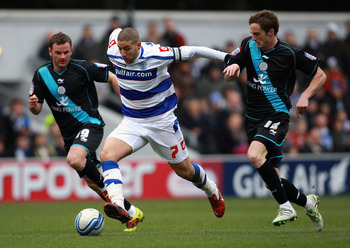 Warren Little/Getty Images
According to Christian Bailey at Caught Offside, Manchester United will bid £10 million for Queens Park Rangers star Adel Taarabt.
It's expected that the ambitious Taarabt will leave Loftus Road for greener pastures, forgoing the chance to repay Queens Park Rangers for revitalising his career.
What's surprising about this potential deal was he told L'Equipe, "I would like to stay in London, it is the best city in the world."
Fenerbahçe Want Tottenham Hotspur's Jermaine Jenas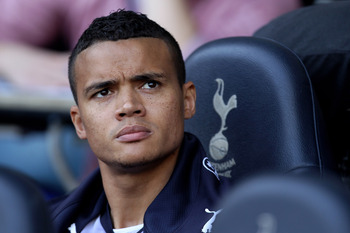 Ian Walton/Getty Images
According to Marc Isaacs at talkSPORT, Turkish champions Fenerbahçe will offer £5 million for Tottenham Hotspur outcast Jermaine Jenas.
Jenas has been an unused substitute 16 times this season, and the lure of playing UEFA Champions League football for the Turkish champions will be tempting.
In 2009, Turkish club Ankaragücü offered former England international Darius Vassell a lifeline—he spent a solitary season in Turkey.
Will Jenas follow in Vassell's footsteps?
Who Wants Mahamadou Diarra? He'll Come for Free.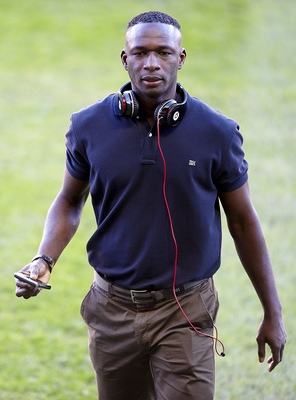 Manuel Queimadelos Alonso/Getty Images
According to the Metro, Fulham and Stoke City will battle it out to sign free agent Mahamadou Diarra.
Hard dealing Lyon president Jean-Michel Aulas once valued Diarra at €40 million before yielding to a €26 million transfer fee from Real Madrid.
An integral member of Real Madrid's successive La Liga titles in 2006-2008, Diarra found himself out in the dark under manager José Mourinho.
When Real Madrid signed Emmanuel Adebayor, Diarra's contract was bought out, and he then signed a short term contract with Monaco.
Having endured relegation with Monaco, it is more than likely that he'll leave Monaco to play top flight football.
He'd fit right in with Tony Pulis's Stoke City, though having resided in Lyon, Madrid and Monaco for the past 11 seasons, playing for Fulham in London may come into consideration for Diarra.
Roberto Mancini to Throw Money at Udinese for Alexis Sánchez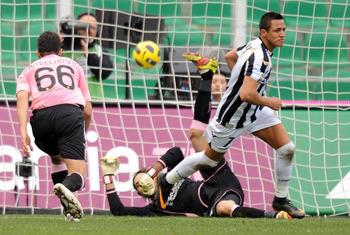 Tullio M. Puglia/Getty Images
According to Jeremy Cross at the Daily Star, Manchester City manager Roberto Mancini will attempt to snatch Udinese forward Alexis Sánchez from Barcelona, who are also keen on the Chilean.
Barcelona do not have money, whereas Manchester City do. So Udinese will side with Manchester City, yet which club will Sánchez side with? Perhaps Barcelona.
Sánchez has been magnificent this season, so much so that I ranked him as the sixth best forward in Europe.
Only six Chileans have ever played in the English Premier League, interestingly four in the past three years (Carlos Villanueva, Jean Beausejour, Gonzalo Jara and Luis Jiménez).
Will Sánchez be the seventh ever Chilean to play in the English Premier League?
Keep Reading