Park Ji Sung: Is the Asian Manchester United's Most Important Player?
June 27, 2011
Chung Sung-Jun/Getty Images
Amidst the miasma of questionably valid "rumours" swirling around the figurative this summer, a frank assessment from arguably Manchester United's most important player slipped almost unheralded into anonymity.
Wayne Rooney's sudden abundance of hair apparently was more important. Yet Park Ji Sung's assentation that his time at United was on the wane, in reality of much more telling importance than Rooney's hair transplant, was treated with the off-hand inconsequence that the Korean is oft afforded.
Yet in reality, there are few if any that have proved shrewder an investment than Korea's most decorated player. Rooney et al may steal the headlines, but the grandeur on display is facilitated by the leg work Park lays down in his inimitable impression of Forrest Gump.
Indeed, during the Champions League final, Park was the only member of the midfield sham that gave Frodo Xavi and the fellowship of Pep Guardiola's ring any more than a mild annoyance.  
Where Michael Carrick's laxidasical nonchalance can become over run by a team as geared to speed and possession football as Barcelona, the beauty of Park is that he thrives under pressure harrowing, chasing and scrapping; opponents must hate him.
From an aesthetical perspective there are more attractive footballers to watch. The show-ponies like Cristiano Ronaldo have a better control and repertoire with the ball and the all-seeing passing genius in the Xavi and Paul Scholes-ilk have a better range.
However, the old adage, "Beauty is in the eye of the beholder" in this circumstance appears apt as football takes all sorts. It is about winning the match, nothing more, nothing less, and in that sense, Park contributes a great deal to the beauty exuded by the Red Devil machine.
I can't imagine the current Manchester United without its Korean demi-god.
Looking back on the risible £4 million fee that Sir Alex Ferguson paid PSV Eindhoven to acquire Park's services back in 2005, it is hard not to laugh at how the market has since imploded.
In a world in which Andy Carroll, a player who had one good championship term and half a very good Premiership season is valued at £35 million, £4 million is barely a drop in the ocean.
Manchester United could have purchased nine Park Ji Sung's for the price that Liverpool so shrewdly acquired a solitary ancestor of the cavemen. Yet while Park has, in his six years gone on to become synonymous with the very soul of Manchester United, Andy Carroll has barely featured after an injury plagued opening tenure.
Admittedly, a fit again Carroll looks a fine prospect, and he will undoubtedly come strong for Liverpool in the new season, yet how can a man with such an over-inflated fee ever hope to live up to such overzealous spending?
Park came with little expectation and has since flourished within the theatre of dreams to become a first choice lynch-pin in Sir Alex's big-game sides.
Park Ji Sung's value to Manchester United is not restricted to the pitch, however, as he transcends the boundaries, breaking United into the lucrative Asian market.
In the pre-Park era Manchester United already had a significant Asian following in the far-east, however they had no Asian players on their roster. The arrival of Park from PSV gave this Asian market a point of reference back in good old Blighty, and the club's popularity, predictably, went through the roof.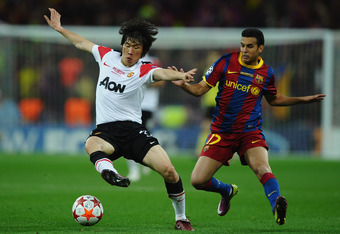 Laurence Griffiths/Getty Images
No other club is able to laud such financial clout in the Asian market as quite simply no other club has an Asian footballer as good as Park Ji Sung. It would be one thing to be an Asian bit-part man in the squad—figuratively speaking that John O'Shea were Asian if you will (bear with me)—but quite another for an Asian player to form an essential cog in what is arguably the world's biggest club.
Any Asian player at a club the size of Manchester United would be loved, but only one as successful as Park Ji Sung could be worshipped.  
The relationship between Park Ji Sung and Manchester United, therefore has been symbiotic, as he played, and they won their respective star's eclipsed all others in the heart of the adoring Asian market.
Manchester United since Park have ploughed more ill-advised furrows in an attempt to replicate the unparalleled success of little Ji Sung Park, Dong Fangzhou being the most notable faux pas, but never before or since has it worked out.
Signed a year before Park, the Champions persisted with Dong for a further four years, before giving up the ghost on the man that never came close to living up to the early hype.
A couple of weeks ago Park informed the media sphere that he could not envisage life at United continuing much beyond his 32nd birthday—he is now 30.
With his game as much based on athleticism and shear grit as it is, Park claimed that he could not see himself maintaining the tempo befitting the pantheons of Old Trafford for any more than two more years.
"I see myself retiring somewhere else, at another club," he was heard to finish (although possibly via a translator). The statement was afforded a cursory reference in the media, played out for a day, before receding (in a way not too dissimilar to Rooney's pre-op hairline) back into nothing.
For any that question the validity of Park's resolve need only look at the manner in which the then 29-year-old national team captain retired from representing his country back in 2009. He said he would and he did.
With this being said then we have two more years of Park at Old Trafford to set the seal on an un-paralleled period of success for an Asian footballer. I just hope that when he is gone those that were more interested in the follicles of Wayne Rooney's barnet realise what we have before he is gone.
He may not be Manchester United's most talented player, but in terms of his all-round contribution during his six-year patronage very few have given more. I for one will miss him when he's gone.