Soccer's Top 21 Players Under 21 in the World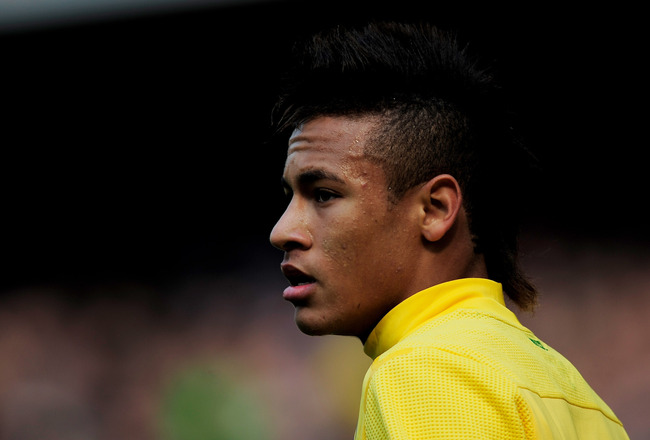 Jamie McDonald/Getty Images
We all can identify the stars of today's game without much trouble. From Messi to Malouda, the names come to our heads in an instant when thinking about the beautiful sport. After years of watching them, we have memorized their styles, attitude, work ethic and basically every other known attribute that the player contains. However, soon these characteristics that are branded into our brains will have no direct use when watching a casual game of football.
Roughly every five years, the stars of modern football cycle out and a new generation comes in. Sure, there are a few high-class players that will stick to the spotlight a little big longer than others, but the soccer generation cycle happens quicker than fans and players would probably like. This being said, fans always have to stay updated on who's rising the ranks of football to increase their overall soccer knowledge. Let's admit; you don't want to be the last guy who finds out about the next Ronaldo or Messi. That's just embarrassing.
To make sure that such a humiliating moment doesn't happen to you in the near future, read the list of the top 21 U21 players and get a head-start on who will reign the world of football in just a few years.
Honorable Mention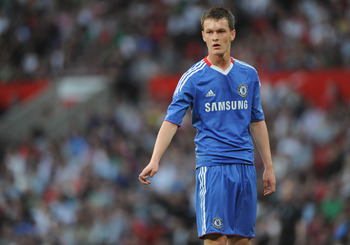 Josh McEachran and a few others, just missed out on breaking the top 21
Michael Regan/Getty Images
Here are a list of players that deserve to be recognized, but not completely rewarded for their youth success.
Josh McEachran- Chelsea, Midfield
John Flanagan- Liverpool, Defense
Alex Oxlade-Chamberlain- Southhampton, Winger
Phil Jones- Blackburn, Defense
Jonjo Shelvey- Liverpool, Midfield
Adam Lijaic- Fiorentina, Midfield
Jack Rodwell- Everton, Midfield
Davide Santon- Inter, Defense
Luc Costaignos- Inter, Forward
Federico Macheda- Manchester United, Forward
Ryo Miyaichi- Arsenal, Winger
21 Danny Welbeck
Club: Manchester United
Position: Forward
Nationality: England
Birthday: 11/26/90
Although Welbeck's season ended a little less satisfying than it started, United should be proud of their youth product's season. When healthy, Welbeck proved to be a strong aerial threat for Sunderland, and as you can see from the video, has an abnormally powerful right foot.
20 Connor Wickham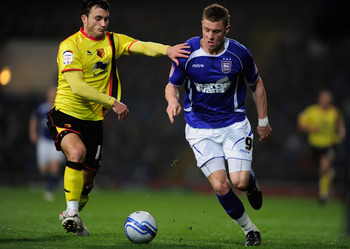 Jamie McDonald/Getty Images
Club: Ipswich Town
Position: Forward
Nationality: England
Birthday: 3/31/93
If you haven't heard of Wickham by now, you've been following the wrong sport. Wickham has been one of the hottest names in football since April 2010 and has scouts salivating over his seemingly unlimited potential. Wickham could be a valuable offensive asset to any club due to his incredible size and strength. Needless to say, big things are in this kid's future if he doesn't let the pressure taint his talent.
19 Erik Lamela
Club: River Plate
Position: Midfield
Nationality: Argentina
Birthday: 3/4/92
The Argentine sensation has a lot of promise coming from River Plate. Although his stats in the Argentine Primera aren't anything near jaw-dropping, the midfielder is getting looks from Real Madrid, Liverpool and AC Milan. Lamela will be coming to a television set near you in the upcoming season.
18 Iker Muniain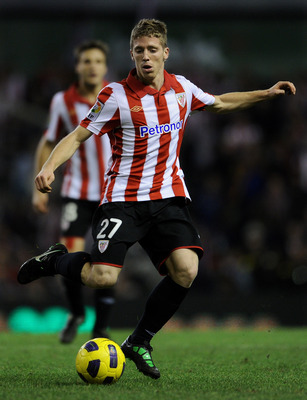 Jasper Juinen/Getty Images
Club: Athletic Bilbao
Position: Winger/Forward
Nationality: Spain
Birthday: 12/19/92
The Athletic Bilbao winger, who barely breaks 165 cm, also barely makes my list for top U21 footballers. At only 18 years old, Munain's boots are already filled with experience, as the Spanish striker has been netting goals for Bilbao since 2009. Although earning a Spanish National Team cap as a winger might be a bit of a stretch, there's no doubt that Munain will have success at the club level.
17 Aaron Ramsey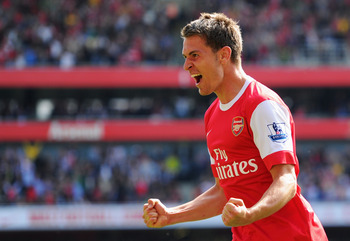 Mike Hewitt/Getty Images
Club: Arsenal
Position: Midfield
Nationality: Wales
Birthday: 12/26/90
Although possibly known more for his horrific injury, the Welsh midfielder shows terrific promise for Wales and Arsenal. Ramsey was the victim of a horrible Ryan Shawcross tackle on February 27, 2010 and was absent from Arsenal's starting lineup until March 19 of the following year. Ramsey's career so far at Arsenal has been a rollercoaster ride, while his international duty has been far more successful. He was named permanent captain of Wales in March 2011 and is the only one on this list to have that honor.
16 Gael Kakuta
Club: Chelsea
Position: Winger
Nationality: France
Birthday: 7/21/91
Although possibly known more now for his Chelsea signing scandal in 2009, Kakuta has the talent to be the next great French winger. With the French Football Federation looking to forget their recent controversies and focus on the next generation, Kakuta is in a prime position to become the Florent Malouda of the future. With excellent pace, great footskills and a full dose of flair, there's no doubt in my mind that Kakuta will be headline news for his gameplay (not controversy) in the near future.
15 Thiago Alcantara
Club: Barcelona
Position: Midfield
Nationality: Spain
Birthday: 4/11/91
Alcantara is Barcelona's most recent high profile youth system product. Alcantara has been compared to current Barcelona/Spanish midfielder Xavi for his excellent ball control and passing touch. Great compliments are followed by unbelievable expectation. Let's see if he can live up to the hype.
14 David De Gea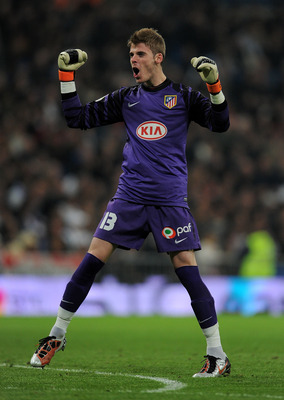 Jasper Juinen/Getty Images
Club: Atletico Madrid
Position: Goalkeeper
Nationality: Spain
Birthday: 11/7/90
The only keeper that breaks my top 21 is Madrid's lanky prodigy. De Gea started every league game this season for Los Rojiblancos and posted 11 clean sheats to help his hometown club to a top seven finish. Simply put, De Gea is the next great Spanish goalkeeper.
13 Andre Schurrle
Club: Bayer Leverkusen
Position: Forward
Nationality: Germany
Birthday: 11/6/90
Germany just never gets tired of producing strong, physical forwards. Shurrle uses a combination of speed and power to beat defenders and eventually release a powerful shot. The young German netted 15 goals this season for Mainz, good for seventh place in the Golden Boot race and a new contract with Bayer Leverkusen. With Schurrle in top form, the German attack is basically overdosing on firepower.
12 Xherdan Shaqiri
Club: FC Basel
Position: Winger
Nationality: Switzerland
Birthday: 10/10/91
An awesome name isn't the only thing this Swiss winger has got going for him. Liverpool, Manchester United and Arsenal have already stated that signing Shaqiri will be a top priority for their respective clubs in the near future. Shaqiri is a younger version of fellow Swissman Tranquilo Barnetta and makes a habit of scoring fantastic distance goals with his strong left foot (as you can see from the video).
11 Sergio Canales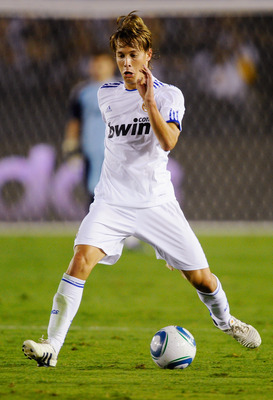 Kevork Djansezian/Getty Images
Club: Real Madrid
Position: Attacking Midfield
Nationality: Spain
Birthday: 2/16/91
Canales is a Spanish prodigy who looks to be the second coming of Xavi for la Roja Furia. At just 19 years old, Canales signed with Real Madrid and was expected to make an immediate impact. However, with the Royals central midfield overflowing with young talent, Canales has not seen the amount of playing time that he desires or deserves. Just last week, Canales expressed discontent over his lack of playing time and is possibly looking to change where he calls home this summer. Whether he plays for Real Madrid next year or not, know that this kid is a top-class talent.
10 Phillipe Coutinho
Club: Internazionale
Position: Attacking Midfield
Nationality: Brazil
Birthday: 6/12/92
This young Brazilian dazzler has been hailed by many as Serie A's top young prospect. Currently playing for Inter Milan, Coutinho has made 13 appearances thus far and has impressed with his trickery and elusiveness in the attacking third. He might not light up the scoreboard (a mere one goal this season), but he'll be lighting up youtube for years to come.
9 Fabio/Rafael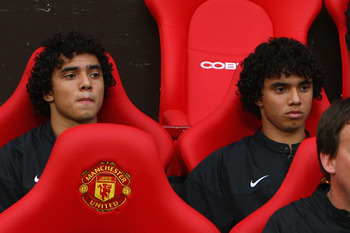 Phil Cole/Getty Images
Club: Manchester United
Position: Defense
Nationality: Brazil
Birthdays: 7/9/90
The Brazilian brothers are the future fullbacks of the reigning EPL champions. At just 20 years of age, each of the twins made double digit appearances for United on its path for the league title. If you're Alex Ferguson, it would be hard not to get excited about just ONE of them. Hopefully, I am not the only one that thinks Fergie is a little spoiled with the terrific twins.
8 Romelu Lukaku
Club: Anderlecht
Position: Forward
Nationality: Belgium
Birthday: 5/13/93
If there was a footballer on this earth who was blessed with every athletic ability possible, it would be Romelu Lukaku. The Anderlecht striker has the height of Didier Drogba, the speed of Fernando Torres and the strength of Wayne Rooney all in one body that is overflowing with promise. Lukaku is a threat in the air and on the ground, which makes him virtually indefensible in the Belgian League. He is also indefensible in the FIFA video game for all your gamers out there.
7 Christian Eriksen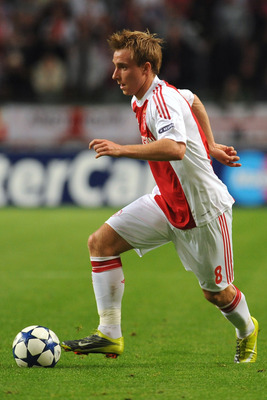 Valerio Pennicino/Getty Images
Club: Ajax
Position: Attacking Midfield
Nationality: Denmark
Birthday: 2/14/92
After just one season in the Eredivisie, Eriksen has earned a League Title, a talent of the year award and plenty of interest from top English Premier League clubs. At just 19 years old, Eriksen was the dynamic piece to Ajax's strong attack and a main reason why the club ended their six-year drought from glory with a League Title.
6 Eden Hazard
Club: Lille
Position: Winger
Nationality: Belgium
Birthday: 1/7/91
Hazard might be a bit under the radar, but I base my rankings off skill, not popularity. Nicknamed the "Belgian Bullet," Hazard's prodigious pace and foot skills have placed him on top of many European clubs' transfer boards this summer. With 100-plus Lique appearances before his 21st birthday, Hazard is worth your attention.
5 Mario Balotelli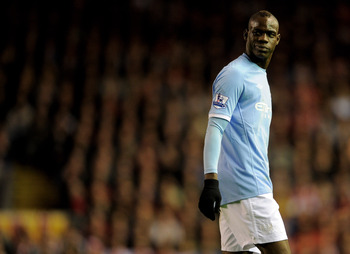 Michael Regan/Getty Images
Club: Manchester City
Position: Forward
Nationality: Italy
Birthday: 8/12/90
Super Mario is undoubtedly the most well known player on this list. Even if you have never seen Balotelli play a live game, you probably already know how he expresses himself and his attitude towards opponents. Whether you call it cocky or confident is irrelevant, because for the Man City striker, it works. Although you may not always agree with his tactics, we are all man enough to give a man credit when it's due, and for many of us, it's time.
4 Mario Goetze
Club: Borussia Dortmund
Position: Attacking Midfield
Nationality: German
Birthday: 6/3/92
Dortmund's stunning success is largely due to the fantastic play of young Goetze in the midfield. The German phenom delivers from the central midfield with excellent precision and was tied for second in the Bundesliga in assists (11). Although Dortmund's primary goal is to keep Goetze for next season, the offers that they receive for the young midfielder might be too good to resist. Goetze's current transfer price tag ranges from 15 to 25 million.
3 Neymar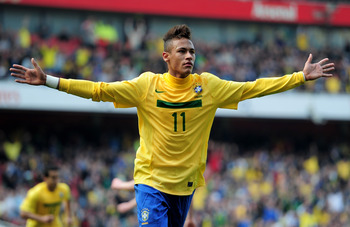 Jamie McDonald/Getty Images
Club: Santos FC
Position: Winger
Nationality: Brazil
Birthday: 2/5/92
Neymar is an electric winger who will be part of the next successful generation of Brazilian football. Although still playing professionally in Brazil, Neymar has sparked interest from top European clubs such as Chelsea, Man United and Man City and will likely depart for the EPL later this summer. Internationally, despite not being selected for Brazil's 2010 World Cup roster, the young winger has dominated opponents such as the US and Scotland with his pace and foot skills in recent friendlies. Simply put, Neymar is the future of the most prestigious football nation in the world.
2 Bojan Krkic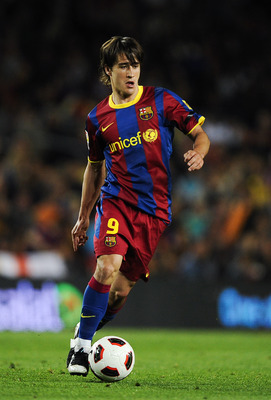 David Ramos/Getty Images
Club: Barcelona
Position: Forward
Nationality: Spain
Birthday: 8/28/90
Believe it or not, Krkic has accomplished all his unbelievable successes before his 21st birthday. The talented striker earned more Barcelona caps before his 21st birthday than teammate Lionel Messi and recently was brought up to the Spanish National team. With achieving so much at such a young age, Krkic takes home the No. 2 spot in my rankings.
1 Jack Wilshere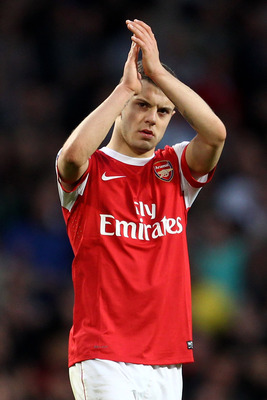 Julian Finney/Getty Images
Club: Arsenal
Position: Attacking Midfield
Nationality: England
Birthday: 1/1/92
Wilshere clearly is the cream of the crop for his U-21 age group. The Arsenal product led the Gunners in games played this season and was an essential part of the midfield for Arsene Wnger. After the first leg of the Barcelona-Arsenal Champions League quarterfinal, many labeled Wilshere as the best player on the pitch and the future of English football. There is no doubt that this kid is special and has the capabilities of leading Arsenal and England back to greatness.
Keep Reading