Next Aston Villa Manager: 11 Potential Candidates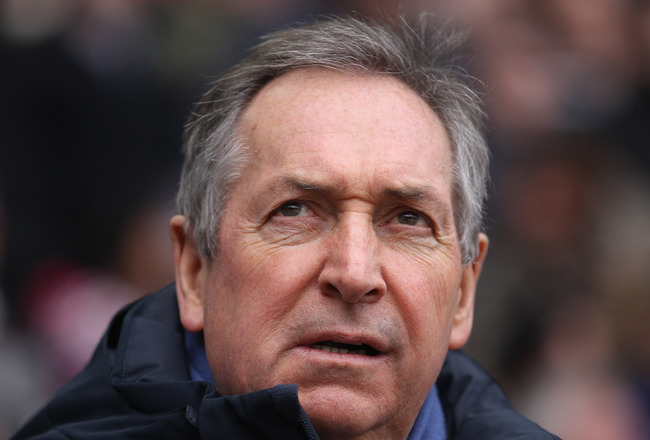 Alex Livesey/Getty Images
Given the poor season that Aston Villa have had this season, there had been growing pressure on Gerard Houllier to be sacked.
However, the board decided to give him time, at least until the summer, to prove he could turn things around.
Unfortunately, he was taken to hospital a few weeks ago with chest pains and is not expected to return to the club this season. Indeed, there are growing rumours that he will not be returning to the club at all, standing down on medical grounds.
Clearly everybody is wishing Houllier a swift and full recovery, but even if this is the case, questions must be asked as to whether he can continue to put his job ahead of his health. Personally, I would be surprised if he returns next season.
If this were to be the case, Aston Villa would be looking for their fifth manager in less than twelve months, following O'Neill, caretaker manager Kevin Macdonald, Gerard Houllier and his stand-in, Gary McAllister.
Here are 11 of the candidates that are likely to cover the shortlist that Randy Lerner and Paul Faulkner will draw up.
Rafa Benitez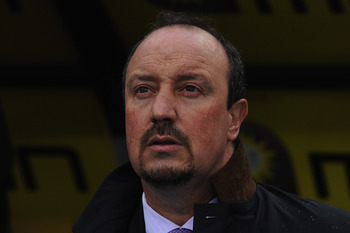 Valerio Pennicino/Getty Images
The favourite for the job with the bookmakers, he is reportedly interested in taking the role if it were offered.
Despite the negative end to his spell at Liverpool, he is undoubtedly a top quality manager.
He remains the last manager to win La Liga with a side other than Real Madrid or Barcelona, he led Liverpool to two Champion's League finals in three years and brought them as close as they have been for many years to the title.
He struggled at Inter Milan, but it was always going to be a poisoned chalice following Mourinho with an ageing squad. For me, he would be a good choice for Villa and he would relish the chance to return to the Premiership.
Best Odds: 5/2
Sam Allardyce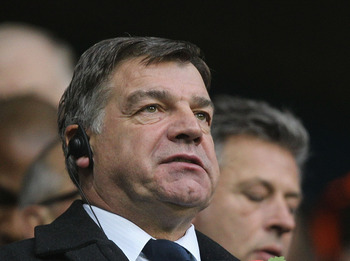 Hamish Blair/Getty Images
Out of work since being strangely sacked by Blackburn earlier in the season.
He has become a master at keeping sides in the top flight and actually pushed Bolton into the European places on several occasions.
However, his style of football has attracted many critics over the years and fans are unlikely to accept him as the new manager.
You get the impression that Allardyce's appointment would be seen as showing a clear lack of ambition.
He is known as a master of keeping sides safe, but for a Villa side looking to re-establish themselves in the higher end of the table, it is questionable whether he would be the right appointment.
Best Odds: 13/2
Paul Lambert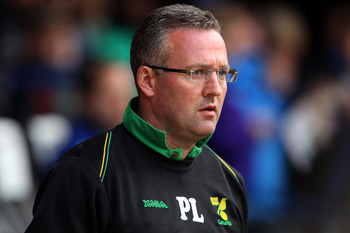 Clive Rose/Getty Images
Paul Lambert has performed a minor miracle in recording successive promotions with Norwich City, bringing them back to the Premiership.
One of the most exciting young managers in the English game at the moment, he is likely to be in high demand.
However, he is likely to want to continue what he has been building at Norwich, at least for the early part of next season and so is unlikely to jump ship to Villa Park at this time.
However, experience in the Premiership was a pre-requisite last time around, which Lambert does not have, and there are suggestions that he is too close to O'Neill who has become very unpopular amongst the management at Villa Park given his on-going compensation claim with the club.
Best Odds: 7/1
Martin Jol
Valerio Pennicino/Getty Images
A popular manager during his spell at Tottenham, many fans were disappointed to see him leave.
His Ajax team played some fantastic football last season, only being pipped to the title by Steve McClaren's Twente side.
However, he struggled this season and resigned in December with the side in fourth place in the table.
Since his days at Spurs, his record has not been anything to write home about and although his teams tend to play a stylish brand of football, he never achieved great things at Spurs, despite keeping them there or thereabouts throughout his tenure.
Best Odds: 8/1
Steve McClaren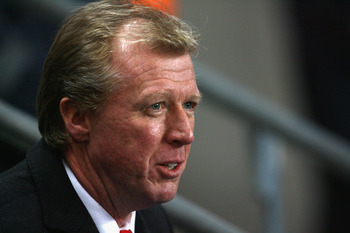 Alex Livesey/Getty Images
After his ill-fated spell as England manager, McClaren achieved great success in Holland, leading Twente to the title in his second season.
Bigger things loomed as he moved to Germany to take over at Wolfsburg, but he struggled there and resigned within half a season.
He did well at Middlesbrough, reaching the UEFA Cup final and keeping them comfortably in the Premiership—a solid achievement given their decline since he left.
He has still not won back plenty of fans after his England spell, but he is now more experienced and will likely be back in top flight management before long. I doubt he would be a popular choice, but he could do a decent job.
Best Odds: 8/1
Mark Hughes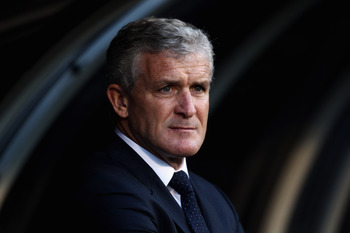 Dean Mouhtaropoulos/Getty Images
Had he not agreed to become the new manager at Craven Cottage mere days before Martin O'Neill walked out on Villa last season, he would almost certainly have been the man that Randy Lerner turned to in his search for O'Neill's successor.
He has generally achieved solid results wherever he has gone and was arguably unfortunate to be sacked from Manchester City last season. He has bounced back well though and is well set to secure a top half finish at Fulham.
However, he has only been at Craven Cottage for one season and is reportedly happy to open talks on a new contract that Fulham are keen to agree to ward off the interest from Villa Park.
Would be a solid choice, but seems unlikely given his desire to stay at Fulham.
Best Odds: 10/1
Alan Curbishley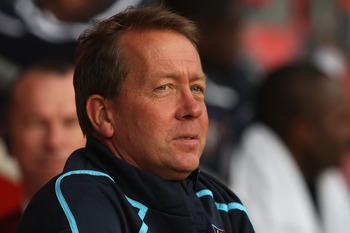 Hamish Blair/Getty Images
Alan Curbishley performed miracles at Charlton on a very limited budget. His impact at the club has been seen in their demise since his departure.
He saved West Ham from relegation, following his appointment at Upton Park, before leading the club to a top-10 finish the following season.
However, he left the club early in the '08/09 season following a disagreement with the club over the transfers of a number of players out of the club.
Alan Curbishley would be an uninspiring, if relatively safe choice. He has a proven Premiership record on limited budgets, which could be a factor if reports are to be believed.
However, it would not give the impression of an ambitious club and may lead to a number of key players considering their futures, which at this moment in time, would be a serious worry.
Best Odds: 10/1
Bob Bradley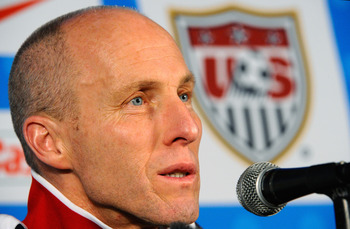 Kevork Djansezian/Getty Images
Last time around, Bob Bradley was a strong outside tip for the job.
He has impressed during his time in charge of the USA and is known to be interested in challenging himself in the European game in the near future.
The fact that current Villa owner Randy Lerner is a fellow American lends further credibility to these rumours.
However, he missed out last time around, and despite the presence of his son on loan at the club, he is unlikely to be a major player this time.
If Randy Lerner felt that he was not the right man last summer, it is difficult to see what has changed to make him the right man this time.
Best Odds: 12/1
David Moyes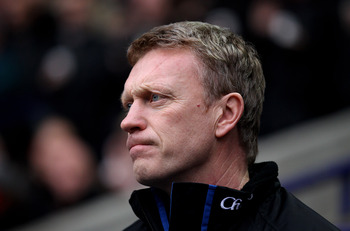 Alex Livesey/Getty Images
If rumours are to be believed, Moyes is becoming disenchanted with life at Goodison, given the lack of funds available to him.
He is constantly classed as one of the best managers outside the big three clubs and has long been touted as a likely candidate for Sir Alex Ferguson's successor at Old Trafford.
He has led Everton to several top-six finishes, as well as a Champions League campaign, although that ended early with defeat to Villarreal.
Supposedly Everton would be willing to allow him to move to Villa Park so long as they were able to bring Martin O'Neill into Goodison as his replacement.
He has shown his class as a manager and is always able to spot a bargain.
If Randy Lerner was willing to provide some funds, he might be willing to take on a new challenge at Villa Park.
Best Odds: 16/1
Sven Goran Eriksson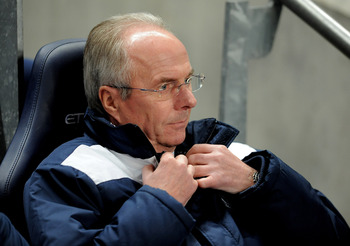 Michael Regan/Getty Images
After his time in charge of the national side and a disappointing spell in charge of Manchester City, Sven tends to be linked with the majority of job openings in the Premiership.
He has gone on record saying that he would like another opportunity to manage in the Premiership.
However, he has done well in his latest spell at Leicester, bringing them from fighting relegation to having an outside chance for the playoffs.
Sven has proven quality as a manager, although the past decade has been a little disappointing as far as he is concerned.
He would be a decent choice, but you get the impression that his career is beginning to wane, although he would likely jump at the chance.
He was interviewed last time around, but I would be surprised if he had a serious chance this time.
Best Odds: 12/1
Quique Sanchez Flores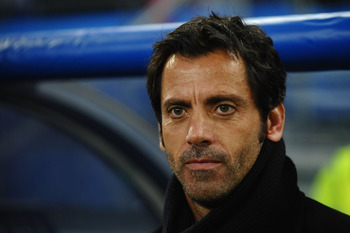 Laurence Griffiths/Getty Images
A long shot, but rumours in Spain suggest that he is interested in moving to the Premiership this summer for a new challenge.
He has had a successful managerial career in Spain, securing successive Champion's League qualifications with Valencia, then leading Atletico Madrid to the Europa League trophy last season.
Were he to leave Atletico Madrid, he would be a major gamble for Villa. He has never managed in the Premiership and comparisons with the likes of Juande Ramos would doubtlessly be made.
However, if he could bring similar success as he has achieved in Spain, he would be a decent choice.
Best Odds: None Available
Keep Reading