Top 15 Center Backs in World Football
Although aging and losing pace, Nesta's technique is still flawless
Dino Panato/Getty Images
The two center backs of any team (assuming a flat back 4) is the foundation of defense. Not only do the best center backs in world football show ferocious and strong defending, but also a good touch and technique going forward. The best center backs are called upon to build play from the back and thus become arguably the most important position on the pitch. I have rated the players based on current for. The 2010/2011 season until now, is the time frame, enjoy.
Nesta represents the gold standard of the 2000's first decade. Here are the current top 15.
Notable mentions: Nesta, Samuel, Chiellini, Ferdinand, Carragher, Lucio, Gallas, Mertesacker, Friedrich
15. Mats Hummels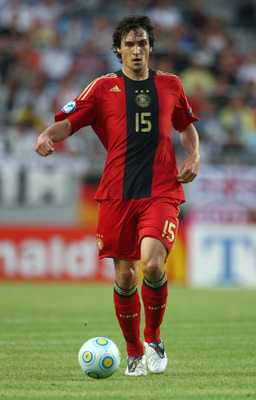 Could be featured much more with Germany in the future
Phil Cole/Getty Images
Nationality: German
Club: Borussia Dortmund
Age: 22
Height: 6'3"
A rising defender. I would not be surprised if he leads the German defense at the 2012 Euro. He pairs well with Subotic at Dortmund. This partnership is responsible almost entirely for Dortmund's excellent run in the Bundesliga this season, who remain favorites to win the league.
14. Laurent Koscielny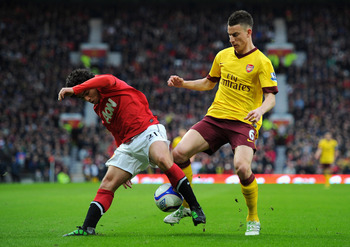 Clive Mason/Getty Images
Nationality: French
Club: Arsenal
Age: 25
Height: 6'1"
Kosciely has the ability and talent to be higher on this list. He has great pace and agility, which is one style of the center back position. He is very flexible and has good technique on the ball. His only flaw is perhaps a thin frame, which can get pushed around in hard challenges.
13. Neven Subotic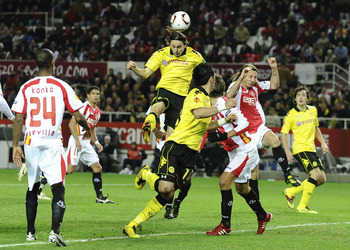 fearless in the air
David Ramos/Getty Images
Nationality: Serbian
Club: Borussia Dortmund
Age: 22
Height: 6'4"
In the top class pairing of Hummels and Subotic, Nevan Subotic may be the slightly better defender. Great vision, reads the game so well. He has decent pace, which he usually combines with creative but effective clearances. He can also contribute with goals off set pieces. Subotic is quite experienced for his age and will defensibly be a top defender in the 2010s decade.
12. Johan Djourou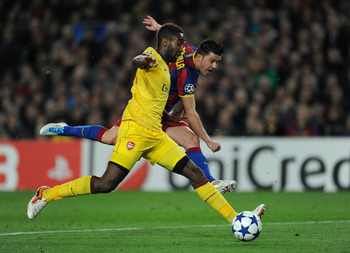 A true talent
Jasper Juinen/Getty Images
Nationality: Swiss
Club: Arsenal
Age: 24
Height: 6'4"
Djourou is having a great season. Due to injuries at Arsenal along the back line, Djourou has had the opportunity to start quite a few games for the Gunners this season. He has been outstanding in my mind. His height is much needed in the Arsenal back line, but his smart challenges and grace on the ball make him a top defender.
11. Chris Smalling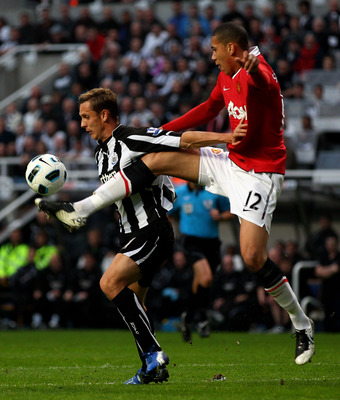 A very impressive start to his Manchester United career
Clive Brunskill/Getty Images
Nationality: English
Club: Manchester United
Age: 21
Height: 6'3''
Smalling is perhaps the rookie of the season. He stepped in for an injured Ferdinand and played well. Then, when Ferdinand was fit, Sir Alex Ferguson still played Smalling often. Even though Ferdinand is a big presence on the Manchester United team, Smalling is in better form right now, and the Smalling-Vidic pair has been solid all season. I think SAF got very lucky by the excellent form of Smalling when injuries hit the ManU defense. He was very young and an untested player. He could be in the England squad, also marginalizing out an aging Rio Ferdinand.
10. Vincent Kompany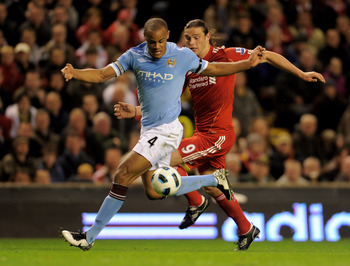 Michael Regan/Getty Images
Nationality: Belgien
Club: Manchester City
Age: 25
Height: 6'3''
Kompany had an incredible start to the 2010/2011 season. City then had a few lapses, but I do not place the blame on Kompany. His defensive work rate is always saving City at the back. A top 10 center back.
9. Micheal Dawson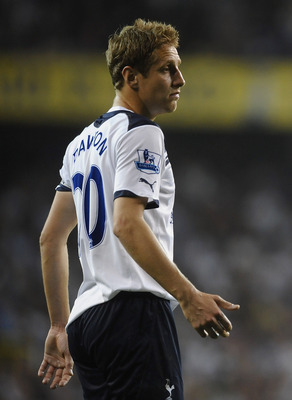 Laurence Griffiths/Getty Images
Nationality: English
Club: Tottenham
Age: 27
Height: 6'3"
Micheal Dawson is the heart of the Tottenham defense and captain of the team. He gives orders and commands the defense. He also tackles hard and plays smart. A very solid defender very characteristic of the English and Premier League center back standard. A very similar playing style to John Terry.
8. Thiago Silva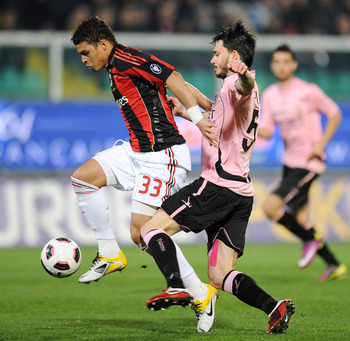 Tullio M. Puglia/Getty Images
Nationality: Brazilian
Club: A.C. Milan
Age: 26
Height: 6'0''
Thiago Silva is the base of the Milan defense. A tired and aging midfield of Pirlo, Seedorf, and Ambrossini puts more pressure on Thiago and the Milan back line, but he is a calculating and effective defender. As many have said on Bleacher Report, he is the reason A.C. Milan are about to clinch the Serie A. He has every reason to demand a place on the Brazilian national team.
7. John Terry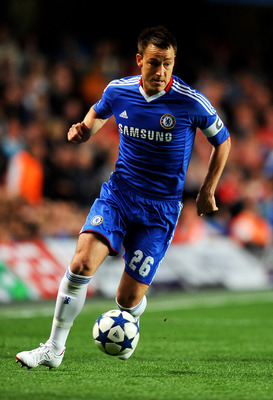 Mike Hewitt/Getty Images
Nationality: English
Club: Chelsea
Age: 30
Height: 6'1''
John Terry is often classified as a typical English style center back. This is based on being physical and throwing your body to make any block. He has made some excellent off the line saves in his career, and his current form is as good as ever, even if only for another season or two.
6. Gerard Pique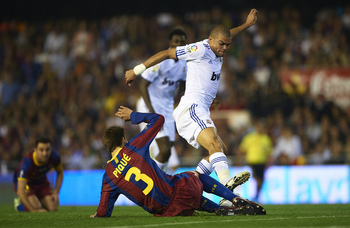 Manuel Queimadelos Alonso/Getty Images
Nationality: Spanish
Club: Barcelona
Age: 24
Height: 6'3''
I don't have too much to say about Pique, but he is deserving of the sixth spot. His contributions to Barcelona are under-appreciated. Barcelona plays from the back, and Pique has more time on the ball than most other players, bar Xavi.
5. Carles Puyol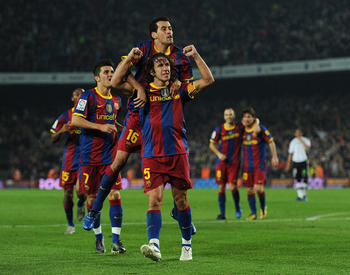 captain
Jasper Juinen/Getty Images
Nationality: Spanish
Club: Barcelona
Age: 33
Height: 6'0''
How can you doubt Puyol? He won the 2008 Euro and 2010 World Cup with Spain. Now winning the Spanish La Liga, Puyol has lost a bit of pace with all 33 years, but he still puts out stellar performances. Champions League will be a big test, however, with Barcelona coming off a loss to Real Madrid in the Copa Del Rey final.
4. Pepe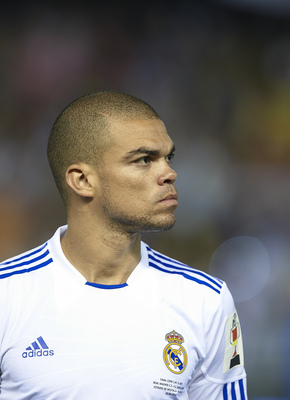 Who would have know Pepe's oddly round head would give him an advantage later in life as a center back, his headers are precise
Manuel Queimadelos Alonso/Getty Images
Nationality: Portugese
Club: Real Madrid
Age: 27
Height: 6'2''
Pepe can get a little worked up in games. Sometimes he gives away free kicks in a tackle but stops the flow of the game. Pepe is a master in this dark art of strategic fouls. And his reputation certainly precedes him in pickup loads of yellow cards. Pepe has also shown great skill moving forward, and putting aside the 5-0 beating from Barcelona, Pepe has been very solid. A very tenacious center back who tackles hard.
3. David Luiz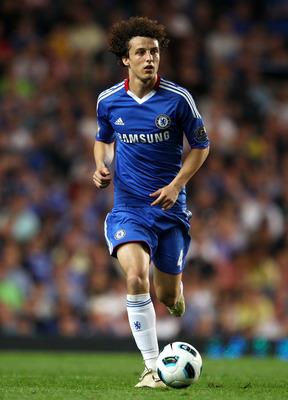 David Luiz has done everything possible to start paying off his expensive price tag over 20 million pounds
Julian Finney/Getty Images
Nationality: Brazilian
Club: Chelsea
Age: 23
Height: 6'2''
An incredible vision. I don't think I have seen more than an error or two from Luiz in his short time at Chelsea, and he was vital for Benfica before that. David Luiz is a combination of speed, touch, strength and wits. His finishing skills are also impressive. He is an ideal center back for any team.
2. Ricardo Carvalho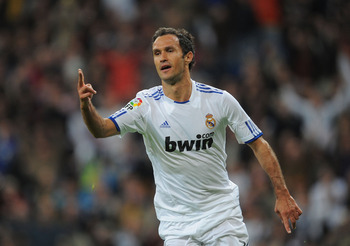 class
Denis Doyle/Getty Images
Nationality: Portugal
Club: Real Madrid
Age: 32
Height: 5'11''
Age does not seem to have slowed down Ricardo Carvalho. Every time Carvalho commits to challenge, he gets the ball. He has the unique ability to stick and poke his legs in small windows to get tot he ball. Off the line clearances, pace, a flawless slide tackle, stamina, Carvalho has got it all. There is a reason Jose Mourihno insisted on signing him last summer. He knows what he brought to the winning Chelsea side. Top class.
1. Nemanja Vidic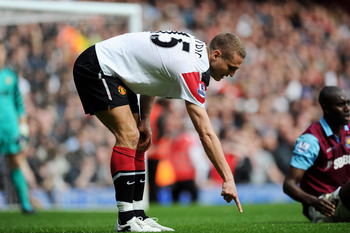 Vidic pointing to the spot
Mike Hewitt/Getty Images
Nationality: Serbian
Club: Manchester United
Age: 29
Height: 6'3''
The best center back in the world is Nemanja Vidic. He wins the popular vote on FoxSoccer at 33 percent, and for good reason. Vidic rarely make errors. He seems to have a plan for every imaginable game scenario. His "no nonsense" style of defending is the go-to of Sir Alex Ferguson side.
I can't count how many times Vidic has bailed out Man U, keeping them favorites to grab the league trophy. This is Vidic's prime of physical ability and experience. He will hope to maintain this form for another season at least.
Keep Reading