Manchester Wins Battle of North London: Tottenham 3-3 Arsenal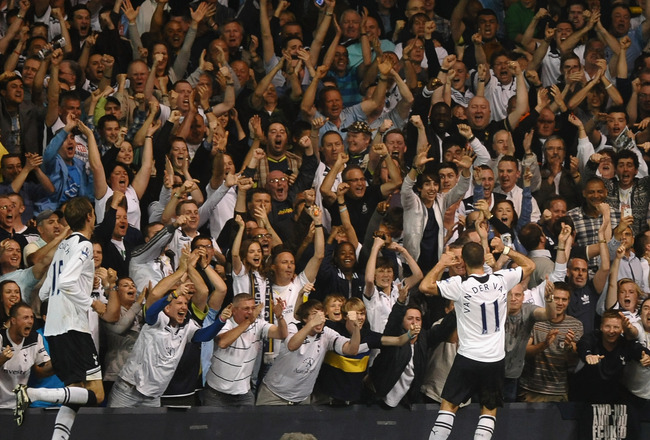 VDV : The Man of the Hour
Laurence Griffiths/Getty Images
It was pulsating, enthralling, nail biting, entertaining football of the highest order. This could easily be the best game of EPL 2010-11 season, in terms of attacking football.
There was only one tactic for both teams: Attack. Wave after wave, both the teams attacked. If Arsenal had the upper hand in the first half, it was time for Spurs in second half.
Arsenal scored at the fifth minute of the game, only to see Spurs equalising at the seventh minute. Arsenal piled on more pressure by getting two more goals. But Spurs equalised with a superb goal a minute before half time.
In second half, it was Spurs who piled on the pressure and finally they equalised at the 70th minute. Chance after chance, both the teams failed to capitalise and the game ended in 3-3 draw.
End result: Fair result for both teams. But the draw meant a deadly blow to Arsenal's title chances and a boost for Manchester City for fourth position.
Now, let's review a bit more.
Van the Man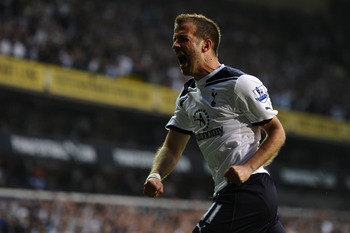 Van The Man
Laurence Griffiths/Getty Images
It was Van Der Vaart show in White Hart Lane. Cometh the hour, cometh the man.
VDV was part of the all three goals. First goal was a superb finish leaving no chance for Szczesny. Third goal was a clinical penalty.
The second goal showed he is back to his best.
Huddlestone drives the ball towards the net. Ball flies straight towards Van Der Vaart. A very sharp VDV jumps just enough to let the ball between his legs through to the net.
The entire action takes place in less than a second, leaving a stunned Arsenal players and manager.
This sharpness and presence of mind was the reason he could get heaps of goals in start of the season. Later, his fitness went down, so did his sharpness and goal-scoring ability .
VDV played his first full 90 minutes in the Stoke game last week. He was fit but still lacked sharpness. But yesterday, he looked super fit and very sharp.
This is good news for Tottenham going into the final rounds of the season.
Redknapp Wins the Battle of Subs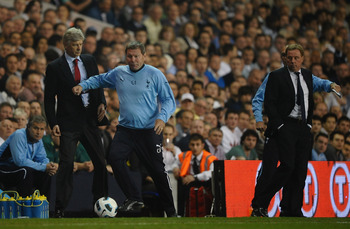 Redknapp Vs Wenger
Laurence Griffiths/Getty Images
Spurs were outnumbered in the midfield in the first half. Corluka sat deep, reluctant going forward.
Huddlestone gave away balls and was slow to catch up with Arsenal's midfield, resulting in the first goal of the game.
Bale had a average game and had to limp off injured in first half. After halftime, Wilshere came in for Diaby. Lennon replaced Bale and Kaboul came on for Corluka. The impact was immediate.
Kaboul boomed forward whenever a chance was presented and Lennon troubled Sagna throughout the second half.
After the final equaliser, Harry replaced Sandro for Pavluchenko. The effect was immediate. The last 15 minutes were the best defensive spell for Tottenham. Sandro closed down every Wilshere pass and made him virtually ineffective.
Every sub Redknapp made had a positive impact for Spurs, while it was opposite for Wenger and Arsenal. Last throw of the dice for Wenger was replacing goal scorer Nasri and midfielder Diaby with Bendtner and Arshavin.
The duo came in at 81 minutes and were mere passengers for the rest of the game. At one point of time, Kaboul and Van Der Vaart just played around Arshavin with a one-two and made him look like a bystander.
On the whole, Wenger started tactically well and ended up with a ineffective XI towards of the game. Redknapp started too offensively, gave in some poor goals but got back the tie and ensured a point with some correct substitutions.
Szczesny Is the Right Man for Arsenal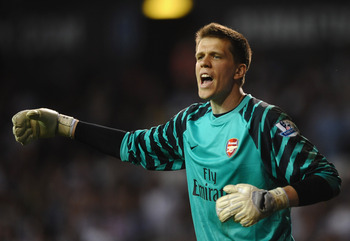 Szczesny
Laurence Griffiths/Getty Images
I had my doubts on Arsenal goal keepers this season. But now I can confidently say that Arsenal have the right man in the goal line.
He gave a penalty today, but with the pace and experience of Lennon, any Premier League keeper could have given away that.
A good goal keeper has to be agile, be decisive and more importantly, show confidence and calm the defense.
He made some superb saves today, especially from Modric and Sandro shots at goal, showcasing his agility.
Just before halftime, Bale came charging into the box for the ball. Szczesny got there are first and Bale collided with Szczesny and got himself injured.
At that moment, he gave a smirk towards Djouro, indicating everything was fine and calming down the nerves. That to me was confidence and calmness.
Even great keepers have a bad day. So, its only natural that Szczesny would also have his bad day from time to time. Wenger has to stick with him and possibly get a experienced goal keeper as his backup.
If Man United is ready to give to David de Gea, a 20-year-old, the starting place (according to latest reports in mail), there is nothing wrong in persisting with Szczesny as goal keeper.
Wenger Needs a (Self) Touch Line Ban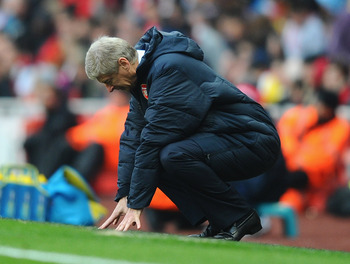 Mike Hewitt/Getty Images
When Wenger came into Arsenal hot seat, critics and pundits applauded him for his calmness. They praised on how he was like a Chess Master, absorbing all the moves and making his move, while his counterparts were screaming and yelling at their players.
Wenger is the clear leader in Arsenal ranks. If a leader is agitated and loses his cool, so will his subordinates. This is what exactly happens at Arsenal, at present.
We could sense the unrest at the Arsenal bench even when they are 3-1 up. On the face of it, Redknapp showed calmness when his team was ripped apart in first half.
Managing a professional football club is a big challenge and the problem compounds when the team is under the pressure. When the second goal was given, Wenger threw down his water bottle. Instead of reassuring his team, he was busy at sidelines arguing with the fourth referee over the penalty call.
These are the times, I wonder a (self) touch line ban would do him a world of good. Or to put it simply, a change in environment could make the difference.
He could be sitting in the stands, yet he could be angry with his players, but at least his players would not know that. In fact, He would be able to think better and relay information to his assistants.
Wenger is a great manager. But even the game's greats behave abnormally when under pressure.
Not being at the touch line would also help Wenger from media bashing for not shaking hands with counterpart.
Point: If Arsenal wants to challenge for the title, they need a calm and composed Wenger.
Manchester Smiles with Ancelotti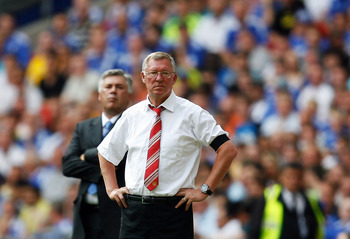 Winner of the day
Paul Gilham/Getty Images
It was a great game of football, but the winners were neutrals in every sense.
Chelsea went to the second spot after their victory and closed the gap between United to just six points.
There were reasons to smile for the blue half of Manchester too. Had Tottenham won, they could have levelled on points with Man City. With the draw, Tottenham now sit two points below City.
Both Arsenal and Tottenham are certainly not out of their League targets, but this draw has definitely dented their prospects.
Keep Reading

Tottenham Hotspur: Like this team?