Arsenal FC: Top 10 Goalkeeper Targets for Arsene Wenger This Summer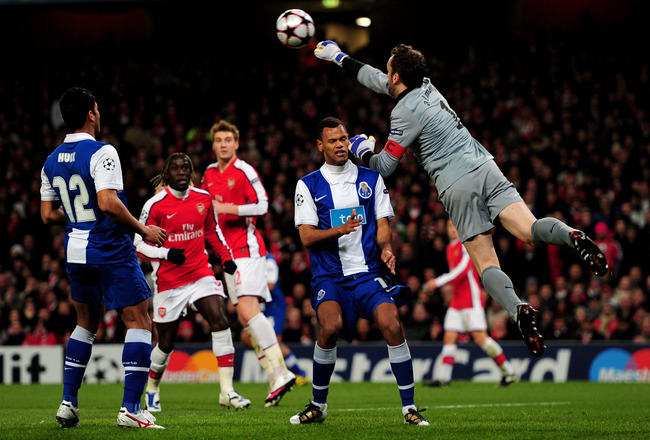 Manuel Almunia may well depart the Emirates this summer
Mike Hewitt/Getty Images
Despite getting the nod from Arsenal boss Arsene Wenger on April 2, in a critical match against Blackburn Rovers, it appears Manuel Almunia's days at the Emirates are numbered.
Almunia started in goal despite speculation that newly returned old friend Jens Lehmann could crack the starting XI. Lehmann, 41, came out of retirement to rejoin the side he helped guide to a unbeaten run through the Premiership during the 2003-2004 campaign. Lehmann started all 38 Premier League matches for Arsenal.
After a recent shaky start with Arsenal Reserves, it's clear Lehmann will need a spell to get up to match speed, firing speculation that another move could be in the offing.
Wenger is on record as saying the Almunia may leave the team at the end of the season. While the Frenchman also claimed that he wouldn't sign a new net minder if the Spaniard flees London, the addition of Lehmann would seem to indicate that may not be entirely the case.
With Lucasz Fabianski and Wojciech Szczesny both failing to play well enough to end the clamor for a new man between the sticks and Szczesny arguably costing the Gunners the Carling Cup, Wenger may indeed be looking to make a change.
That being said, here are the top 10 goalkeepers Wenger should consider making a run at this summer.
Gianluigi Buffon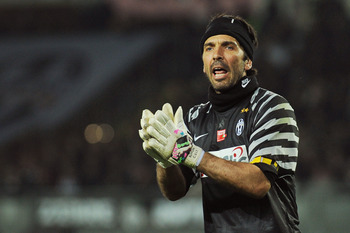 Gianluigi Buffon and his hefty salary could exit Juventus according to reports
Valerio Pennicino/Getty Images
Let's start here. And yes, I am aware that Gigi's agent has recently denied reports that his client would leave Turin, but to be honest with you, that holds about as much water as a thermos made from swiss cheese as far as I'm concerned.
After 10 seasons with the Old Lady, Buffon could potentially leave at the end of the year and would be available on a free transfer thanks to a clause inserted in his contract back in 2006 when he agreed to ride out Juventus' demotion to Serie B in the wake of the Calciopoli scandal.
The fact that Wenger may be able to snap him up for free makes Buffon, who has won a World Cup and been capped over 100 times with Italy, the most appealing prospect and the most likely one as well, seeing how reluctant Arsenal's boss can be when it comes to the transfer market.
If it becomes clear that he will leave Turin, there are sure to be many other teams interested as well. AS Roma is rumored to be in the mix, after recently being taken over by Boston businessman Thomas DiBenedetto, a partner of Boston Red Sox and Liverpool FC owner John W. Henry, and I wouldn't rule out Sir Alex Ferguson making a push for the veteran backstop as well.
Maarten Stekelenburg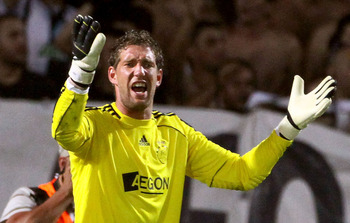 Maarten Stekelenburg to Arsene Wenger: Come and get me
Getty Images/Getty Images
The 28-year-old Dutch keeper has done everything, except fire off a few sexy texts, in order to court a move to the Emirates in recent weeks.
The Ajax backstop has been quoted in Italian newspaper Tuttosport as saying, "I have possibly played my last game for Ajax. If an offer from Arsenal arrives, I will leave Holland."
I think I speak for most Arsenal supporters when I say: What's the holdup, then?
The man who helped the Oranje to the World Cup Final in 2010 is without question one of the planet's finest goalkeepers, and he would answer the questions surrounding the goalmouth in North London rather emphatically and for the foreseeable future.
Unfortunately, the hold up is probably going to be the €12 million price tag. Wenger's miserly stance in terms of the transfer market makes perfect sense when it comes to the midfield and up front, as Arsenal are brimming with young talent, but between the sticks and at the back, the Frenchman would do well to unclasp the coin purse here, and I don't know, maybe win a flipping trophy.
Diego Benaglio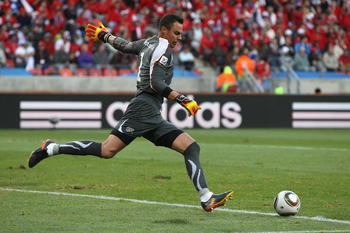 Diego Benaglio has become an integral part of the side at Wolfsburg, but could be headed to England
Ian Walton/Getty Images
Perhaps available for few million euros less than Stekelenburg, Switzerland international Diego Benaglio could be had from VfL Wolfsburg for somewhere in the neighborhood of €9 million and is another net minder who has expressed enthusiasm for an Arsenal switch.
German-language Swiss daily Blick reports that Wenger is keen on the 27-year-old backstop, and Benaglio is reported to be into the idea as well.
The Gunners have already scouted Benaglio on several occasions and are thought to have been impressed with what they saw. Wolfsburg regards Benaglio as an essential piece of the roster, so the services of the Swiss shot-stopper will not come cheaply. He is under contract with the Bundesliga side until 2013.
Manuel Neuer
Manuel Neuer may cost Wenger a bundle
Clive Mason/Getty Images
With it seemingly a fait accompli that Manuel Neuer will not return to Bundesliga side Schalke 04 next season, Wenger has been said to be interested in joining the chase to capture the signature of Germany's 24-year-old No. 1 but would be likely joined by such giants as Bayern Munich and Manchester United.
Neuer has been valued at €22 million by Schalke, but that figure is something that Wenger reportedly thinks he can negotiate lower. The Gunners have been tracking Neuer for over a year, and it was recently revealed that Arsenal mulled a move last summer but opted instead for the doomed pursuit of Liverpool's Pepe Reina.
With the pedigree he has and given his young age, Neuer seems like the type of player who could inspire Arsenal's tight-fisted gaffer to slacken his grip on the purse strings a bit.
That being said, he would be a fantastic addition and certainly give the Gunners a world class backstop.
Ali Al-Habsi
Ali Al-Habsi: Arsenal's future net minder?
Richard Heathcote/Getty Images
Al-Habsi presents a different sort of target for Arsenal. While not at the level of the previous names on this list, he is enjoying a fantastic spell at Wigan, where he is on loan from Bolton, and is rumored to be on Wenger's radar.
According to some rumors, the Gunners' boss doesn't want to sign an established world class star, but rather someone who can challenge Szczesny for the starting job.
The Oman international will return to Reebok Stadium but could find himself, at the very least, second on the depth chart behind the terrific Jussi Jaaskelainen, if not trailing Adam Bogdan as well. Given his fine form with Wigan, Al-Habsi is unlikely to meet bench time without a fuss, and Bolton are unlikely to hold onto a valuable player who they can get a good price for when he isn't needed by the first team.
Pepe Reina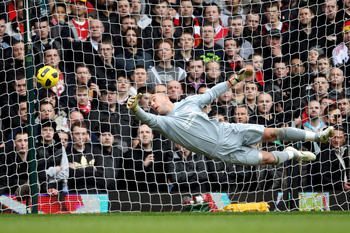 Pepe Reina has been reported to present an enticing target to Arsene Wenger
Scott Heavey/Getty Images
With clubs like Man. U and Arsenal reportedly lurking in the wings, Reina refused to put an end to the transfer speculation by professing his loyalty to Liverpool amidst swirling talk of a possible departure.
Reina is the last of the Kop's Spanish quartet, which formerly consisted of himself, Fernando Torres, Xabi Alonso, Alvaro Arbeloa and ex-skipper Rafa Benitez.
"I'm not prepared to swear eternal love to anyone," the Spaniard told reporters in early March according to Goal.com.
It is thought that the chances of Reina leaving Anfield are directly tied to how willing new Liverpool owner John W. Henry appears to dip into the transfer market to bolster the ailing side. Having already acquired Luis Suarez and Andy Carroll during the January window, this one may already be a moot point.
If Liverpool finishes on a low note, on the other hand, Wenger could very well swoop in and snatch Spain's No. 2 keeper.
Samir Handanovic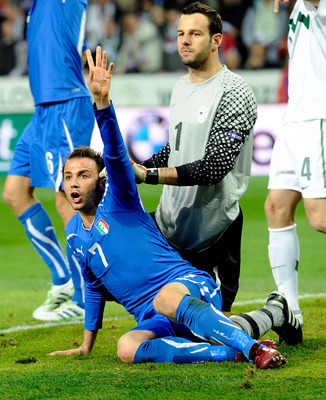 Anyone who is lying in front of a future Arsenal goalie please raise your hand
Claudio Villa/Getty Images
The Gunners were rumored to be interested in the 26-year-old Slovenian international a year ago, but no transfer ever materialized. The time could be right to make another pass at the Udinese backstop, but in order to bring Handanovic to the Emirates, Wenger will have to fend off such clubs as Juventus, Bayern Munich and Blackburn Rovers and may have to shell out as much as €14 million.
The Slovenian has made 121 appearances for Serie A's Udinese, while earning 42 caps for Slovenia and starting throughout the 2010 World Cup.
Handanovic is under contract until 2012 but could be allowed to leave if the club's price is met. He is also rumored to be a target to replace Neuer at Schalke should the young German leave.
Asmir Begovic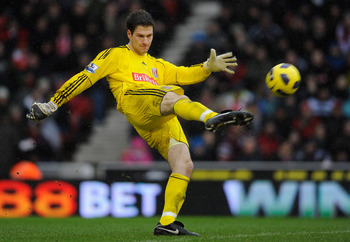 Asmir Begovic may find himself again in Arsene Wenger's crosshairs
Michael Regan/Getty Images
Arsenal was reported to have been considering a £5 million bid for the Bosnian shot-stopper before the season, and Wenger may well decide to revisit that option this summer.
Begovic, 23, has been said to have had his problems with his boss at Stoke City, Tony Pulis and despite backing off any animosity as of late, could well be keen on a switch.
The Bosnia and Herzegovina international has been playing well since joining Stoke from Portsmouth on the heels of Pompey's relegation to the Championship following last season.
While likely to command a little more in terms of a transfer fee than he would have last year, Begovic still could present a viable option for Wenger if he opts to bring in a player to push Szczesny.
David De Gea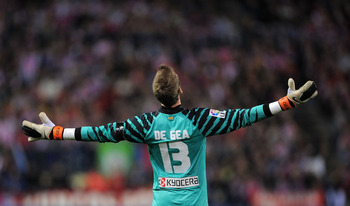 If he is emploring the heavens for a transfer, David De Gea's prayers well be answered
Denis Doyle/Getty Images
Sure, I know that Atletico Madrid's David De Gea is currently the apple of Sir Alex Ferguson's eye, but wouldn't it be great if Arsene could foil the Scotsman's pursuit?
There is a reason why Man. U are reportedly prepared to up their initial £17.5 million offer for the 20-year-old Spaniard: He's pretty flipping good.
Wenger probably won't be considering hijacking Manchester United's attempts to sign him, but I just think it would be great if they did.
De Gea has already earned a couple of European medals at his tender age, having appeared nine times for Los Colcheneros during last year's Europa League triumph, including against Fulham in the final, and saved a Diego Milito penalty to lift Atletico past Inter Milan in the European Super Cup.
While it seems Sir Alex will be the one to pry De Gea away from the Vicente Calderon, the young man has shown tremendous potential so far. Here's to wishful thinking.
Matt Gilks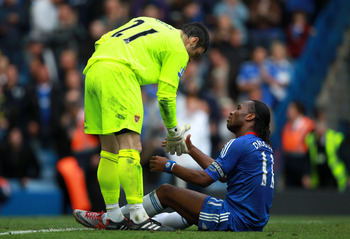 Would this level of courtesy towards Didier Drogba be a deal-breaker for Arsene Wenger?
Warren Little/Getty Images
While not having played since November due to a broken kneecap, Matt Gilks had been in fine form for the Seasiders before going down, and he was attracting attention from top-flight clubs—including Arsenal, according to the rumor mill.
"I was probably in the form of my career, playing as well as I have ever done," Gilks told the Blackpool Gazette. "But I need to be playing to either earn a new contract, which hasn't arrived yet or been talked about, or get another club, wherever that may be."
It certainly doesn't sound like Gilks is married to life at Blackpool, and with Ian Holloway's side sitting just one point out of the relegation zone with a game in hand, if the Seasiders can't stay out of the drop zone, or if he comes back and doesn't start, the 28-year-old Scottish goalkeeper may be looking for a way out.
He certainly presents a cheaper alternative to many potential Wenger targets and is out of contract at the end of the season,
Keep Reading

Arsenal: Like this team?