UEFA Champions League: 5 Things Manchester United Must Do To Beat Chelsea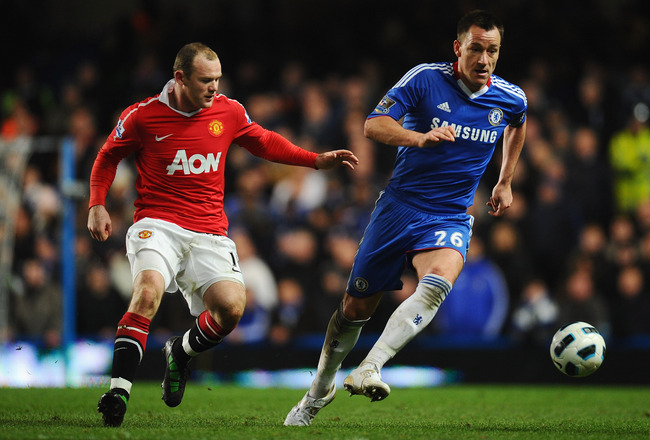 Clive Mason/Getty Images
The English matchup pits two of the most successful teams in the past 10 years of European football head-to-head. Chelsea though, have never won top honors in Europe, losing finalists to these very same opponents only a few years ago.
Manchester United have faded domestically in recent seasons from the spectacular heights they achieved with the European double in 2007-08. Wherein they were able to squeeze past Chelsea thanks to some rather "earthmoving" fortune involving Chelsea's John Terry.
These teams however, always seem to meet somewhere, and the resulting tie has for the last 10 or so years ended in Chelsea's favor more often than not. This despite United winning perhaps the most important of those matches over that time, thanks to the freak mud-induced slipping incident mentioned earlier.
Chelsea do have a slight mental edge on United if we are to look back, always seeming to come up with the goods to do the necessary damage in the closing stages, much like United do against many others.
The recent league match a prime example of Chelsea powering to a finish that looked like a fairy tale when United finished the first half in good form. Chelsea, though, blasted out of the tunnel and ran United ragged in the second half, the team's audacity and willingness to attack from anywhere seemed borne of a feeling they had nothing to lose and not long to do so.
This same situation played out in the European final the two contested in Moscow—Chelsea powering to the finish, despite United's early advantage. The loose turf was United's savior that day though, its intervention proving the decisive contribution.
The never-say-die attitude, which is the mark of true champion teams, coupled with Chelsea's array of excellent footballing talents proved enough to overpower United in the second half in the recent league match. This does not bode well for United in terms of the upcoming tie.
Chelsea have shown through the performance at Stamford Bridge that they have the belief to fight back against the best. This is something that United will have to consider well coming into the quarterfinal matchup. Chelsea having fallen out of the title race now have only Europe with which to redeem their manager and themselves; they will be hell bent, like Lucifer, skiing downhill.
The following piece will outline five things that United will have to do in order to prevail in this tie, to try to nullify the Chelsea hoodoo. Five things that could possibly end up defining Alex Ferguson's career.
1. Throw a Park-Sized Spanner in Chelsea's Midfield Machine Early On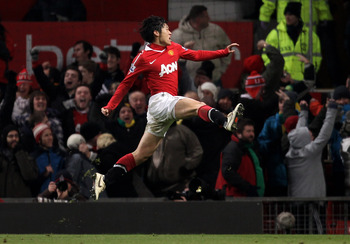 Alex Livesey/Getty Images
It would be excellent for United if they could call on the services of Ji-Sung Park along with Darren Fletcher in order to try to hound Chelsea's midfield into a frustrated state. Park is invaluable for his acceleration and tenacity in recovering the ball and also his often timely interventions when United need something special.
Along with Fletcher, and possibly Paul Scholes, the players could work a combination capable of harrying possession to be distributed quickly and accurately by Scholes to United's forward danger men, whatever incarnation of players that happens to be. Anderson could well prove to be a key part of this plan as well.
Early on at Stamford Bridge in the league match, United managed to win the early arm wrestle and exert some sort of pressure on Chelsea that led to Wayne Rooney stepping up and converting a smallish opening into a United lead. Chelsea were edged slightly from about the 22nd minute, and United managed to get the opening they needed in order to convert the advantage according to the upper hand they had gained by the 32nd minute.
As is often the case though, Chelsea fought back and put their own pressure on but were unable to convert despite fierce pressure. Van Der Sar proving his worth around the 43rd minute with a spectacular piece of goalkeeping entailing a triple save in the middle of the six-yard box. Here, United were exposed as lacking the requisite steel to close out the half, the soft underbelly of their team seen but not exploited.
Park could well be the player that could give them the extra legs and desire in the midfield to enable others around him to do their work in a more effective manner. Nani offers everything going forward, but his defensive play is often found terribly wanting. His lack of positional sense, even after he was called to assist defensively by Patrice Evra, leaving David Luiz free in the second half to score Chelsea's equalizer.
Park would be a player you would think could well have made the difference in such a situation. With Anderson coming back into the frame as well, he could also be a player who could move in and link up with Park in a midfield capable of pressing and then opening up Chelsea's sometimes shaky looking midfield.
2. Pray to the God of Football the First Choice Backline Is Available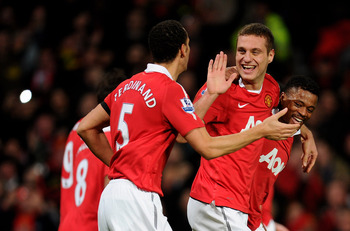 Clive Mason/Getty Images
Nemanja Vidic and Rio Ferdinand is of course United's first choice defensive pairing, and one that has been not been together at crucial times for United this season. If they cannot call on these two in the upcoming quarterfinal tie, they will be on the back foot. Purely for the reason that the second string players have been good enough sometimes, but in the really big games, the Ferdinand-Vidic partnership is a must.
The outside backs on this season's form would be Patrice Evra and Rafael, and you would think such a back line would give United the strength, efficiency and quality to possibly nullify the Chelsea attack. Van Der Sar barely need be mentioned as the big Dutchman has been in outstanding form of late, far from the howler he conceded against West Bromwich.
Drogba, Torres, Anelka and Kalou are all capable players and have all scored important goals in the courses of their careers. United will need to be in stellar form defensively in order to combat strikers of this magnitude.
3. Have Antonio Valencia Hitting Form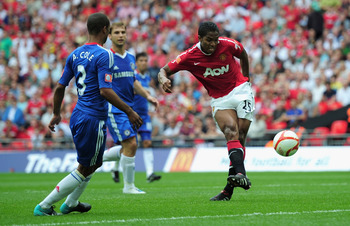 Shaun Botterill/Getty Images
United have had injuries to key forward players at different times, and the unavailability of Antonio Valencia has left United short on attacking options this season. Luis Nani has stepped in to fill the void but was ably marshaled in United's last match against Chelsea. Valencia's speed and ability to get to the byline and put accurate crosses in could be a huge factor in United overpowering Chelsea in this tie.
His excellent wing play last season was one reason Rooney finished the season with so many goals. The South American is an excellent example of an old-fashioned winger, quick, with a trick and a dangerous ball over.
Valencia needs to be eased back in over the next few weeks and held back a bit as well maybe, so that he gets the right amount of play to cohesively unite with his teammates but also retains the desire to excel every time he takes the field. Valencia has proved before he is capable of footing it with the best, and it could well be that with the right amount of play in the coming weeks he could nearing the devastating form he was able to unleash on the league in before his injury.
Alex Ferguson does not mince words when referring to the player saying,
"Antonio's ability to take the ball under pressure gives him a great advantage,"
"He has great power, his upper body is very strong and he has a great change of pace."
"We will welcome him back and it will come at a great time for us."
Valencia provides an attacking threat that has eluded United at times this season. His ability to receive the ball in tight spaces because of his strength, means he provides a a completely different option in terms of wide player to Luis Nani. Add to this his speed and timely running, and you have a player that opposition sides are wary of before kick off.
Carlo Ancellotti will be well aware of the threat the Ecuadorean poses.
4. Make Rooney Fight for His Place in the Squad for the Tie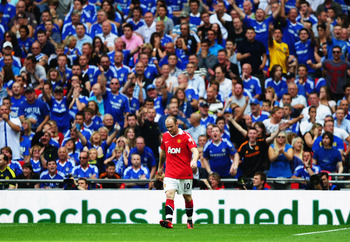 Laurence Griffiths/Getty Images
It may be in the best interests of United to make Wayne Rooney sweat a little, so that he can really gain his desire back. The drive that was always evident in his play earlier in his career, has at times been absent this season. Dimitar Berbatov has outscored him by a long way and been made to suffer the ignominy of being the one left out to accommodate the misfiring Scouser. Javier Hernandez has also been in fine form this season, and his omission on occasion has been entirely because of the "waiting for Rooney" phenomenon.
If Rooney can be "rested" somewhere in the coming games, he might get a bit of fire back, that could push him tinto the sort of form that the world now expects of him. It would be hugely beneficial to United's chances of winning the tie if he can recapture the form that made him such a worldwide sensation in the months before the world cup. The goal he scored at Chelsea was a small showing of his ability to capitalize on any opening, his bicycle kick against Manchester City of his class.
He has shown glimpses of his quality this year, sublime glimpses at times. If his ire can be raised, perhaps he can be the deciding factor in such a tie.
5. Rediscover the Chemistry That They Had Last Season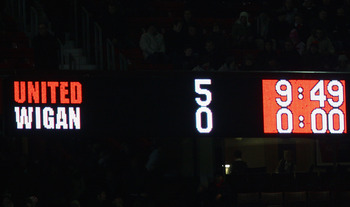 Alex Livesey/Getty Images
Last season, United were in excellent form throughout the season, the problem was that Chelsea were better. This season though at Chelsea, the wheels not only came off, but were sold by a scrap dealer and they sat idle as the likes of Sunderland beat them 3-0 at home. The nightmare run of form they endured only recently ending.
Manchester United have definitely taken advantage of Chelsea's poor form, but their play has been nothing near what they were managing at times last season. The team has never really been settled for the big games, the injurious interruptions Ferguson has endured would have seen many other managers nowhere near the top spot his side maintained.
If United can gather some sort of cohesion in the coming weeks and come close to the incarnation they presented in the last EPL race, they could well be good enough to knock over a Chelsea side that does not quite look as convincing as they have been at certain times in the last two years.
They have the players, they will have to make sure that these players have enough time together to really start hitting the same level of interplay that made them so effective last season when really they should have beaten Munich and made it all the way to the Champions League final.
This season, they find another huge hurdle in front of them in the form of their own domestic nemesis, but if certain things start clicking into place for them, they could well be the side that progresses in Europe's premier club tournament.
Keep Reading

Manchester United: Like this team?