Comparing EPL Clubs to NBA Franchises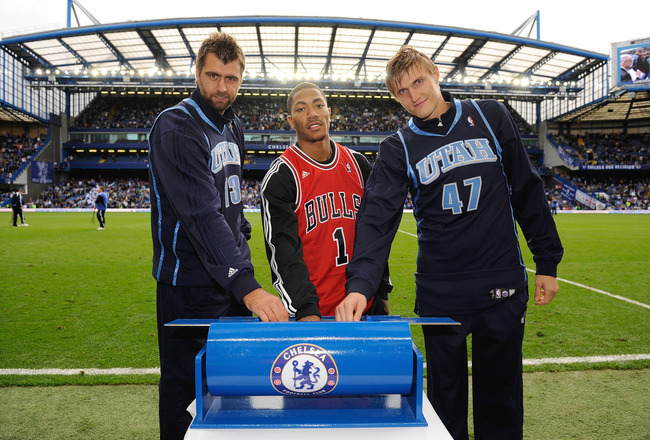 Getty Images/Getty Images
The world's most popular sports league, the English Premier League has existed since 1992 and has seen its popularity grow into becoming the top sports league in many nations.
However, the NBA has also become one of the world's most popular leagues during this time, as it has been able to globalize itself better than any other American sport.
With this in mind, here is a comparison of each Premier League club to an NBA franchise.
Arsenal: Phoenix Suns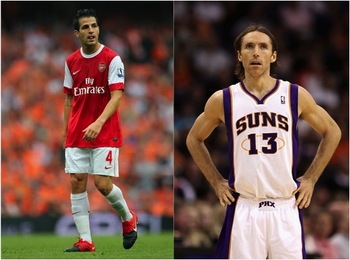 Two of the most entertaining sides in their respective sports, Arsenal and the Phoenix Suns both play uptempo football and basketball.
Arsenal's attack is coordinated by their Spanish captain, Cesc Fabregas. Meanwhile, Canadian Steve Nash leads the Suns attack.
However, both sides have been unable to reap the rewards for their fantastic play, with Arsenal going trophy-less since 2005 and the Suns have failed to win an NBA title.
Aston Villa: Houston Rockets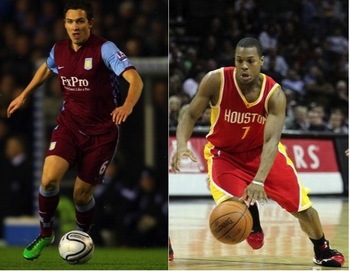 Two perennial contenders each season, both Aston Villa and the Houston Rockets have been saddled with disappointing seasons so far.
Both of these teams started to fall apart last year with the departure of Martin O'Neill from Villa and numerous injury problems for the Rockets.
Moving forward, no one knows what to expect from either of these sides, but both have the potential to become challengers in their respective leagues.
Birmingham City: Cleveland Cavaliers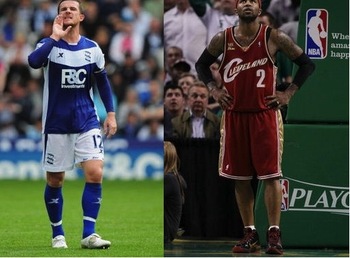 Two clubs that represent cities that have been known for representing cities that were known for being major industrial centers, both Birmingham City and the Cavaliers have been through a lot the last couple of years.
Both sides have to deal with another local club overshadowing them (Aston Villa for Birmingham City and the Cleveland Browns for the Cavs).
And, both sides lost their best player in Joe Hart and LeBron James respectively over the summer to an unpopular team (though Hart was a player out on loan to Birmingham City).
Blackburn: Portland Trail Blazers
Two sides that have been looking to return to their glory days through recent rebuilding. Blackburn and the Trail Blazers are two teams that are on the right track back to the top.
Currently, both sides have some problems, with Portland having to deal with injuries to several key players, and Blackburn trying to recover after the sacking of Sam Allardyce several weeks ago.
However, both teams have great future's and will be contenders for years to come.
Blackpool: Memphis Grizzlies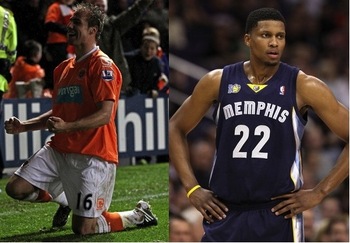 Two small clubs that are given little chance by the media and fans to succeed, both Blackpool and the Grizzlies have proved recently that they can compete with almost anyone in their respective leagues.
For Blackpool, this comes mainly from an early season win at Anfield over Premier League power Liverpool, while the Grizzlies beat the Miami Heat this season.
Bolton: Oklahoma City Thunder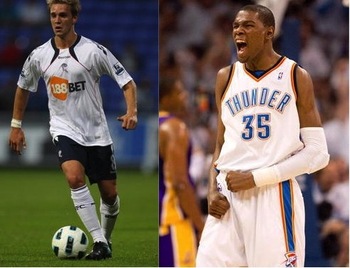 Two dormant teams until recently, both Bolton and the Thunder have started to find success in recent seasons.
For Bolton, they currently find themselves in sixth in the league table, while the Thunder are a legitimate contender in the Western Conference led by Kevin Durant and Russel Westbrook.
Chelsea: Miami Heat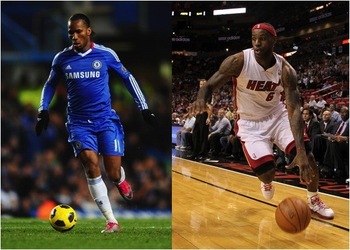 Two of the biggest teams in their respective league's, Chelsea and the Miami Heat are two of the most hated clubs in sport's.
Both teams have highly priced stars (LeBron James, Dwayne Wade and Chris Bosh for the Heat, Didier Drogba, John Terry and Frank Lampard for Chelsea) and are perennial contenders due to this.
So far this year, both teams have under-produced, but still can win their league's.
Everton: Chicago Bulls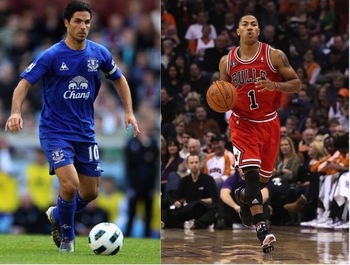 Two clubs that have had lots of success in the past, Everton and the Chicago Bulls are similar, because they are sides that have struggles to return to the top.
Both teams also feature two stars that are well known for their hair in Fellani and Joakim Noah
And, both sides find themselves as less popular options than their fellow teams in their respective cities (Liverpool for Everton and Cubs/Bears for the Bulls).
Fulham: New Orleans Hornets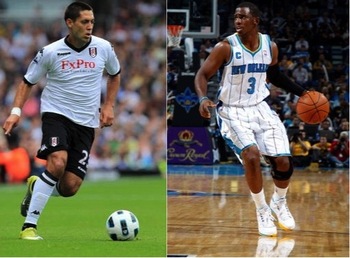 Two of the teams in term of fan support, Fulham and the New Orleans Hornets both have had moderate success in recent seasons.
For Fulham, they lost in the Europa League final last year to Atletico Madrid after an incredible run throughout the season, while the Hornets went 65-26 in 2007-2008, and won their first ever playoff series in the Western Conference.
Now, both teams will look to keep their best players in Clint Dempsey and Chris Paul.
Liverpool: Boston Celtics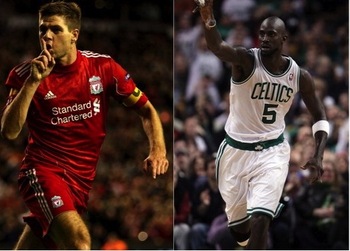 Two of the most storied clubs in their respective leagues, Liverpool and the Boston Celtics have extremely storied pasts.
Liverpool are tied with Manchester United for the most first division league titles in English football history with 18, and have won five European Cups, more than any other English club. Meanwhile, the Celtics have won a record 17 NBA titles.
Liverpool also have an owner in John Henry that is the owner of the Boston Red Sox.
Manchester City: New Jersey Nets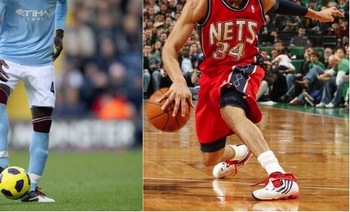 Despite conflicting records, both Manchester City and the New Jersey Nets are pretty similar.
Both clubs are overshadowed by a massive neighbor, with Manchester United and the New York Knicks both immensely more popular than City and the Nets.
Also, both clubs feature billionaire owners that want to provide championships to fans who are championship-starved.
Manchester United: Los Angeles Lakers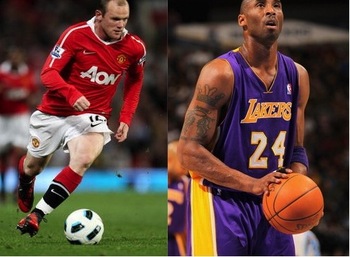 Two of the biggest clubs in sports, Manchester United and the Los Angeles Lakers are two of the most successful clubs in their respective leagues.
Both teams have arguably the most popular player in their respective leagues in Wayne Rooney for Man United and Kobe Bryant for the Lakers.
Also, these are two of the most hated clubs in sports today.
Newcastle: New York Knicks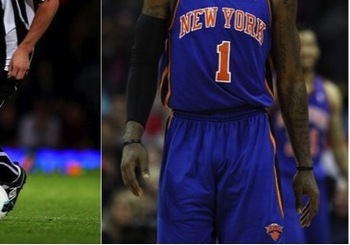 Two of the most storied franchises in their respective leagues, Newcastle and the New York Knicks have both been championship starved for many years.
Both teams play in very historic home venues in St. James Park and Madison Square Garden.
And until recently, both were struggling teams at the bottom of their respective leagues, but both have had fantastic years so far in the 2010-2011 season.
Stoke City: Detroit Pistons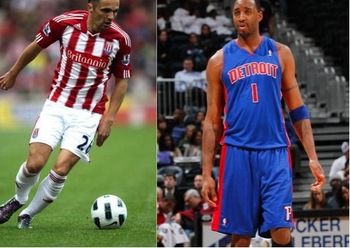 Historically two of the most rough teams in their leagues, Stoke City and the Detroit Pistons are two of the most hated teams in their respective leagues.
Both teams have also been stuck in an era of futility recently and both hope that their futures will be better.
Sunderland: Orlando Magic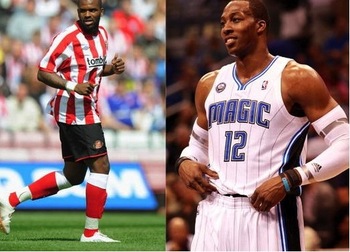 Two teams that have been stronger in recent season, Sunderland and the Orlando Magic have both gotten closer to winning their respective leagues, but still need to do some work before that goal becomes a reality.
For both teams, they have great players to build around in Darren Bent and Dwight Howard, and hope that they can take major steps forward this year to achieve a championship in the near future.
Tottenham: Dallas Mavericks

Two clubs that have been close to claiming a championship, both Tottenham and the Dallas Mavericks are extremely close to finally winning everything this year.
For Tottenham, they have gotten some amazing players that have looked great this year and the Mavericks appear to have finally jelled as a squad to make a deep run in the playoffs.
West Bromwich: Los Angeles Clippers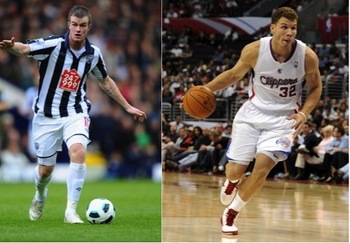 Two dormant teams in their respective leagues, both West Bromwich and the Clippers have taken strides this year to finally become respectable.
For West Brom, they are now in the middle of the league table, while the Clippers have some great young talent that is led by Blake Griffin.
West Ham: Denver Nuggets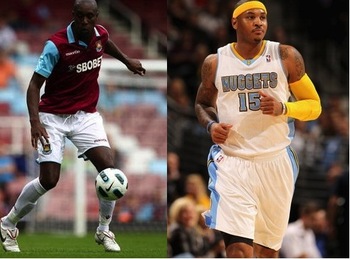 Two sides that have never won a championship, West Ham and the Denver Nuggets appear to have dark times in front of themselves in the near future.
For West Ham, they appear that they will be relegated this year and will lose many of their stars in the process.
Meanwhile for the Nuggets, they will probably lose star Carmelo Anthony to the Knicks sometime in the near future.
Wigan Athletic: Indiana Pacers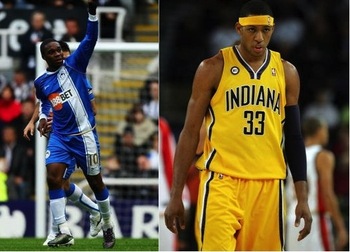 Two teams that have small fan bases, both Wigan Athletic and the Indiana Pacers appear to have great future's in front of themselves.
For Wigan, they have a great young team that beat both Chelsea and Arsenal last season, while the Pacers have already beaten the Lakers and the Heat this year and appear to be on their way to the NBA playoffs.
Wolverhampton: Golden State Warriors
Two teams with rich histories, Wolverhampton and the Golden State Warriors have found themselves in the middle of bad seasons.
For Wolves, they appear that they will be relegated this year, while the Warriors are in the beginning of a rebuilding mode.
Keep Reading