Liverpool Football: 5 Things We Have Learned About the Club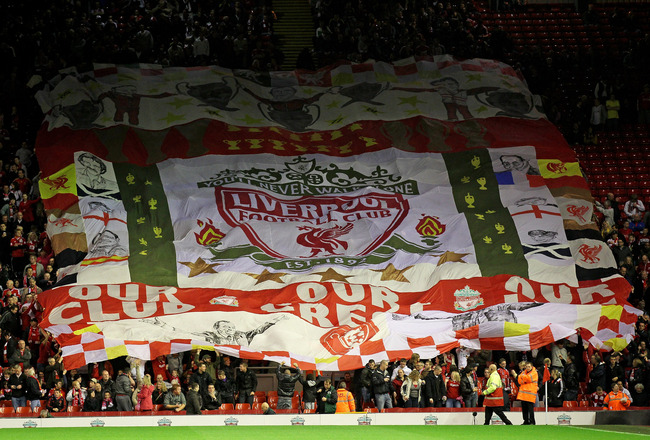 Alex Livesey/Getty Images
Liverpool Football Club have had the most disastrous start to a season in recent memory. The parting of company between the Club and Rafa Benitez was the prelude to a summer of complete change at Anfield.
Out went the diabolical Tom Hicks and George Gillett and in came John Henry and New England Sports Venture.
In place of the departed Benitez came Fulham manager Roy Hodgson.
Out went Javier Mascherano, Alberto Riera and Yossi Benayoun.
In came new players such as Joe Cole, Milan Jovanovic, Danny Wilson, Paul Konchesky, Raul Meireles and Christian Poulsen.
The entire corporate structure of the Club also changed with the power shift at Anfield.
So from the start of this new season until the dismal defeat this weekend to newly promoted Newcastle, here are five things (in no particular order) that we have learned about Liverpool Football Club.
No.1: Under Roy Hodgson Liverpool's Away Record Is Abysmal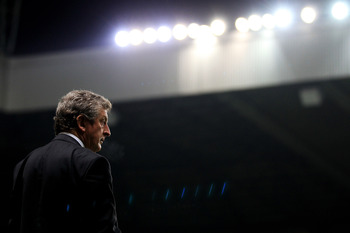 Mark Thompson/Getty Images
The results of Liverpool's away matches have been a completely in shambles.
Their record after the away defeat at Newcastle's St. James Park makes disastrous reading:
Played: 9
Won: 1
Drawn: 2
Lost: 6
Goals For: 6
Goals Against: 16
Roy Hodgson's men have collected a total of five points from a possible 27 and have a goal difference of minus-10!
These astonishing statistics leave fans looking at the league table in despair.
On a head to head of Rafa Benitez's last season with Liverpool and Hodgson's Fulham makes interesting reading:
Benitez : Won 5, Drew 6, Lost 8, GF 18, GA 20
Hodgson : Won 1, Drew 7, Lost 11, GF 12, GA 31.
The season before (2008-09) was even more interesting as Hodgson only managed three away wins in contrast to Benitez's 13.
Hodgson has not only brought his mediocre management skills to Liverpool Football Club but also his shambolic away record.
The confidence of the squad is almost completely gone when it comes to getting an away victory. Even if they are leading, the team's confidence is terribly brittle.
The damage was done by Hodgson at the start of the season. During away matches Liverpool defended far too deep, allowing the home team to dominate them completely and be on top of them, literally.
At Newcastle in the last away game the Reds played much further up the pitch, and it was evident that this ploy was far more productive. However, Liverpool's confidence has been leaking away game after game and the eventual loss to Newcastle was almost predictable.
Hodgson has always found it tough to play away matches, and his ultra-defensive tactics in such games have not helped him win over the fans.
Home teams, even those newly promoted and other so-called lesser teams, no longer fear Liverpool. Playing the Reds away from Anfield now, more often than not, represents a win for the home team.
Thanks to Hodgson, the fear factor for teams playing Liverpool at their home has all but disappeared. It may not be long until that happens with matches at Anfield as well.
No.2: Roy Hodgson Is Not Able to Get The Best Out Of Fernando Torres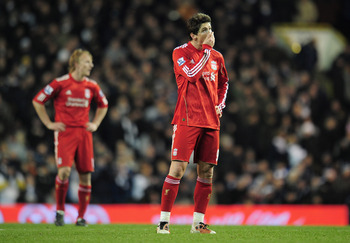 Shaun Botterill/Getty Images
This season, under the tutelage of Roy Hodgson, Fernando Torres is a shadow of the player that fans have been used to seeing.
Even in an injury-ravaged season last year, Torres' contribution and goals were significant. His whole persona this season is of a man frustrated.
Hodgson does not seem to have the managerial guile nor motivation skills to spur one of European football's top strikers into top form. There are too many times this season that Torres has looked dejected and at times even unmotivated.
In past seasons, Torres' all around contribution to the team has been likened to that of Ian Rush. He is not just a goal scorer but a tireless worker for the team, chasing and harassing defenders when not in possession.
This season we have seen less goal threat from the Spanish star and also far less of an all around contribution.
Goal scorers thrive on confidence, and Torres is no different. Hodgson seems to have robbed Torres of his self belief. In the previous game at St. James' Park, there were half chances and even clear chances for Torres—ones that a confident Torres would have dispatched with aplomb.
In the game before, the Spanish ace was one-on-one with the goalkeeper and did not find the back of the net, when a confident Torres would have scored with ease. In the same game, Torres seemed reluctant to pull the trigger, when last season he would not have thought twice and the net would have bulged.
When a player so vital to the success of Liverpool has been sapped of his confidence, the future does not look bright unless that changes.
Roy Hodgson must find a way to get the best out of his star striker if he is to be successful at Anfield
No.3: Raul Meireles Must Play In Central Midfield To Be Effective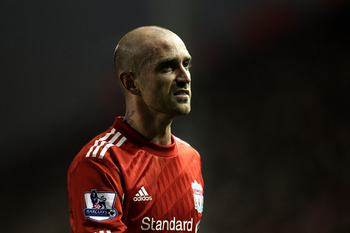 Alex Livesey/Getty Images
The 27-year-old tattooed Portuguese central midfielder Raul Meireles was signed by Roy Hodgson from Porto for close to £12 million.
Easily the most expensive of Hodgson's purchases since becoming manager at Liverpool, Meireles came to Anfield with a reputation for being a hardworking box-to-box midfielder.
Past Reds and fans likened him to former Liverpool midfield star and Kop legend Terry McDermott. With heights like that to climb, Meireles had big boots to fill.
Given the No. 4 shirt previously worn by Alberto Aquilani, Meireles made his Premier League debut as a substitute in the away game against Birmingham City.
Manager Hodgson decided that the former Porto star was better suited to play on one of Liverpool's flanks. Either that or Hodgson wanted to include him in his team lineup anywhere and at any cost.
Having to adapt to a new style of football in England, settling into a new country and having to play out of position all led to Meireles' early form not being anything like what was expected from him.
Being stuck out wide, he tried to do his best to get more involved in matches, but it soon became evident that he was far more effective when drifting into central midfield.
In recent weeks, due to a combination of factors, Hodgson has finally started the former Porto star in his preferred central midfield berth and the transformation was instant.
Fans, and hopefully Hodgson himself, have started to see what all the fuss was about when Meireles was signed.
His energy levels are second only to teammate Dirk Kuyt's, the range of his passing is materializing, and the venom of his shot off both feet is stunning.
More importantly, Miereles is involved more in the play thereby orchestrating many of Liverpool's best moves from central midfield. After switching positions he has rapidly become accustomed to the pace of the game in the Premier League and looks like an exciting prospect.
However, with the return of Steven Gerrard to the team, Hodgson may well be tempted to move Meireles back on to the flanks. With evidence of the quality and effectiveness of the Portuguese international in central midfield, the Liverpool boss would do well to keep Meireles in central midfield.
No.4: The 4-4-2 Formation Used By Roy Hodgson Is Not Working.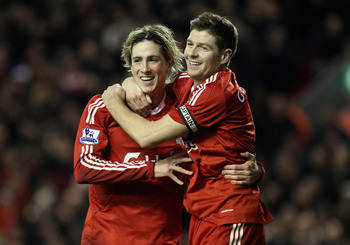 Mark Thompson/Getty Images
Under the leadership of new manager Roy Hodgson Liverpool have reverted to playing in a 4-4-2 formation.
It appears that Liverpool playing in this formation are far from effective and producing poor results, which are resulting in cup failures and an average mid table league position.
In this formation, Hodgson does not seem to be getting the best out of his players, players which other managers would welcome into their squads with relish.
The deterioration of Fernando Torres as a feared striker and the dip in form of Steven Gerrard are seriously disturbing, particularly as these two are the stars of the team. When their form is ordinary the team becomes so as well.
Torres revels in the role as the lone striker, and playing in this role under previous manager Rafa Benitez, the Spaniard developed into one of European football's top forwards. Free to make runs into the channels and drift along the front line as he pleased, Torres struck fear into defenses.
However, he is far less potent when paired with a fellow striker to play alongside. Torres looked half as dangerous when playing for Spain as when he was in full flight with Liverpool. In the national team he is also partnered up front and this thwarts his natural game.
With Steven Gerrard playing just behind him, the Gerrard-Torres combination began to become synonymous with other great Liverpool striking partnerships such as Toshack and Keegan and Rush and Dalglish.
Each seemed to be able to read the other's mind, and together they became a lethal duo. Gerrard became a superb attacking midfielder and a genuine goal threat.
Their combination even sparked a new position in the Liverpool team named "The Gerrard Role" which was given to the player who played just behind Torres.
By playing a 4-4-2 formation, thereby splitting them up and pulling Gerrard into central midfield and partnering Torres, Hodgson has effectively destroyed Liverpool's most feared and effective striking combination.
Both players have suffered as a result and consequently so has the team and results.
By reverting back to the 4-4-1-1 formation, Hodgson would free up his main striker, allowing him to play his natural game and re-ignite the awesome Gerrard-Torres partnership.
Furthermore, this would also allow him to play Raul Meireles and Lucas as the central midfield partnership which has flourished in recent weeks. Joe Cole could play on the flank or alternatively in Gerrard's role as a different option.
All in all, Hodgson's strict and stubborn reliance on his preferred 4-4-2 formation of his Fulham days is stifling Liverpool's creativity and firepower and ultimately is not the best system to play given the players at his disposal.
It is time Hodgson adapted his tactics to the squad and playing style of his players, rather than continuing to force a system on them that is obviously not working.
No.5: Under Roy Hodgson Liverpool Are No More Than a Mid Table Team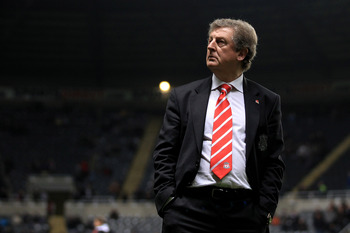 Mark Thompson/Getty Images
With the Premier League season coming to the halfway point, Liverpool find themselves in ninth place, with results and performances suggesting that this is about as good as it is going to get for the Reds.
It was not two seasons ago when Liverpool were challenging for the title and amassed a points haul that would have won them the title in previous and future seasons.
Following a poor showing last season, where injuries to Fernando Torres went a long way to preventing Liverpool from making it into the top four, the Reds have fallen even further.
The appointment of Roy Hodgson as manager following the sacking of Rafa Benitez was the first indication that Liverpool Football Club were on the slide.
Much has been written about how great Hodgson was at Fulham, but if truth be told, that really was an exaggeration of his abilities. And even if it were true, what is great for and at Fulham is not the same as at Liverpool Football Club.
Hodgson is a great manager for a club where the expectation of a middle of the table finish ia the best they can hope for or a decent run in a cup competition, but ultimately no trophy is an achievement. This is not good enough for Liverpool Football Club.
What Liverpool need is a manager that is a proven winner of titles and cups—a manager that inspires the players, that they are in awe of and from whom they feel they can learn from and become better players.
Many of the players in the Liverpool squad are far more successful as players than their manager is as a manager.
Hodgson does not have the tools in his bag to take Liverpool any further than around where they are now. Come the end of the season, Hodgson will be celebrating a finish in the top half of the table as a real achievement as he will point to the terrible start. However, it was he that was responsible for that start.
It is often written that managers turn their team into images of themselves. Sir Alex Ferguson, Arsene Wenger and other managers, successful or not, are evidence of this trait.
Just taking those two as examples, Ferguson's Manchester United play with a confidence and arrogance that we have come to associate with the man himself. Arsenal play with the flair and panache of Wenger himself. Another example is Sam Allerdyce who turns every team he manages into an image of himself, too. Actually, this is true of all managers in the world of football.
In the same vein, Liverpool are slowly turning into the image of Roy Hodgson, as his previous club Fulham were: average, boring, mediocre and middle of the table.
null
Keep Reading

Liverpool: Like this team?