Chattin' with the Cap'n: Cat Whitehill Talks Leadership, Value of Fans
July 19, 2010
Washington Freedom team captain Cat Whitehill is a super trouper. After hurting her ankle a few moments before, she gets hit in the face by a ball.
At the time, the Freedom did not have a coach, was down 3-0 against the FC Gold Pride, and only had around 15 minutes left in the match.
Whitehill kept her composure and continued to fight, because that's what a leader does—she leads by example.
The Freedom didn't give up, they did not allow a goal since then, and actually scored two (courtesy of Lene Mykjåland and Nikki Marshall). They even almost equalized at stoppage time.
One of the most well-loved players by the Freedom fans, Whitehill took some time after a hard training session (on turf! In the middle of July!) to sit down and chat about getting the captain's arm band this year, the importance of fans, and that talked-about televised game in California.
Kat Galsim: How did you get the captain's arm band this season?
Cat Whitehill: "Last year both Abby [Wambach] and I, we were co-captains. Abby had the captain's arm band, and she's pretty vocal anyway and I'm not as vocal. And this year [head coach] Jim [Gabarra] just decided let's go ahead and put me with the arm band. The two co-captains are obvious and Abby's always gonna be loud and I think he was kinda hoping that maybe, let me have an arm band this year so that it will force me to have more of a voice and allow people to listen to me a little bit better."
KG: What is your leadership style?
CW: "Obviously I'm not as vocal, like I said. Abby's definitely the louder one of the two of us. I kinda let her do a lot of the talking just 'cause that's what she does. I'm more of the player's captain, I guess. I like to hear what the players have to say and go to the coaches about it. I kind of like to go behind the scenes, get a feel of everybody first."
"And then on the field I'm pretty vocal keeping our line right, trying to tell everybody what to do in front of me, because I do have a better sight of the field, rather than a forward. That's just kinda how I am. I like to be quiet but I'm also pretty blunt, which I think it took some people some getting used to. I'm working on being more positive which is something this team really needs right now. It needs some positive feedback. I'm positive with constructive criticism in between and in that way I think it's a little bit easier to take sometimes."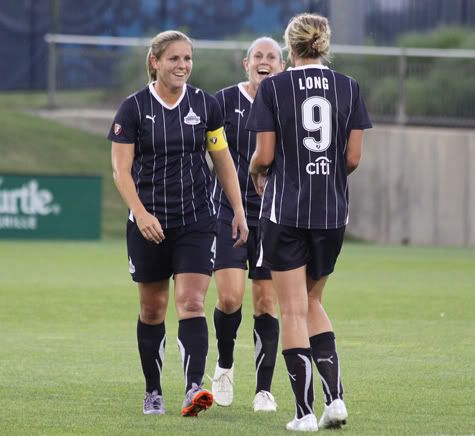 KG: How else do you lead your teammates—off the field and when around the fans?
CW: "Well with my teammates, for instance my mom was here. My mom's a really good host so I knew she would help me with hosting the defense. So I brought in the goalkeepers and the defenders and we had a nice little gyro bar. I made lamb, I marinated it overnight, and we had some hummus, and pita chips, and carrots, and stuff like that. So that was really fun for the team."
"Meagan McCray's birthday was that day so we had a little cookie cake for her. We were just talking about how proud we were of the defense, and in a lot of these games the defense is what's giving us a point. Because if it's 0-0, we get a point. So we can't lose and I was really proud of our team in that way. So I kinda helped off the field there."
"Then with the fans. I think it's so important for us to realize how important the fans are. And this league would not be around if it wasn't for the fans. I make it a conscious effort not only just to meet and greet them after the game or at an event , but I also want to get to know them."
"Especially fans like Charlotte [Mace] at the sideline, or even Stewart Small, and we had some fans who were able to ride the bus with us. Just to get to know them because once you know their story, it's just a much more personable way of going about things. I think once fans know who we are, they come and watch us with more intention because they want to see how we do because they know us better."
"I think it goes the same with us. When we know the fans more, we just appreciate them that much more because we know that everybody has a job and they're willing to come out and cheer us on. And I think some people can overlook how important fans are but I know that they're so important and they're gonna be the reason why this league stays around and why this league is gonna be the best in the world."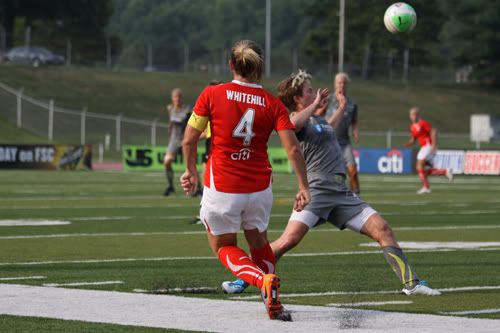 KG: Could you name an instance when you were challenged as a captain?
CW: (Laughs) "Well, I just recently was challenged as captain, considering that our coach got thrown out of the game and didn't have another assistant coach. Thankfully, Ashlyn Harris was out there and so was Sara, who is our athletic trainer. They were there."
"I kinda had to do the speech after the game. At halftime, Jim was able to come in but he wasn't able to come to the field after the game. So I was kinda thrusted into a situation like that and I didn't have my co-captain Abby. I had Erin [McLeod], who's a leader on this team, Sonia [Bompastor] and [Homare] Sawa, who are also leaders on this team, they were there. But I think a lot of people looked to me."
"I definitely learned a lot about myself, and I learned about this team. We even had a meeting before that FC Gold Pride game about believing in ourselves. So I kinda ran that and I think I learned even more what it meant to be a captain that weekend, and a lot of people learned also what it meant to just come together as a team."
"And that was a really good learning experience for me and the team."
This Saturday, July 24, the Maryland Soccerplex will serve as the venue of an important rematch: the Freedom will host the FC Gold Pride less than two weeks after a heartbreaking 3-2 loss in California.
Get your tickets at WashingtonFreedom.com and catch Cat Whitehill and the Washington Freedom defend their turf. 

Cat Whitehill answers a few random questions. (Can't view the video? Click here)
PHOTO CREDIT: Charlotte Mace