Holland 0-1 Spain: Dutch Betray "Total Football" With Cynical Defeat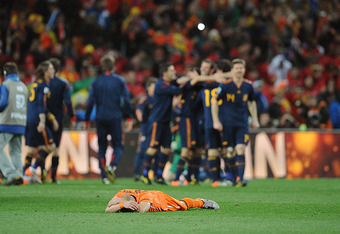 Spain are World Champions for the first time tonight, after an Andres Iniesta strike in extra time broke an excruciating deadlock in Soccer City, Soweto.
Holland set up to defend and disrupt and succeeded for long periods, narrowly failing to take the lead when Arjen Robben had a shot saved by the feet of Iker Casillas after being one-on-one with the Spanish captain in the 62nd minute.
Spain were restricted to two clear chances; Sergio Ramos failed to convert a free header from a corner in the 76th minute, while Cesc Fabregas should have scored when one-on-one in the first half of extra time.
The Dutch approach was predictable and deeply cynical. They pressed the man in possession unceasingly and never missed an opportunity to disrupt play with late, niggling tackles.
Much was made of the manner with which Jose Mourinho's Inter secured their Champions League crown, and Holland clearly intended to emulate Inter's dogged display against Barcelona in their semifinal second leg.
Many of the Barcelona players who failed to break down Inter that night formed the nucleus of the Spain team and they could be forgiven for experiencing severe deja vu.
Spain at least attempted to play football, but were not beyond reproach themselves. Carlos Puyol was booked early for a blatant attempt to rough up Arjen Robben. Holland may have edged it on physical fouls, but both teams readily engaged in the histrionics that we have sadly come to expect in the modern game.
Bert Van Marwijk will make no apologies for his side's approach to the game and while few would question the wisdom of setting up to defend against a Spanish team seemingly so dangerous in possession, it is a sad thought that the country credited with revolutionizing positional interchange and changing the nature of modern football opted to "park the bus" in the their third attempt to claim football's highest honour.
Despite their best efforts, the Dutch were unable to keep Spain out forever and it is fitting that the team who played the marginally better football scored the winner in open play.
If everything had gone according to plan for Holland and Van Marwijk, the Dutch would have kept their clean sheet for two minutes longer and taken their chances in the lottery of the shoot out.
Although not as gifted as generations past, there is no shortage of talent amongst the current Dutch crop. Robben and Wesley Sneijder have been in the form of their lives this season, contesting the Champions League final for their respective clubs.
Did they show too much respect to the Spanish? Joan Capdevila and Ramos are both excellent players, but the onus on modern fullbacks to advance invariably leaves space to exploit, while Puyol and Pique cannot count genuine pace amongst their many qualities.
Sergio Busquets has risen quickly to claim the defensive midfield position for club and country, but lacks the intensity and positional awareness of his predecessor, Marcos Senna. Protected by the extraordinary ability of Xavi, Xabi Alonso, and Iniesta to retain possession, he was rarely stretched in the tournament.
The Dutch might have attacked and been comprehensively defeated. Instead they set up to harass, disrupt, and repel the Spanish onslaught and were nearly successful. If they had triumphed on penalties, would the Oranje fans back home have cared about the very un-Dutch manner of such a victory?
Holland have fallen at the final hurdle for a third time, but there is no moral victory or glory in the manner of their defeat. Spain's narrow victory lends further weight to the argument that "total football" is an anachronism and the modern Dutch game owes more to the pragmatism of Louis Van Gaal and Guus Hiddink than it does to Rinus Michels and Johann Cryuff.
Spain expected and overcome the approach that Holland took to the game tonight. If the Dutch had sprung a surprise and taken the game to the opposition, the result may well have been defeat all the same or they could have triumphed against the odds. We will never know, but at least we might have had a final to cherish.
This article is
What is the duplicate article?
Why is this article offensive?
Where is this article plagiarized from?
Why is this article poorly edited?