FIFA World Cup 2010: Halftime for the Cup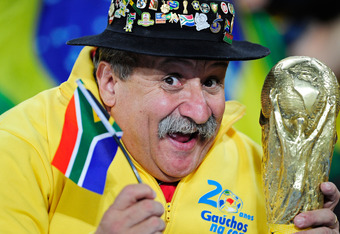 Stuart Franklin/Getty Images
It is halftime for the 2010 FIFA World Cup.

32 of 64 matches have been played and most teams are still competing for the remaining berths in the knockout phase.
One would thus not be mistaken to assume that the tournament's most exciting phase is right on our doorstep.

Yet, surprisingly, it seems as if most fans have subdued their expectations. Indeed, what many had predicted for die-hard fans on July 12 (a severe case of depression) has morphed right into the middle of the world's most popular sporting event.

At halftime, the 2010 World Cup is suffering from an identity crisis in which its participants, without success to date, attempt to reconnect with the great football they have previously displayed.

Consider the English or the Italians: teams that traditionally vie for the trophy remain without victory after two insipid matches and face the threat of elimination at the group stage.

Or the Brazilians, whose uninspired, lackluster play puts its football heritage to shame. Long gone are the days of samba and joga bonito ; defense is now in fashion, focusing on 'effective' play and allowing only for a modestly diffident attack.
Kaka fails to excite on the pitch...and is sent off instead.

And then, of course, there are the French. While other teams' failures are limited to the pitch, French problems extend beyond it, too.
Last year's failed player revolt against manager Raymond Domenech raised eyebrows, but it didn't effect personnel change.
Now, Nicolas Anelka's outburst and dismissal from the team and the subsequent player strike are displaying football from its worst side.

Forget fancy football: mitigating disaster is the new motto.

Of course, the runner-up World Champion is also actively contributing to the dearth of scoring. At the end of weekday one matches, the average game saw only 1.5 goals scored.
Halfway through, with many thanks to Portugal, the tournament has reached 2.0 goals scored per game. Still, a meager result.

But not only has the quantity of goals diminished, their quality has suffered as well.
Where are the strikes from 30 yards out we saw land in the back of the net in Germany four years ago? Where are the play sequences involving eight or nine players that leave the viewer in awe?

If you are trying to excite someone new to the game, I recommend last season's performances by Barcelona or Chelsea...not this World Cup.

And as if the players and teams themselves had not sufficiently contributed to curbing public football euphoria, the referees can be expected to do their part, too.
In far too many matches (Switzerland-Chile, USA-Slovenia, Germany-Serbia), it was the officials who decided the match.

There are some bright spots: Argentina, for example, can be a joy to watch. For even if team performances were not to meet expectations, Diego Maradona's press conferences never fail to entertain.

Germany displayed splendid football against Australia, as did Spain (despite losing) against Switzerland.

As the second half of the tournament kicks off on Tuesday, the optimist will state that hope springs eternal. Yet much needs to improve for 2010 to become a World Cup for the history books.

If football mediocrity continues, we may become witnesses to an historic event: the end of post-World Cup depression.
And, truth be told, no one really wants that; after all, it is the end of magnificence that brings about gloom in the first place.
This article is
What is the duplicate article?
Why is this article offensive?
Where is this article plagiarized from?
Why is this article poorly edited?