Video: A Day of Food, Fashion, and Football at PUMA City NY
June 17, 2010
If only I lived in New York City.
A thought that entered my mind earlier today when I tuned in to watch the Spain-Switzerland World Cup match.
If only I lived in New York, I would be at the Red PUMA Beer Garden right now watching this game on their big screen while enjoying a plate of their chili nachos.
If only I lived in New York, I'd probably be at PUMA City in NYC's South Street Seaport everyday until the end of the 2010 FIFA World Cup.
Open from June 11 to July 11, PUMA created a nice little city for soccer fans, and for any New Yorker looking to take a break from a busy day. Playful, yet laid back, is the overall atmosphere.
This city has the Red PUMA Beer Garden, a place where World Cup fans can eat, drink, and be merry by catching a game on one of the big screen TVs while eating Mexican food and taking in the drink of their choice. 
There is also the PUMA Game Area where visitors can play games without breaking a sweat. Foosball tables and ping pong tables are there for anyone who wants compete in a friendly match.
In the middle of PUMA City are two shipping containers converted into PUMA shops where shoppers can buy the latest PUMA gear. Buy a PUMA shirt or jersey and get it customized for free (I got a Spain shirt with "Casillas 1" at the back).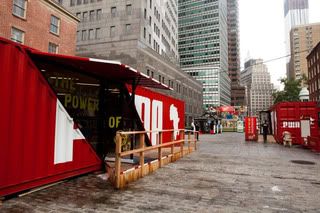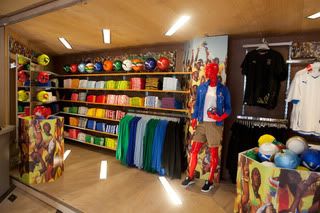 Right next to a container is a photo booth where visitors can pose for pictures and have these printed right away to keep as souvenirs. 
"Football by day, parties by night," as one of the tents displayed said. And at night, one can visit the PUMA Social Club, which has a gallery, a lounge, and a cool basement.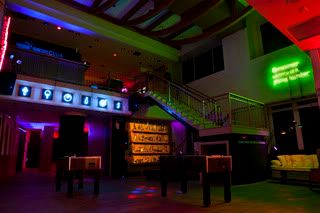 ;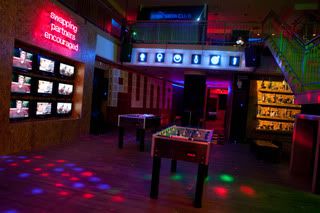 The one place at PUMA City where soccer fans can actually play the sport is at the PUMA Pitch. Clinics and competitions are held in this area. If the Pitch is empty, one can even start a pick up game. No cleats? No problem. "Suits in Boots" can lend you a pair.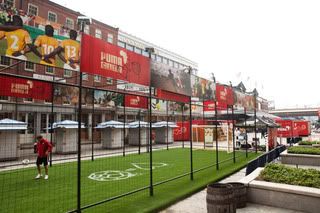 And on Monday, June 14, PUMA athletes and WPS stars Marta (FC Gold Pride), Karina LeBlanc (Philadelphia Independence), and Amy Rodriguez (Philadelphia Independence) visited PUMA City to check out the place and hang out with the locals.  
Marta kicked things off, literally, by having a "Can You Trick Your Inner Marta Out?" challenge at the PUMA pitch. The Brazilian superstar and four-time FIFA World Player of the Year showed some of her best ball tricks to the crowd. A brave few attempted to take on her challenge.
Marta then caught the Italy-Paraguay match at the Red PUMA Beer Garden viewing party with a predominantly pro-Italy crowd. When I asked her about the World Cup, she talked about how the event stops the whole world as people really get into the games. Obviously her pick to win is Brazil, whose game the next day she could not wait to watch.
Later that day, coming straight from practice at Downingtown, Pa., Karina LeBlanc and Amy Rodriguez arrived to have a fun clinic with local club Asphalt Green Wave Soccer. But not before Rodriguez, a.k.a. A-Rod, got to do some Foosball action first.
Human Foosball that is. 
The forward gamely filled in at the last minute to play defense in a human Foosball match at the PUMA Pitch. A-Rod's team won, 3-2.
After a clinic of soccer fun and arts & crafts, the Independence teammates and the girls of Asphalt Green Wave Soccer concluded the event with a quick dinner and some autograph signing.
"Oh no, I signed your face," LeBlanc joked to one of the girls.
The girls giggled as they clutched their signed posters and new Philadelphia Independence bags. Had LeBlanc really signed the girl's face, the ink of the Sharpie would wash off anyway. 
But the memory of spending a few hours of soccer fun with WPS players at PUMA City will for sure not be lost anytime soon from her mind.
If only she lived in New York City.
To find out more about PUMA City NY at the Seaport and the events scheduled, visit PUMACity.com .