L.A. Lakers, Orlando Magic: Ranking Top Five NBA Teams in East and West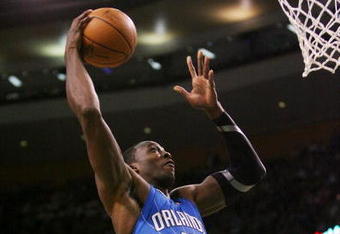 Elsa/Getty Images
Click here to get sent to the full article at NBAPrimetime.com!
NBA Primetime breaks down the top five teams in the East and West. These rankings are based on overall record, upcoming schedule, and team performance.
With 15 of the 30 NBA teams having an overall record above .500, we present to you the top 10 teams in the league today.
The Eastern Conference
1. Orlando Magic (11-3, .786): 1st in East
Although Orlando has struggled with injures early on thus far (Carter four games, Anderson four, and now Nelson out for the next month) the team continues to rack up the wins.
With such incredible depth, there is no reason that the Magic should drop any lower than the second seed in the East throughout the entire year.
2. Boston Celtics (10-4, .714):3rd in East
A healthy Celtic team is one deadly team to summarize it best. With the starting five competing in every game this season, it is obvious that Boston will soon overthrow Atlanta and emerge as the two seed in the East.
3. Atlanta Hawks (11-3, .786): 2nd in East
Atlanta is clearly off to one of the hottest starts that they have had in years (possibly decades).
While this team is extremely stacked, it will only be a matter of time before they drop out of the top three spots.
4. Cleveland Cavaliers (10-4, .714): 4th in East
The Cavaliers have played their last five games without Shaquille O'Neal, holding a record of 4-1 during that span.
While 10-4 is certainly not a bad record, LeBron James will quickly bring his team back into the Big Three of the East.
5. Miami Heat (8-5, .615): 6th in East
Miami ranks above the Bucks because they have Dwyane Wade on their roster.
Even though Miami has slowed down of late (losing four of their last six contests), Flash and Co. will rank as the fifth seed in the East by season's end.
The Western Conference
1. Los Angeles Lakers (10-3, .769): 3rd in West
The Lakers are 2-0 with forward Pau Gasol back in the lineup, giving a little preview of what's to come over the next few months.
With a healthy roster, L.A. is undoubtedly the deadliest team in the NBA and it will only be a matter of games before they rise back to the top of the West and stay there for good.
2. Dallas Mavericks (10-3, .769): 2nd in West
Believe it or not, Dallas is once again one of the most powerful organizations in the league.
Even without star forward Josh Howard, the Mavericks have managed to compile a 10-3 record with impressive wins against Los Angeles and San Antonio.
3. Phoenix Suns (11-3, .786): 1st in West
Yes, the Suns currently hold the best record in the NBA.
Yes, they should be ranked at the No. 1 spot in this list.
The reason we believe the Suns should rank where they do is their upcoming schedule, where they run into a brick wall of top-tier NBA teams consisting of Cleveland (2), Los Angeles Lakers (2), Dallas (1), Denver (1), Orlando (1), Portland (1) and Boston (1).
4. Denver Nuggets (9-4, .692): 4th in West
Click here to get sent to the full article at NBAPrimetime.com!
This article is
What is the duplicate article?
Why is this article offensive?
Where is this article plagiarized from?
Why is this article poorly edited?

Orlando Magic: Like this team?