The MLS has shown immense growth as a league over the last several years, and a 2-1 victory for their All-Stars over powerhouse Bayern Munich will only help that progression.
Prior to the match, Portland Timbers and MLS All-Star head coach Caleb Porter discussed the importance of the contest, via Fox Sports' Kyle McCarthy:
It's a showcase for the league. Hopefully, we can make it a competitive game and try to make it exciting. We have a lot of very good attacking and defensive players, but it wouldn't do these players justice to sit back all game. We're going to attack and make it an exciting game.
They were more than competitive. The MLS erased an early wonder goal from Robert Lewandowski with second-half goals from Bradley Wright-Phillips and Landon Donovan, earning the win in front of a raucous crowd at Providence Park in Portland.
Donovan was awarded the MVP after his game-winner.
Landon Donovan gets the #MLSAllStar MVP award.

— Jonathan Tannenwald (@thegoalkeeper) August 7, 2014
Afterward, emotions ran high. Bayern manager Pep Guardiola refused to shake Porter's hand, presumably as a result of a handful of yellow cards from the MLS side:
Pretty sure this is the last time Bayern will ever play an All-Star game. Cahill, Ozzie, Will Johnson = bloodbath in the midfield.

— Matthew Doyle (@MLSAnalyst) August 7, 2014
Pep is pissed. Wouldn't shake Porter's hand. Favorite #MLSAllStar moment ever.

— Matthew Doyle (@MLSAnalyst) August 7, 2014
Much like Roma during last year's MLS All-Star Game, it didn't take Bayern Munich long to find the back of the net.
In the eighth minute, Lewandowski received a pass, took a sublime first touch to free himself for a split second at the top of the box and fired in a heat-seeking missile over Real Salt Lake's Nick Rimando. Opta Sports' Ben Jata provided a look at the cracker of a goal:
Robert Lewandowski with a screamer. #MLSAllStar https://t.co/2IMP3Rjntc

— Ben Jata (@Ben_Jata) August 7, 2014
It's safe to say Guardiola is going to enjoy his new toy, who led the Bundesliga in goals with Borussia Dortmund last season and looks to be in fine form already.
Of course, as the always hilarious Men in Blazers joked, the MLS is going to remember this one:
Lewandowski just won himself a DP contract in 10 years time

— Men in Blazers (@MenInBlazers) August 7, 2014
The rest of the first half was wide open.
Bayern had a number of great chances, but Rimando did his best impression of Tim Howard vs. Belgium, making a slew of terrific saves to keep his side close. The All-Stars were plenty effective moving forward themselves, as Thierry Henry pulled all the strings in the middle and World Cup star DeAndre Yedlin made something positive happen every time he touched the ball on the right sideline.
Dan Dickinson of Gothamist.com summarized the first half for the All-Stars:
If you don't think that Henry is the best player on the field, the only other logical option is Rimando, who is doing what he does.

— Dan Dickinson (@GothamistDan) August 7, 2014
To start the second half, Porter replaced every member of the starting XI except for Henry, who was pulled in the 48th minute in order to receive the standing ovation he deserved. He was replaced, appropriately, by another legend: Landon Donovan.
Jata provided a look at the moment:
Legend for Legend. #MLSAllStar #MLS https://t.co/50nJPxe8n6

— Ben Jata (@Ben_Jata) August 7, 2014
It's tough to top that kind of moment, but Wright-Phillips did his best just minutes later. The Red Bulls star, who leads the MLS by far with 18 goals, continued his red-hot play with a laser into the top corner of the goal.
Here's a look, courtesy of Jata:
GOLAZO! Bradley Wright-Phillips. #MLSAllStar #NYRB https://t.co/uemPOLUqt2

— Ben Jata (@Ben_Jata) August 7, 2014
After a bit of a stagnant period, it was none other than Donovan to put the MLS side in front in the 70th minute. The former Bayern Munich loanee wrangled a beautiful ball over the top from hometown midfielder Diego Valeri and squeezed one past Manuel Neuer, who had just entered.
ESPN Stats & Info noted the historical significance of the go-ahead goal:
Landon Donovan sets the #MLSAllStar record with his sixth career goal, first since 2002.

— ESPN Stats & Info (@ESPNStatsInfo) August 7, 2014
With 10 minutes left, Guardiola turned to his bench, bringing in four players who would be insulted by the term "super sub": World Cup champions Philipp Lahm, Thomas Muller, Bastian Schweinsteiger and Mario Gotze. Moments later, Netherlands speedster Arjen Robben trotted on.
The unbelievable reinforcements, who have probably rightfully done more partying than practicing since Brazil, weren't enough to earn Bayern the equalizer.
Say what you want about friendlies and all-star games or the strength of the German squad, but this is an impressive victory from the MLS stars, who didn't back down to one of the most dominant clubs in Europe.
And it's yet another positive sign for the direction of the improving North American league.
Top Grades
Thierry Henry, MLS: A
Everyone already knew it, but Henry provided yet another reminder that even at 36, he can still play a little bit.
The legendary Frenchman seemed to be playing in second gear, but he still did pretty much whatever he wanted in the center of the pitch. He linked up well with Clint Dempsey, delivered multiple pinpoint passes into the danger area and nearly scored on a crafty volley from outside the box.
This picture probably sums up his performance: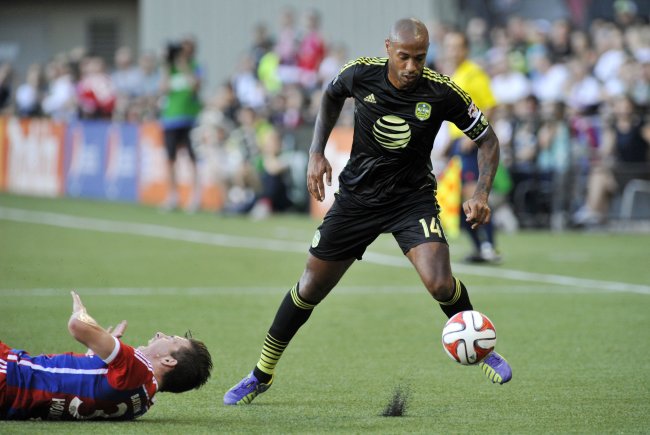 USA TODAY Sports
Even in an All-Star Game when he's on the back end of his marvelous career, Henry is an absolute joy to watch.
Robert Lewandowski, Bayern Munich: A-
The goal was pure beauty, and for the rest of the first half, he continued to make plays in the attacking half.
Grantland's Spike Friedman explained what his performance could signal for Bayern moving forward:
If Lewandowski can be effective drifting out wide, Bayern is going to be apocalyptic this season.

— Spike Friedman (@SpikeFriedman) August 7, 2014
As if Guardiola's squad needs any more weapons.
Nick Rimando, MLS: A-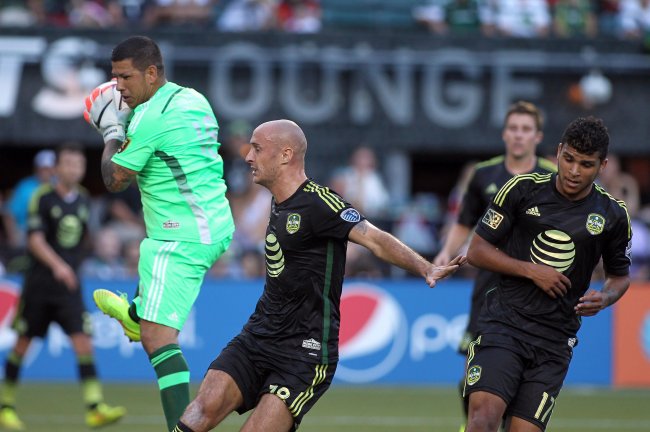 USA TODAY Sports
Players like Wright-Phillips, Donovan and Valeri deserve credit for putting the MLS in front in the second half, but they wouldn't have been close enough to do that if not for Rimando in the first half.
After allowing the early goal, he settled in and withstood a Bayern onslaught. He made a couple point-blank saves and kept the scoreline close when it easily could have turned into a blowout.
The MLS Twitter feed provided a visual look at his wonderful performance:
They don't call Rimando "Wall of the Wasatch" for nothing: http://t.co/jEm5QmsvjP #MLSAllStar pic.twitter.com/UlQc5dUZ36

— Major League Soccer (@MLS) August 7, 2014