Updates from Sunday, July 13
Sergio Aguero came on as a substitute in the World Cup final vs. Germany (via AS):
Agüero is on for Lavezzi. 2nd half is underway

— AS English (@English_AS) July 13, 2014
Updates from Wednesday, July 9
Sergio Aguero made his appearance off of the bench in Argentina's semi-final against the Netherlands (via Phil McNulty of the BBC):
Double sub for Argentina. Aguero & Rodrigo Palacio on for Higuain & Perez. Eight minutes left.

— Phil McNulty (@philmcnulty) July 9, 2014
Updates from Tuesday, July 8
Sergio Aguero is set to play a major role in Wednesday's World Cup semi-final between Argentina and the Netherlands.
The Daily Mirror's Martin Lipton reports:
Argentina are ready to take a gamble on Sergio Aguero tomorrow – even if it rules him out of the final.

[...]

Intensive treatment allowed him to take his place on the bench for the last-eight win over Belgium.

And with Angel Di Maria ruled out with injury, Aguero is set to return for the semi-final with Holland despite fears he could break down.
Updates from Sunday, July 6
Juan Arango of The Telegraph reported the latest on Sergio Aguero's status:
Kun Agüero will be available to play for #ARG

— Juan Arango (@JuanG_Arango) July 6, 2014
Kun Agüero practiced for a third consecutive day today. #ARG

— Juan Arango (@JuanG_Arango) July 6, 2014
Updates from Thursday, July 3
Sergio Aguero was looking sprightly in training on Wednesday as Argentina stepped up preparations for their World Cup quarter-final with Belgium.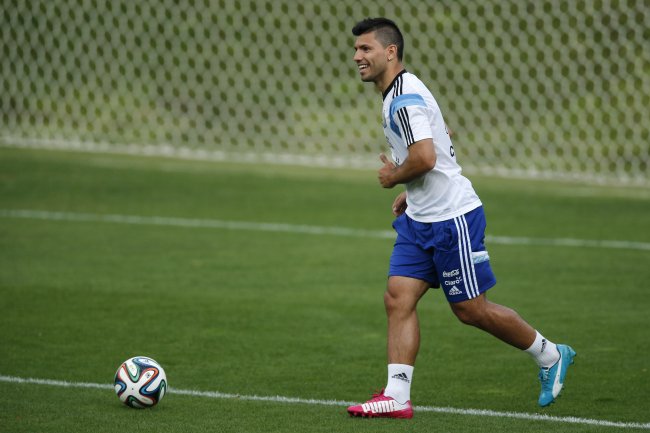 Victor R. Caivano/Associated Press
John Drayton of the Daily Mail noted the following ahead of Saturday's clash:
Taking a more active part was striker Sergio Aguero who missed the Switzerland clash with a thigh strain. The Manchester City man was running with the ball during the training session in Vespasiano.


Aguero played in all three of Argentina's group games but has so far failed to find the net.
Updates from Monday, June 30
Sergio Aguero has posted a positive video on his Facebook page, which shows him running as he steps up his efforts to return to World Cup action.
The Argentina forward posted the following:
Updates from Thursday, June 26
Sergio Aguero will miss Argentina's next match in the World Cup against Switzerland, per the Associated Press (via USA Today):
Sergio Aguero will miss Argentina's next World Cup match against Switzerland because of a muscle injury in his left thigh.

Argentina team doctor Daniel Martinez on Thursday said Aguero is receiving treatment on the injury and will be evaluated "day by day."
Earlier in the day, it was reported Aguero's World Cup was over due to a torn muscle.
Argentinian daily Clarin provided the news, via beIN Sports:
BREAKING! According to Argentina's Clarín, Sergio Aguero's injury will keep him out of the remainder of the World Cup.

— beIN SPORTS (@beINSPORTSUSA) June 26, 2014
Original Text
Argentina received a potentially lethal blow ahead of the 2014 World Cup round of 16, as Sergio Aguero was forced to leave the pitch with an injury during their match against Nigeria before the end of the first half.
The good news was the Manchester City forward made it to the sidelines on his own strength, per Telegraph Football:
Sergio Aguero is substituted and replaced by Lavezzi. It looks like he might be injured but he is able to walk off the pitch #ARG

— Telegraph Football (@TeleFootball) June 25, 2014
Sky Sports Football shared this image of the player clearly distraught as he left the pitch:
Bad news for #ARG & #MCFC fans as an injured Sergio Aguero has been replaced by Ezequiel Lavezzi. #WorldCup pic.twitter.com/JxQAlMQx78

— Sky Sports Football (@SkyFootball) June 25, 2014
Aguero has struggled with injuries all season, missing a significant amount of time in the Premier League on several occasions. Sport's Rik Sharma thinks his inability to avoid injuries has a big impact on the player:
His complete inability to stay fit is what stops Sergio Aguero from being one of the best strikers in the world

— Rik Sharma (@riksharma_) June 25, 2014
Argentina haven't looked at their best during this year's World Cup, and Aguero has been one of the reasons for it. The forward has looked out of place at times in the Albiceleste's system, and he ended the group stages without a single shot on goal.
The injury that forced him to abandon the match against Nigeria looked to be a muscle problem at first sight, and the fact Aguero was able to leave the pitch without any help could be a sign the problem is a minor one.
Argentina will most likely face Switzerland or Ecuador in the round of 16, and while neither appears to be a particularly dangerous opponent on paper, this World Cup has already seen its fair share of upsets.
Aguero's proficiency in front of goal hasn't been on full display yet during this tournament, but the Argentine is one of the world's best forwards nonetheless, and his team are just that much better when he's healthy and on the pitch.