Updates from Tuesday, Feb. 18
Manchester City has confirmed that Fernandinho is in the squad for today's match vs. Barcelona:
TEAM NEWS: Hart, Zabaleta, Kompany (c), Demichelis, Clichy, Navas, Toure, Fernandinho, Kolarov, Silva, Negredo #mcfcb #mcfc

— Manchester City FC (@MCFC) February 18, 2014
Updates from Monday, Feb. 17
Oliver Kay of The Times provides a statement from Manuel Pellegrini discussing Fernandinho's injury status:
At #MCFC press conference. Pellegrini confirms Fernandinho "is on the squad list" for tmrw's match v Barcelona after recent injury

— Oliver Kay (@OliverKayTimes) February 17, 2014
Updates from Friday, Feb. 14
Fernandinho remains a doubt for Manchester City's Champions League tie with Barcelona.
The Mirror's David McDonnell provides the update from Manuel Pellegrini:
Pellegrini says Nasri and Garcia fit to face Chelsea. But Aguero, Fernandinho and Nastasic still out and doubtful for Barca #MCFC #FCB

— David McDonnell (@DiscoMirror) February 14, 2014
Updates from Tuesday, Feb. 11
Manchester City and Stuart Brennan of Manchester Evening News provided a synopsis of Manuel Pellegrini discussing Fernandinho's injury status:
PRESS CONFERENCE: Pellegrini: @fernaoficial and @aguerosergiokun will probably need at least one week more before returning to training

— Manchester City FC (@MCFC) February 11, 2014
Fernandinho and Aguero "will be one week more" says Pellegrini, and he doesn't think they will be fit for Barca

— Stuart Brennan (@StuBrennanMEN) February 11, 2014
Fernandinho was also announced for Brazil's upcoming friendly on March 5, according to CBF.com, which is a great sign that he is inching closer to being fully fit to compete.
Updates From Thursday, Feb. 6
Sky Sports has the latest on Fernandinho's status:
Manchester City midfielder Fernandinho says he'll be fit to play again in 15 days #SSN

— Sky Sports News (@SkySportsNews) February 6, 2014
Original Text
Manchester City will have to compete without one of their most consistent players this season as Fernandinho has suffered an apparent muscle strain.
Henry Winter of the Daily Telegraph provided the news of the injury:
Fernandinho #mcfc is missing with what club say is a "muscle strain"

— Henry Winter (@henrywinter) February 3, 2014
This ailment kept him out of the club's vital English Premier League match against Chelsea on Monday, Feb. 3.
Stuart Brennan of the Manchester Evening News reported the roster changes for the upcoming match:
The rumours were true, unfortunately - no Fernandinho, with Demichelis stepping in to midfield and Nastasic in defence

— Stuart Brennan (@StuBrennanMEN) February 3, 2014
Manager Manuel Pellegrini provided the details of the issue, yet seemed confident about the replacement:
Man City boss Manuel Pellegrini: "Fernandinho has a muscle problem so Demichelis will play his position...he plays very well there" #MCICHE

— Premier League (@premierleague) February 3, 2014
On the other hand, Oliver Kay of The Times was one of many who think this issue is cause for concern:
Fernandinho a big loss to #MCFC. He has done so much of the legwork to allow Toure to shine. Demichelis hardly a like-for-like replacement

— Oliver Kay (@OliverKayTimes) February 3, 2014
Following City's 1-0 defeat, Pellegrini said Fernandinho would miss a month (via Jamie Jackson of The Guardian):
Fernandinho out for a month, says Pellegrini. #mcfc

— jamie jackson (@JamieJackson___) February 3, 2014
Fernandinho has started 20 of the club's 23 league matches this season as well as all six contests in Champions League. He has totaled three goals and three assists in league play, but his contributions have gone beyond the scoresheet.
According to Who Scored.com, the midfielder has been the third-most productive player in Manchester City with an average rating of 7.61. He is also a member of the site's "Premier League Best XI" for the entire season.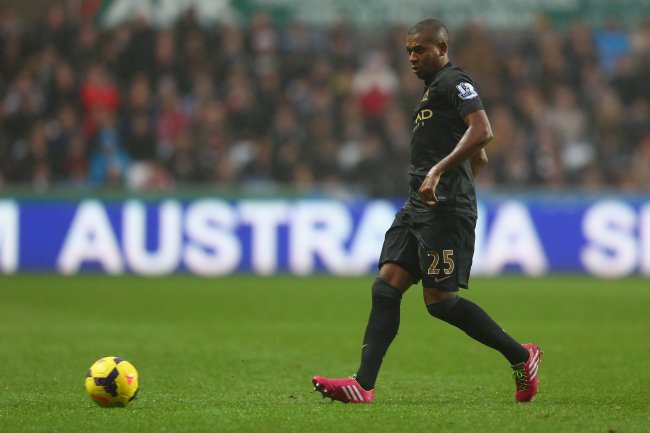 Michael Steele/Getty Images
Without him, the club could struggle to move the ball up to the forwards, limiting opportunities to score. With Sergio Aguero also ruled out for a month, offense could be a concern for Manchester City.
Fortunately, the squad has enough depth to limit the problems as Martin Demichelis will step in at midfield. The 33-year-old veteran has made 12 starts this year and is solid defensively.
City will hope that this is enough to maintain their perfect home record in league play.
Follow Rob Goldberg on Twitter for the latest breaking news and analysis.