Not too long ago, Tomas Rosicky was seen as a symbol of Arsenal's frailty.
The Czech midfielder seemed to spend more time lying on a treatment table than laying waste to the opposition. A troublesome hamstring problem kept him on the sidelines for 18 months, and there were genuine fears over whether Rosicky would ever return to top-flight football. Every time he attempted to set out on the path to recovery, a setback occurred.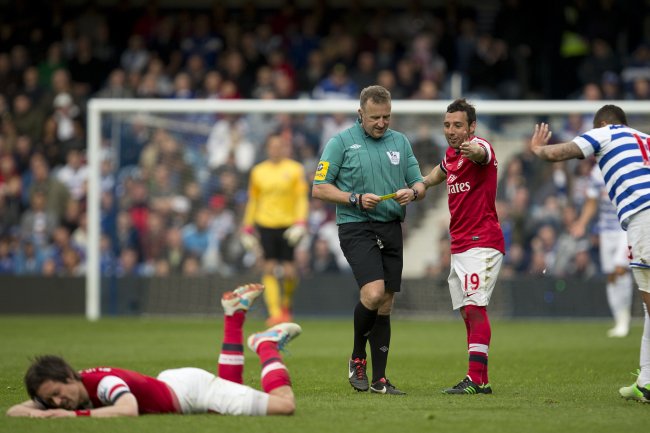 Alastair Grant/Associated Press
Inevitably, there were questions about Rosicky's mental strength as well as his physical fortitude. Getting over a major injury can be a battle with the mind as much as the body. That perception is widespread in football.
Martin Lipton of Mirror Football recently reported on Sir Alex Ferguson's words about the injury-prone Owen Hargreaves in his autobiography:
According to Ferguson, it was a signing that was to prove a "disaster", with Hargreaves accused of having no self-belief or strength of character to beat his physical adversity.

"I saw him opt for the easy choice too often,'' carped Ferguson, who admits that when Hargreaves was fit, his contribution was more than good enough but that he simply did not play enough.
Rosicky's perceived weakness mirrored Arsenal's wider vulnerability. Although Arsene Wenger often boasted of his team's "mental strength," there didn't seem to be a huge amount of evidence for his claims.
However, over the past year or so, Rosicky and Arsenal have been transformed. The Gunners have metamorphosed from also-rans to genuine title contenders. Key to that dramatic shift has been a newfound mental and physical resilience. Whereas once Arsenal could be bullied, now, they seem to have found the toughness to withstand even the more challenging of circumstances.
By way of example, Arsenal responded to the setback of an opening day defeat against Aston Villa by winning their next 10 games on the spin.
Rosicky typifies that reborn fighting spirit. Perhaps because of his extended spell on the sidelines, he plays as if he recognises that every single moment in a game could prove significant. Every tackle and every pass is injected with passion and determination.
His toughening-up is exemplified by the fact he is due to face Fulham tomorrow just days after badly breaking his nose. Rather than sit the game out, Rosicky will wear a protective mask and play through the pain, according to the team's official site.
He is not alone in his willingness to sacrifice himself on the altar of Arsenal's title challenge. Wenger spoke to Rob Kelly of Arsenal.com about the remarkable work ethic of Olivier Giroud:
He's a tough, tough boy. Even when the medical people say he should rest, he says: 'I'm alright'. He needed five stitches after the game at Newcastle. He played the whole game there with an open ankle and without complaining. And when I took him off, he didn't want to come off! He's tough.
Giroud and Rosicky's bravery is reflected across the entire squad. It seems that Wenger's team finally possess the mental strength he values so highly. Their growing resolve could yet prove the difference as the race for the title reaches its peak.
James McNicholas is Bleacher Report's lead Arsenal correspondent and will be following the club from a London base throughout the 2013-14 season. Follow him on Twitter here.