When David Beckham first came to Major League Soccer in 2007, one of the lesser known clauses of his reported $250 million mega-contract was a provision to buy a future MLS franchise for $25 million.
Expansion in MLS has been a hot topic in recent months and in 2013, the league added two new franchises, New York FC and Orlando City SC. Both teams are set to enter the league in the 2015 season and will bring the size of the league to 21 teams (MLS Commissioner Don Garber has stated the goal of the league is 24 teams by 2020).
By contrast, Beckham's $25 million franchise buy-in clause will be a major bargain as New York's investors were forced to cough up a $100 million franchise fee and Orlando's investors paid $70 million to get their team into the league.
Current plans have Beckham bringing a franchise to Miami with Atlanta and possibly Minnesota rounding out the remaining cities to get the league to 24 teams.
With Garber stating that the bids in Miami and Atlanta are "making progress," what would a David Beckham-owned franchise mean for the league?
The Beckham Experiment, Part 2
In 2007, Major League Soccer adopted the Designated Player Rule, which came to be known as the Beckham Rule.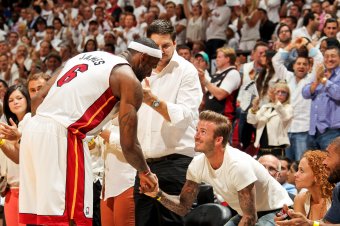 Issac Baldizon/Getty Images
The rule allows MLS squads to sign high-profile players outside the normal restrictions of the MLS salary cap. Without the rule, the league, and the L.A. Galaxy, would have never been able to sign Beckham as a player.
When he came to MLS, Beckham brought instant exposure to the fledging league. In 2007, there were only 13 MLS franchises, total league attendance was about half of what it is today and many teams played in stadiums designed for NFL teams.
The league had survived its darkest days—the contraction of the Tampa Bay Mutiny and Miami Fusion in 2002 took the league down to 10 teams—but it still struggled for relevance on any level.
Beckham brought that relevance in 2007 simply by his presence, and as an owner, he has the power to take the league to another level again.
Beckham himself is an international media star and recent reports have his ownership group potentially including Will Smith, Tom Cruise, Kobe Bryant, Jay-Z, Beyonce, Jack Nicholson, Eva Longoria and LeBron James. The sheer star power of that group is enough alone to bring interest to the franchise.
But while the presence of Beckham and his possible contingent of star investors would draw interest, once the novelty of that star power subsides, the team would need to put a quality product on the field. After all, how many people come out to a game to see the owner?
The real power of Beckham as an MLS owner would be his ability to bring star players to the league. Like it or not, Major League Soccer is still largely based on stars from abroad and Beckham will have the money and force of personality to lure top European stars to America. Top-level players have the ability to bring out the crowds, both home and away, and will no doubt be a boost to the league.
The Ghosts of the Fusion
One of the big questions MLS must consider when thinking about expansion into South Florida is whether or not a franchise can survive there.
Scott Halleran/Getty Images
Both of the franchises MLS contracted in 2002 (the Miami Fusion and the Tampa Bay Mutiny) were based in Florida and even though that was over a decade ago and much has changed, the struggles and near failure of the league during that time period still haunt MLS fans and league executives today.
When the Fusion were contracted, Fusion owner Ken Horowitz said the decision was based on the fact that "We've come to the conclusion that the South Florida market just has too many hurdles that we simply cannot overcome…The reality is that South Florida is a very difficult sports market."
Horowitz cited a number of reasons for this including the fact that many Miami residents were originally not from Miami and didn't identify with local sports teams. He also claimed Miami suffered from problems of heat and rain in the Miami summer, lack of corporate support and lack of fan interest in the team.
However, a supporter's group dedicated to MLS' return to Miami, Southern Legion, believes that the time is right to give Miami another chance and that Beckham is the perfect man to lead the effort.
Ed Serrano, the Vice-President of Southern Legion, told B/R "Having David Beckham as an owner of a Miami MLS team ensures this team will be successful on and off the pitch. Beckham will also attract top players. [He] is a walking billboard."
When asked how MLS in Miami would be different from the experience of the Fusion, Serrano said, "The Miami Fusion broke our hearts. The reality was that Horowitz didn't have the money to keep the team going. The Fusion was progressing on and off the field in 2001. Had he held on a little longer the team would still be here today."
There is no doubt that the league, and the American soccer landscape, is much different than it was when the Fusion folded, but whether or not the fan support exists to make a new Miami franchise viable is still a big question yet to be answered.
Stadium Issues
One issue that will have to be resolved before Beckham can bring an MLS team to Miami is where the team will play.
While a story in the Daily Star on Sunday said that MLS has said it would be "perfectly acceptable" for the team to play in the Miami Dophins' Sun Life Stadium, that seems to directly contradict earlier statements by Garber.
I constructed another soccer-specific stadium. This one's in south Florida. David's gonna love it. pic.twitter.com/Qu3mCJKFHu

— Alexi Lalas (@AlexiLalas) December 30, 2013
In Garber's State of the League address on December 3, he said, "There's a lot of work that needs to happen. We can't go to Miami without the right stadium solution. David understands that. The city understands that. That's an indisputable fact. We can't have different rules in Miami than we have in any other city."
Two weeks ago, Miami's stadium proposal received a major boost as the Miami-Dade County Commissioners unanimously voted to give Miami mayor Carlos Gimenez the go-ahead to begin negotiations on a new stadium with Beckham's investment group. The city is focusing on a site in downtown Miami.
The stadium location would help eliminate one criticism of the Fusion franchise, whose stadium was actually located in nearby Fort Lauderdale, not Miami itself.
The stadium will also reportedly be 100% privately financed, something that will certainly be amenable to Miami taxpayers and city officials.
Quality of Play
Since the addition of New York FC and Orlando City SC, as well as the statement from Garber that the league will continue to expand to 24 teams, more MLS franchises seem a foregone conclusion.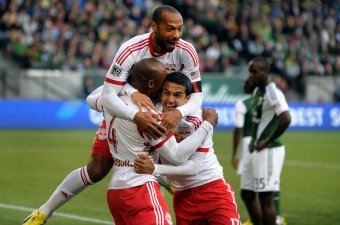 Steve Dykes/Getty Images
But it must be asked whether this rapid expansion will be good for the league. Certainly, interest in soccer continues to grow in America at a rapid pace, but as interest grows, so does an appreciation for the quality of play.
Many soccer critics believe the quality in Major League Soccer is roughly equivalent to the English Championship. Some numbers bear that out—MLS attendance this past year surpasses current Championship attendance and the leagues' player ratings are roughly similar.
But perhaps a better measure of the popularity of the league—and the fans' willingness to watch it—can be derived from its television numbers. While attendance at MLS games rivals both the NBA and the NHL, its television numbers are absolutely abysmal—lower than the WNBA.
Is a David Beckham MLS Franchise Good for the League?
Some of this can be attributed to the league's lack of flex scheduling, late West Coast kickoff times and poor decision-making by TV executives (the 2013 MLS Cup went head-to-head with the SEC Championship), but one has to wonder how big the league can get without seeing a notable drop in play.
While MLS' TV numbers are dropping, viewership of the English Premier League is growing by leaps and bounds. Early figures on the 2013-14 EPL season have shown EPL viewership in the U.S. has nearly doubled from a year ago. That would indicate that while Americans are more willing than ever to watch soccer on TV, they expect to watch a quality product.
This is an issue that MLS will continue to struggle with, whether or not Beckham brings a franchise to the league. It's also an issue that Serrano admits must be addressed, "Expansion needs to slow after team 24. [MLS] need to take a deep breath and give the local home grown players time to get better and catch up with the rest of the world."
David Beckham or no David Beckham, expansion or no expansion, the quality of play must be at a high level if MLS' fanbase is going to continue to grow.
Follow me on Twitter @JohnDHalloran
Follow me on Facebook www.facebook.com/AmericanTouchline