Zinedine Zidane's Draw Remarks on Cristiano Ronaldo Point to World Cup Success
Use your ← → (arrow) keys to browse more stories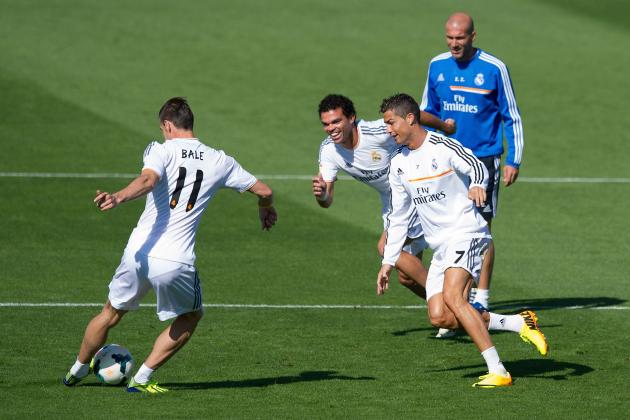 Denis Doyle/Getty Images

Zinedine Zidane was a special player with elite skill and a top-notch work rate to match. Getting praise from him is a feather in any player's cap.
Before the World Cup draw, the former French international gave a resounding approval of Portugal's Cristiano Ronaldo.
Zidane gets to watch Ronaldo on a regular basis at Real Madrid, where he's an assistant coach and sporting director. He was in Brazil to help with the draw and called the forward's contributions "monstrous" at both the club and international levels.
Miles Chambers of Goal.com passed along all of the comments from the World Cup champion:
Cristiano Ronaldo has shown what he can do for Portugal and Real Madrid.

He does not need to talk much. Much has been said of him, but what he does on the pitch is monstrous. The way he won the match against Sweden, when many people thought Portugal would not qualify... he carried the team on his back.
Zidane also said Ronaldo goes above and beyond to help his teams win:
He has shown that he is an excellent player. I'm proud to stand beside him [at Madrid], to see him in training, participating in everything.

He's a great professional, arriving an hour before training. What he has done on the pitch is the result of his hard work. He's an example and really carries and drives the team.
The remarks really reinforce the type of player Ronaldo has become at this stage in his career. Even though he's emerged as one of the most dynamic superstars in the world over the past handful of years, he often does it so effortlessly it could appear on the outside that he's not always giving 100 percent.
Clearly, that's the farthest thing from reality according to a former world-class player who watches the Portuguese star train and play at the club level.
It shows how much Ronaldo wants to win as he approaches 30.
He'll need to bring his A-game to Brazil next summer, though, because the draw certainly didn't do the Selecao any favors. They got placed alongside one of the tournament's top contenders in Germany as well as the United States and Ghana.
Courtesy: Bleacher Report
Paul Carr of ESPN passed along the Soccer Power Index (SPI) odds for Group G, which project Ronaldo to have about a 40 percent chance to advance—slightly above the United States for second behind Germany.
SPI odds to advance, Group G: Germany 91.8%, Portugal 40.2%, #USMNT 39.3%, Ghana 28.8%.

— Paul Carr (@PCarrESPN) December 6, 2013
Of course, it would be difficult for Portugal to complain about the draw considering it nearly missed out on the World Cup altogether. It needed to survive a UEFA playoff round against Sweden last month just to secure a berth.
How far will Portugal advance in the World Cup?
Ronaldo was nothing short of outstanding in those matches. He scored all four of the team's goals, including a second-leg hat trick, to make sure his country didn't miss out. Portugal will hope he can match that form in Brazil.
If he does, there's no reason to believe the Selecao can't make a deep run.
They don't have as much depth as sides like Germany and Spain, but they have a veteran back line led by Bruno Alves and Pepe as well as some attacking players who can provide support like Helder Postiga and Nani, among others.
Above all else, however, they have Ronaldo. And a player of his caliber, who can change the entire complexion of a match in the blink of an eye, is an invaluable resource at a big event.
As Zidane mentioned, he can put a team on his back and carry it.
The World Cup is a proving ground for the best players on the planet. A chance for them to showcase their talent on a global stage.
Based on the way he finished qualifying and his form at the club level, Ronaldo is ready for the challenge.