In recent weeks, high-profile matches across Europe have been shrouded in controversy by wanton acts of simulation.
On Tuesday evening, Ajax appeared to be on their way to earning a crucial three points with a victory over Milan in Champions League Group H when Mario Balotelli went down in the box in the 93rd minute. The Italian striker converted the penalty to earn a draw, but Ajax coach Frank de Boer accused him of "creating theatre."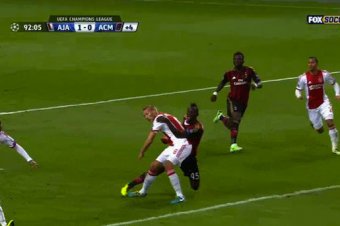 Replays suggest the Dutch legend was correct: Granted, defender Christian van der Hoorn was grabbing Super Mario's shirt, but the Milan star had his hands all over the Ajax player, and he fell in the opposite direction to the shirt tug. Add into the equation the fact that the ball did not come near either player and the penalty decision seems rather harsh.
Last week in La Liga, top-flight newcomers Elche battled hard against a visiting Real Madrid side. Richmond Boakye headed in a deserved equaliser in the 91st minute of the match to cancel out Cristiano Ronaldo's earlier effort. But a few minutes later—and long after the whistle should have blown—Madrid earned a penalty when Pepe tumbled in the box.
The Portuguese defender appeared to pull a defender down with him, and was signalling for a spot kick before he had even hit the ground.
A few weeks ago, Crystal Palace travelled to Old Trafford in search of their second consecutive league win. The deadlock was broken shortly before the first half when Ashley Young won a questionable penalty.
Palace midfielder Kagisho Dikgacoi was sent off after picking up his second yellow card for the perceived foul, but earlier in the game, Young was shown a yellow for trying to con the referee with a dive. The incident was so blatant that David Moyes said he would share some stern words with his own player.
Crystal Palace chairman Steve Parish was incensed by the events, explaining his feeling in an email to the BBC:
Ashley Young's dive and the appeal before put pressure on the ref to give a subsequent penalty that was certainly outside the area and probably wasn't even a foul.

Ashley Young has a yellow card and three points and we have no points and one less player to pick from for the next game.

Might have cost us a point that might keep us up.
The most intriguing part of Parish's email, however, was the claim that a player found guilty of simulation should receive a red card:
If preventing a goal-scoring opportunity is a straight red then trying to create one by cheating should be a straight red also.
The Palace chairman has made a very interesting point. Preventing a goal with an illegal tackle and trying to dive to earn one are both forms of cheating. The goal of both malevolent acts is to change a scoreline, either by creating or stopping a goal. Why on earth should they not be treated with the same level of punishment?
The answer is that they should.
Granted, a professional foul can be deemed a more serious offence because of the risk of injury, but why not reflect this in the length of the ban, rather than the colour of the card? Perhaps divers could earn a statutory one-match ban, putting their cheating in context with bans for dangerous fouls that can start at one game.
Diving is an epidemic in the modern game, and it is not going anywhere until players are given a bigger incentive not to do it.
Should players who dive to win penalties be given a red card?
Following the Young incident, David Moyes called for retrospective action to be taken on divers. This is a step in the right direction, but in terms of discouraging cheating and conveying parity in the seriousness of the offence with other forms of foul play, the rules must be changed.
If players know a dive in the box could compromise their team for that game and rule them out of selection for another, they simply would not try to con the referee.
Until simulation is shown the red card, players like Ashley Young will continue to play the odds, knowing that the risk of a yellow card is far outweighed by the reward of penalty.