Liga MX Results: Best Goals and Complete Results from Matchday 10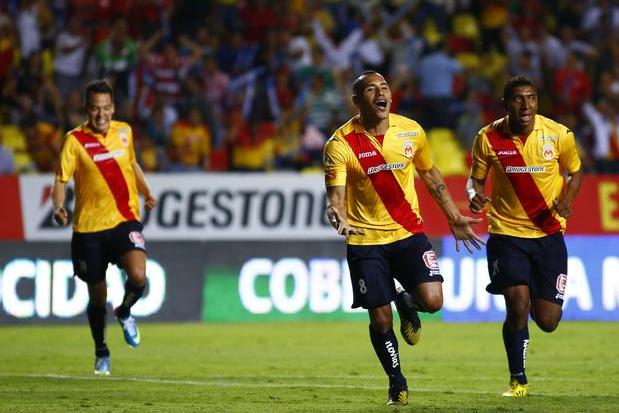 Photo: Imago7
The Matchday 10 of the Liga MX is over and we have a new leader. Morelia sent America to the second spot; "Las Aguilas" stayed atop for three consecutive weeks.
Queretaro opened the matchday on Friday. The "Gallos Blancos" received Atlante at Estadio Corregidora. The "Potros" are desperate to turn things around as they face relegation.
America lost their unbeaten streak against Santos. Meanwhile Cruz Azul lost for the first time at Estadio Azul this season.
Guadalajara and Tijuana closed the matchday with an exciting draw at Estadio Omnilife.
Let's review the complete results, as well as the best five goals.
Begin Slideshow

»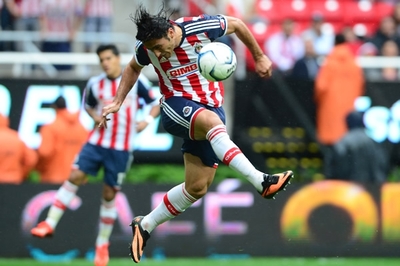 Photo: Mexsport.
Morelia lead the 2013 Apertura tournament after defeating UNAM 1-0. This result left "Pumas" in the penultimate spot of the general table.
Although Morelia top the Liga MX, America trail by one point with two pending games.
Leon went back to winning ways after a surprising defeat to Chiapas last weekend.
Here are the results of Matchday 10:
Friday, September 13

Queretaro

1-0

Atlante

Santos

2-1

America

Saturday, September 14

Veracruz

0-1

Leon

Cruz Azul

0-1

Tigres

Monterrey

1-0

Pachuca

Chiapas

3-0

Atlas

Sunday, Septemebr 15

Puebla

1-1

Toluca

UNAM

0-1

Morelia

Chivas

2-2

Tijuana
Aldo Polo scored the equalizer for Xolos in the 34th minute. Dario Benedetto assisted him from the center of the pitch.
Polo cut in from the left to the box, and he waited for the goalkeeper to come out to put the ball over his head. A first-class execution.
Mauro Cejas' goal put an end to America's unbeaten streak. The definition from outside the box was superb.
This was the first goal of Cejas with Santos. He previously played for Pachuca.
Dario Burbano got lucky in the game against Veracruz. The Colombian tried to send a cross and instead put the ball in the back of the net.
Burbano has become a key player for Leon. The team got to the playoffs in their first tournament back from relegation, but in the second one, they finished in the 15th place of the table.
Nery Cardozo surprised Oscar Perez three minutes before the halftime.
Cardozo scored his 23rd goal with "Rayados" in style. Marlon de Jesus chested the ball to the ground to assist Nery, who shot from outside the box.
This was Monterrey's first victory with new coach Jose Guadalupe.
Marco Fabian reconciled with his fans after several weeks of hostilities, which came as the result of Fabian's desire to leave Guadalajara for a Qatari club—it ultimately did not happen.
Marco smashed the ball in the crossbar in the 69th minute, when "Chivas" was losing 2-1 to Xolos.
However, 13 minutes later he took over a set piece that resulted in a spectacular shot from outside the box that Cirilo Saucedo could not stop.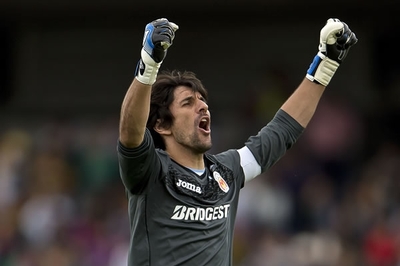 Photo: Mexsport.
After 10 matchdays, here's the general table of the tournament:
| | | | | | | | | | |
| --- | --- | --- | --- | --- | --- | --- | --- | --- | --- |
| POSITION | TEAM | PLAYED | W | D | L | GF | GA | GD | POINTS |
| 1 | Morelia | 10 | 6 | 2 | 2 | 20 | 13 | 7 | 20 |
| 2 | America | 8 | 6 | 1 | 1 | 18 | 7 | 11 | 19 |
| 3 | Leon | 10 | 5 | 4 | 1 | 12 | 6 | 6 | 19 |
| 4 | Queretaro | 10 | 5 | 3 | 2 | 14 | 9 | 5 | 18 |
| 5 | Chiapas | 10 | 4 | 5 | 1 | 18 | 14 | 4 | 17 |
| 6 | Santos | 9 | 4 | 4 | 1 | 16 | 11 | 5 | 16 |
| 7 | Cruz Azul | 10 | 5 | 1 | 4 | 14 | 13 | 1 | 16 |
| 8 | Toluca | 10 | 3 | 5 | 2 | 16 | 11 | 5 | 14 |
| 9 | Veracruz | 10 | 3 | 4 | 3 | 13 | 14 | -1 | 13 |
| 10 | Tijuana | 9 | 3 | 3 | 3 | 15 | 13 | 2 | 12 |
| 11 | Tigres | 9 | 3 | 3 | 3 | 14 | 14 | 0 | 12 |
| 12 | Puebla | 10 | 2 | 5 | 3 | 12 | 13 | -1 | 11 |
| 13 | Monterrey | 10 | 2 | 4 | 4 | 10 | 14 | -4 | 10 |
| 14 | Pachuca | 10 | 2 | 4 | 4 | 7 | 11 | -4 | 10 |
| 15 | Guadalajara | 9 | 1 | 4 | 4 | 10 | 17 | -7 | 7 |
| 16 | Atlas | 10 | 0 | 6 | 4 | 9 | 18 | -9 | 6 |
| 17 | UNAM | 10 | 0 | 5 | 5 | 4 | 15 | -11 | 5 |
| 18 | Atlante | 10 | 0 | 3 | 7 | 8 | 17 | -9 | 3 |