San Francisco 49ers 2013 Team Roster: Report Card Grades for Every Position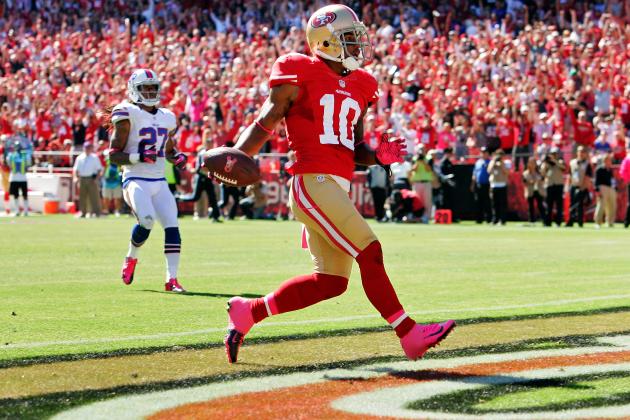 Brian Bahr/Getty Images

The San Francisco 49ers finalized the 2013 roster over the weekend, whittling down to the 53-man list just before the 6 p.m. EST deadline on August 31. There were few surprises, as the bulk of the team is pretty much set in stone. However, those last 15 or so spots were incredibly competitive and not all the favorites came out ahead.
That being said, this roster is still not 100 percent identical to the one that will be hopefully gearing up for a playoff run in January.
As a whole, the 'Niners were banged up in the offseason, and had knowingly drafted several injured players that were not going to be ready by Week 1. As the 49ers progressively get healthier during the regular season, the no-names on the roster will be at risk of being cut for any one of the following players.
Notables Left Off:
Non-Football Injury
Cornellius Carradine (DT), Quinton Dial (DT), Marcus Lattimore (RB), Luke Marquardt (OT), Eric Wright (CB)
Physically Unable to Perform
Michael Crabtree (WR), Mario Manningham (WR)
Week 1 Suspension
Demarcus Dobbs (DT)
Proceed through the following for an in-depth look, complete with analysis and grades by position, of San Francisco's roster as the team prepares for its Week 1 matchup versus Green Bay.
One term I'm trying to avoid: "Final cuts." The 49ers will make plenty of cuts even after getting down to the 53-man limit by 3 p.m. today.

— Matt Maiocco (@MaioccoCSN) August 31, 2013
Begin Slideshow

»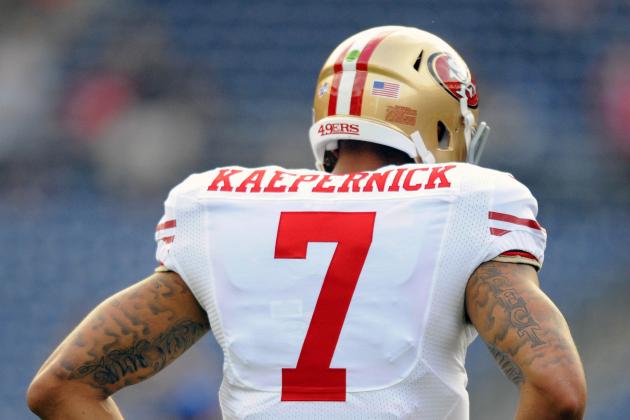 Christopher Hanewinckel-USA TODA
Colin Kaepernick is ready to put the team on his back in his first full season as a starter.
Depth Player
No. 1 Colin Kaepernick
No. 2 Colt McCoy
No. 3 B.J. Daniels
For the first time in nearly 15 years, San Francisco enters the regular season with a top-10-caliber passer at the helm. Not since the days of Steve Young have the 'Niners had a marquee player calling the shots on the field—oddly enough, again, one that can throw and run.
Quarterback Colin Kaepernick is a unique type of talent, one that can take this team as far as it needs to go, which is all the 49ers can ask. Unlike Alex Smith, he does a little more than execute the offense; Kaepernick has the ability to take games over. He will be the unquestioned starter this year and for many more down the line.
Acquired in a trade with the Cleveland Browns, third-year pro Colt McCoy will be the primary backup to No. 7. His league experience, sneaky athletic ability and identity as a pocket passer make him a safe play. Then there's B.J. Daniels, who is lightning in a bottle.
The 49ers like him and may commit to developing him as Kaepernick's long-term backup. He will be the No. 3 this year, but could presumably stick around to win the secondary job next offseason.
Position Grade: A-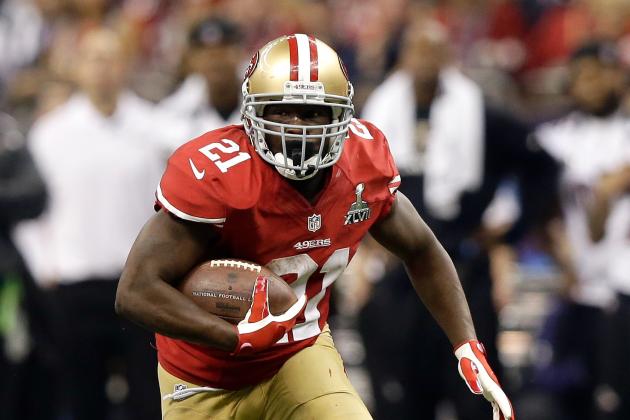 Ezra Shaw/Getty Images
Once again, Frank Gore will lead the 49ers backs in 2013.
Depth Player
No. 1 Frank Gore
No. 2 Kendall Hunter
No. 3 LaMichael James
No. 4 Anthony Dixon
No. 5 Bruce Miller (FB)
This is a deep group for any team at any position. You can put this bunch up against the Cincinnati Bengals defensive line, the Seattle Seahawks cornerbacks and the Denver Broncos wide receivers, and they'd still come out shining. Gore and Hunter make for an unrivaled one-two punch, and each are capable of single-handedly carrying the load.
Then there is up-and-comer LaMichael James, who was one of the most prolific offensive players college football had ever seen. These days, a dynamic open-field runner like James can wreak a lot of havoc on NFL defenses—especially on a team like the 49ers, whose offense is directed by a pioneering coaching staff that excels at play design.
Anthony Dixon provides a safety blanket beneath the top-three runners, while Bruce Miller continues to operate as the hammer of Thor.
Position Grade: A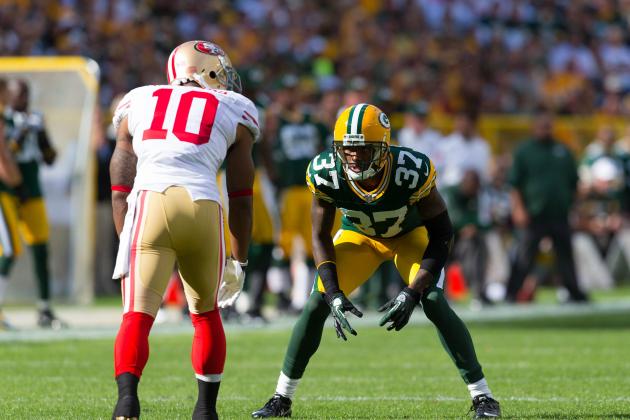 Jeff Hanisch-USA TODAY Sports
Kyle Williams will start opposite Anquan Boldin in 2013. He is an ascending player to watch.
Depth Player
No. 1 Anquan Boldin
No. 2 Kyle Williams
No. 3 Quinton Patton
No. 4 Marlon Moore
No. 5 Jonathan Baldwin
If Michael Crabtree were a part of this group, the 49ers receivers would've had as high a grade as the running backs. However, in recovery from an Achilles tear, Crabtree is not expected to return until late November or early December, via Cam Inman of the San Jose Mercury News.
While there is only one name receiver on this list, Kaepernick is going to have at least three ultra-competitive targets on Sunday. Boldin, Williams and Patton are going to sneak up on a lot of teams this year, especially those zeroing in on San Francisco's running backs and tight ends.
With Williams written in as the No. 2 receiver, he will be subject to rotating with Patton and Moore when the 49ers are in their heavy packages and "22" personnel. Fortunately for the corps as a whole, this is an offense that has been more geared toward using the wideouts, so there should be enough balls to go around.
Jonathan Baldwin is a bit of an unknown thus far, having joined camp late, but is an athletic specimen whose size is something that Kaepernick may be able to take advantage of.
Position Grade: B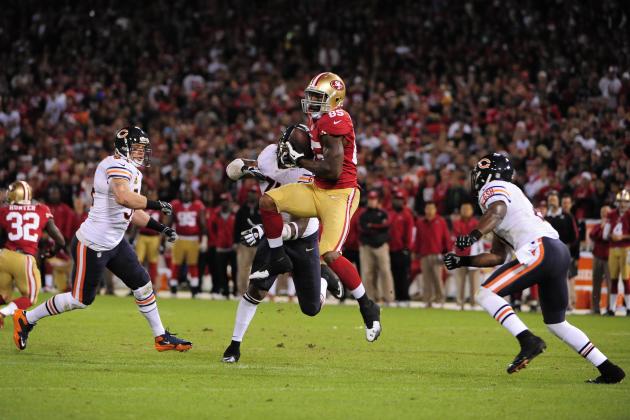 Kyle Terada-USA TODAY Sports

Depth Player
No. 1 Vernon Davis
No. 2 Vance McDonald
No. 3 Garrett Celek
This group is an A- with A+ potential (being a top-three talent at the TE position, Vernon Davis keeps them in the A range).
The plus potential stems from the addition of second-round draft pick Vance McDonald, the big 6'4", 267-pounder out of Rice University. Based on talent alone, he would be the primary tight end for a lot of teams, even as a first-year guy. But with the 49ers, in their tight end-friendly system, he upgrades a key position to the point of adding an entirely new dimension.
Davis and McDonald will be moving around quite a bit, fulfilling different assignments and attacking defenses in new creative ways. Behind them is Garrett Celek, a second-year man who has continued to develop behind No. 85, via Scott Kegley of the team's official website.
With three out of three tight ends looking like viable weapons on game day, this is another well-stocked position.
Position Grade: A-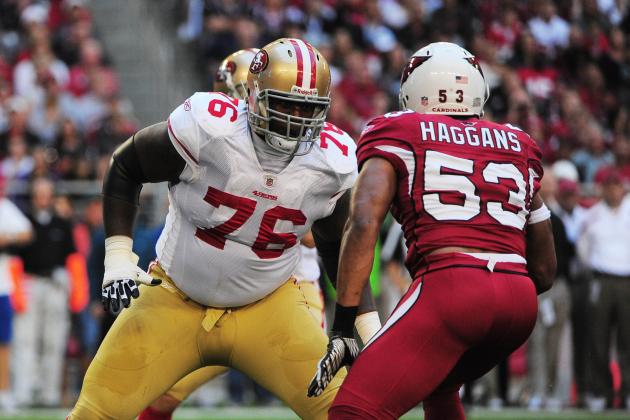 Kyle Terada-USA TODAY Sports
Colin Kaepernick is lucky to have a pair of first-round tackles protecting him.
Player Position
Joe Staley LT
Adam Snyder LT/RT
San Francisco will carry a total of three offensive tackles in 2013, all of whom have started at least one full NFL season and combine for an average age of 27.6 years. The 49ers are young and proven on the edges, which is a great situation for them going into a season, looking to protect their franchise quarterback.
Staley and Davis, with their sound technique, light-footedness and respective mean streaks, are perfectly suited to safeguard Kaepernick from the league's more dangerous pass-rushers. They will see the likes of J.J. Watt, Clay Matthews, Bruce Irvin, Chris Long, Brian Orakpo, John Abraham and Osi Umenyiora, to name a few.
But San Francisco's starters are steady and Snyder can step in if need be.
Position Grade: A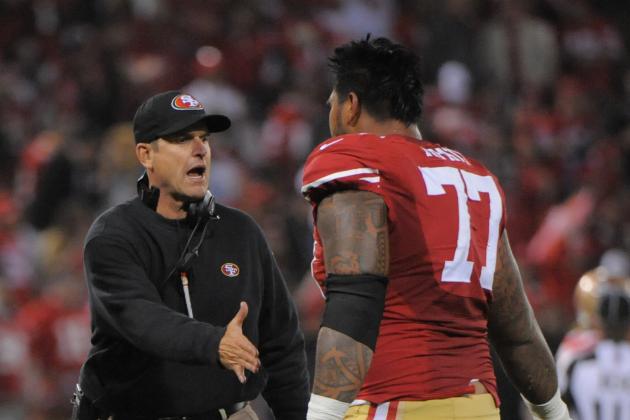 Kyle Terada-USA TODAY Sports
Mike Iupati is a near-flawless interior lineman with all the tenacity and bite the 49ers could hope for.
Player Position
Mike Iupati LG
Alex Boone RG
Joe Looney LG/RG
As the starting guards, Iupati and Boone have done a brilliant job setting the tone up front, protecting the integrity of the pocket, opening running lanes, getting to the second level and putting hats on linebackers. It was largely the continued ascension of Iupati and the lights out debut of Boone that led to this O-line being rated No. 1 by Pro Football Focus.
Wake Forest product Joe Looney has not had an opportunity to show much in his time with the team. He was brought in as an injured player and has not received any significant reps since being drafted in 2012. This preseason was the most we've seen thus far of Looney, which isn't a condemnation of his play, but at the same time, it is difficult to gauge where he is at this stage of his career.
If something were to happen to Iupati or Boone, it would likely be the versatile Adam Snyder that steps into the lineup.
Position Grade: A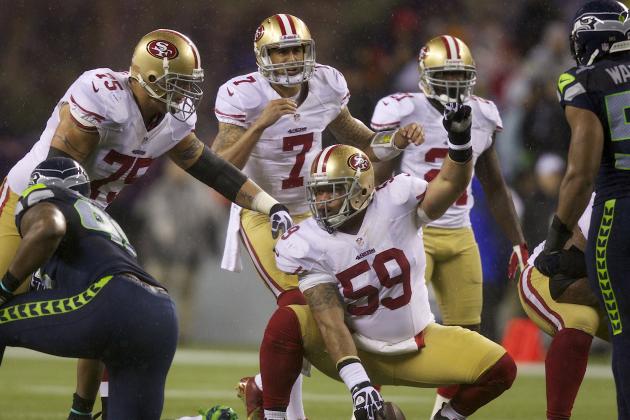 Stephen Brashear/Getty Images
Jonathan Goodwin provides stability in the middle of the 49ers O-line.
Depth Player
No. 1 Jonathan Goodwin
No. 2 Daniel Kilgore
For the record, starting center Jonathan Goodwin is still a top-10 player at his position, but the nucleus of the O-line is where the talent level begins to skew. He is no man-beast like Nick Mangold or Maurkice Pouncey, but the 12-year vet has a very good head on his shoulders and gets the support he needs from the men beside him.
Behind Goodwin, the 49ers may have a potential starter in Daniel Kilgore.
Kilgore, 25, was part of the renowned 2011 draft class that yielded players like Aldon Smith, Colin Kaepernick, Kendall Hunter and Chris Culliver. He has been the most promising talent of the team's backup offensive linemen and may forge a role for himself in the starting lineup someday.
Position Grade: B+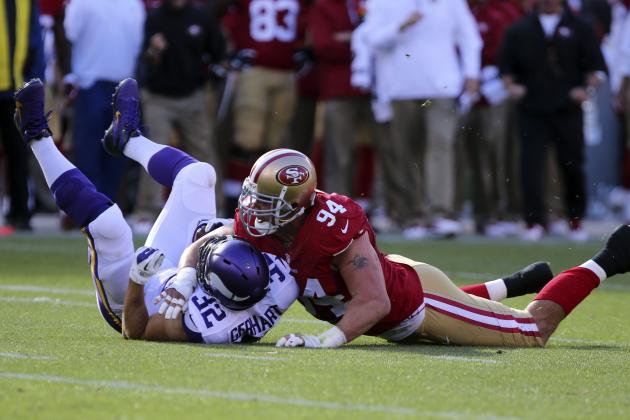 Kelley L Cox-USA TODAY Sports
Justin Smith is the 500-horsepower engine of this 49ers D-line.
Player Position
Justin Smith RDT
Ian Williams NT
Ray McDonald LDT
Glenn Dorsey DT
Will Tukuafu DT
Tony Jerod-Eddie DT
The Cowboy leads the way for this group of blue-collar, roughhousing defensive linemen.
Justin Smith and the group up front are the driving force behind this defense, enabling everything around them to operate freely. Their collective ability to both penetrate and absorb blocks has been invaluable to defensive play-caller Vic Fangio, who likes to set his dogs loose after the quarterback.
While Smith and McDonald have been constants, Ian Williams and Glenn Dorsey are looking to put their stamp on this defensive line. Williams, the second-year nose guard from Notre Dame, has been a pleasant surprise this offseason, winning the job in camp over Dorsey, who looked to be the early favorite.
At 6'1", 305 pounds, Williams will be a load in the middle of this defense. He exhibits power and dexterity, while revealing an ability to control the line of scrimmage with his gargantuan physique. This may be this best 0-technique lineman the 49ers have had under Harbaugh's watch.
Position Grade: A
Matthew Emmons-USA TODAY Sports
Aldon Smith is quickly becoming San Francisco's most prominent defensive weapon.
Player Position
Aldon Smith ROLB
Ahmad Brooks LOLB
Corey Lemonier OLB
Cam Johnson OLB
Dan Skuta OLB
There's a lot of speed and power among this group.
The prize player here is All-Pro Aldon Smith, a rush linebacker who is currently on track to surpass 100 career sacks by his sixth year. He has been on a fast track to superstardom, providing San Francisco with an element it's been without since the days of Charles Haley.
Opposite No. 99 is linebacker Ahmad Brooks. Together, they make for a very complementary tandem. While Smith gets in the backfield, creating havoc, Brooks sets the edge, redirects the play and makes stops in congested situations.
The storyline this year is that, finally, the two of them are going to get some help from the bench.
Lemonier and Johnson were brought in over the past two drafts. Like Smith, Lemonier (Auburn) and Johnson (Virginia) played 4-3 defensive end in college but have since converted to play the rush linebacker position. Their one job: go get the quarterback.
This should be a fun year to watch the outside 'backers in San Francisco.
Position Grade: A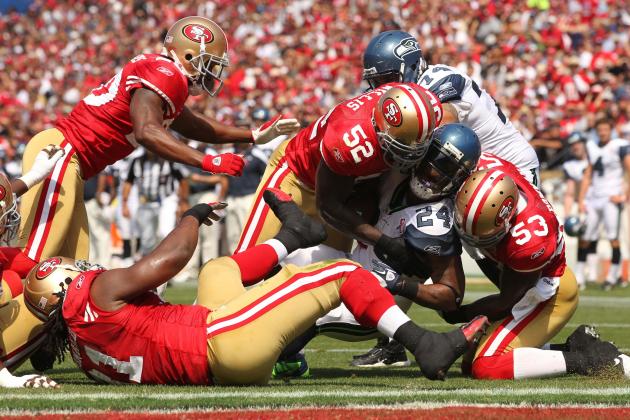 Cary Edmondson-USA TODAY Sports
It doesn't get much better than Nos. 52 and 53.
Depth Player
No. 1 Patrick Willis
No. 2 NaVorro Bowman
No. 3 Michael Wilhoite
No. 4 Nick Moody
No. 5 Nate Stupar
Patrick Willis and NaVorro Bowman are the blood and guts of the 49ers defense, running things from the inside out. They can do it all, too. Whether it's tracking speed backs from sideline to sideline, or coming up between the tackles to jam power backs like Marshawn Lynch at the line of scrimmage, these two are second to none.
Then there's Bowman, who might be the best cover linebacker in the NFL today.
Behind them, Michael Wilhoite has risen in place of the departed Larry Grant. The second-year ILB from Washburn University has really come into his own, bringing exceptional power at the point of contact.
South Florida rookie Nick Moody comes in fourth, listed as an inside linebacker, but he will be working primarily on special teams coverage.
Position Grade: A+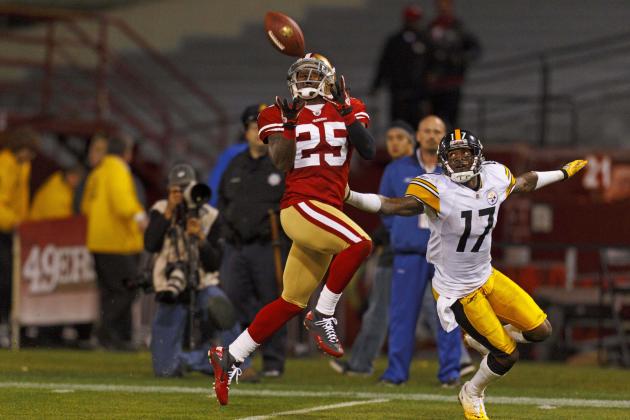 Jason O. Watson-USA TODAY Sports
It's pretty clear that Tarell Brown is the top corner for San Francisco.
Depth Player
No. 1 Carlos Rogers
No. 2 Tarell Brown
No. 3 Nnamdi Asomugha
No. 4 Perrish Cox
No. 5 Tramaine Brock
This is a unit that might be better than it looks on paper, largely because it has that standout defensive front we've been going on about. The front seven is going to relieve a lot of the strain that would otherwise be on a positional group that lost Chris Culliver for the season.
Though Rogers lists as the No. 1, Tarell Brown is the most dependable cornerback on the 49ers this season.
Brown will have a very balanced supporting cast that could play exceptionally well around him if it is utilized properly by the defensive coaching staff. While 49er fans are aware of Brock and his abilities, it is Nnamdi Asomugha and Perrish Cox who look to be the sleeper contributors in 2013.
All in all, this group is strong enough to get the job done against pass-happy teams like Green Bay and New Orleans this year.
Position Grade: B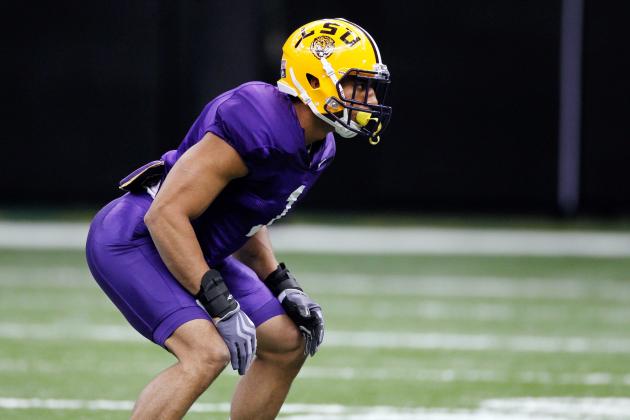 Derick E. Hingle-USA TODAY Sports
Former LSU Tigers captain Eric Reid is ready to contribute to the 49ers.
Player Position
Eric Reid FS
Donte Whitner SS
C.J. Spillman S
Craig Dahl S
Ray Ventrone S
This is a positional group with depth, but it still is one in transition.
The starters have questions about their game, even though each brings tremendous physical talent to the field. Having Reid and Whitner on the back end, the 49ers will not lack in the lumber-laying department, but there is a burgeoning fear that the deep part of the field may be susceptible to the big play.
But again, like the cornerback group, the safeties will be the benefactor of a beefed-up front seven.
At the end of the day, the rookie Reid and the veteran Whitner are first-round talents, and it will be interesting to see how they play in their first year together in this defense.
Position Grade: B-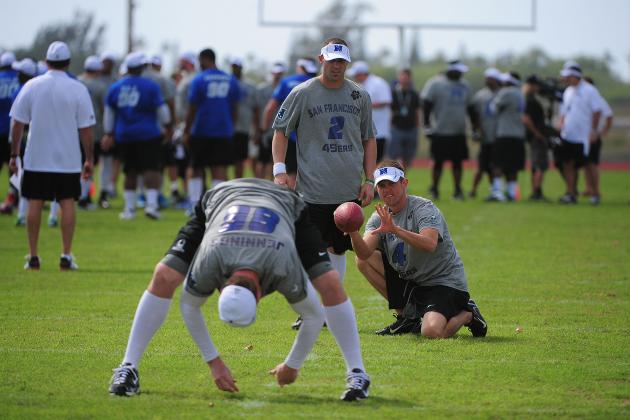 Kyle Terada-USA TODAY Sports
SF has an immaculate special teams unit.
Player Position
Andy Lee P
Phil Dawson K
Kevin McDermott LS
Punter Andy Lee and place kicker Phil Dawson are both coming off All-Pro seasons in 2012, which provides the 49ers with a pretty substantial advantage that a lot analysts overlook when looking at the scope of the roster.
But these units are important—a special teams miscue or big play can change the outcome of a game.
Lee has been incredible at swinging the field-position battle in San Francisco's favor. He often pins opposing offenses deep, serving them on a silver platter to the Niners' top-notch defense. His accuracy, power and consistency are unrivaled.
He will look to continue his terrific career in the Bay Area, silently contributing to this team's ability to win games week in and week out.
All the while, Dawson has had the placekicking job under lock and key, with plagued kicker David Akers now in Detroit.
Position Grade: A