Atlanta Falcons 2013 Schedule: Win-Loss Predictions for Every Game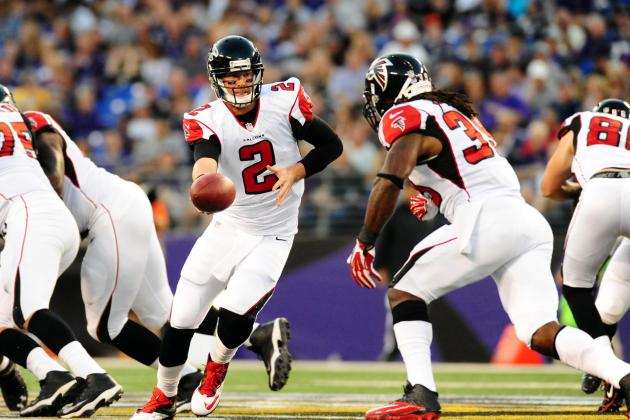 Evan Habeeb-USA TODAY Sports

September 8th is less than three weeks away, and while preseason football is a blast (say it with me slowly: "sarrrcasm"), there is no better time to start looking ahead to the start of the 2013 Atlanta Falcons regular season.
This year's Falcons slate features the traditional matchups against the NFC South, cross-divisional games versus the NFC West, non-conference bouts against the AFC East and contests against last year's division champions from the NFC East and NFC North.
Here is the complete 2013 Atlanta Falcons regular season schedule:
WEEK OPPONENT
1 AT NEW ORLEANS SAINTS
2 ST. LOUIS RAMS
3 AT MIAMI DOLPHINS
4 NEW ENGLAND PATRIOTS
5 NEW YORK JETS
6 BYE WEEK
7 TAMPA BAY BUCCANEERS
8 AT ARIZONA CARDINALS
9 AT CAROLINA PANTHERS
10 SEATTLE SEAHAWKS
11 AT TAMPA BAY BUCCANEERS
12 NEW ORLEANS SAINTS
13 AT BUFFALO BILLS
14 AT GREEN BAY PACKERS
15 WASHINGTON REDSKINS
16 AT SAN FRANCISCO 49ERS
17 CAROLINA PANTHERS
Now that you know the schedule, let's take a shot at projecting how the Falcons will fare each week based on what we've seen from the 2013 Atlanta Falcons thus far in the preseason.
Begin Slideshow

»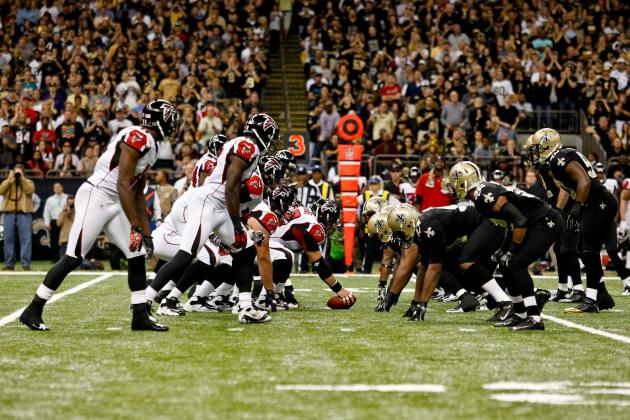 Derick E. Hingle-USA TODAY Sports

The Falcons begin the season with a trip to New Orleans, where they've won just once since Sean Payton and Drew Brees arrived in 2006.
However, in this scenario the Falcons rebound from last year's 31-27 loss at the Superdome by taking advantage of the Saints inexperience in defensive coordinator Rob Ryan's new 3-4 defense.
With Atlanta's offense doing the heavy-lifting, the Falcons defense makes just enough plays against Drew Brees to preserve a seven point Atlanta victory.
PREDICTION: Falcons 31, Saints 24 (1-0)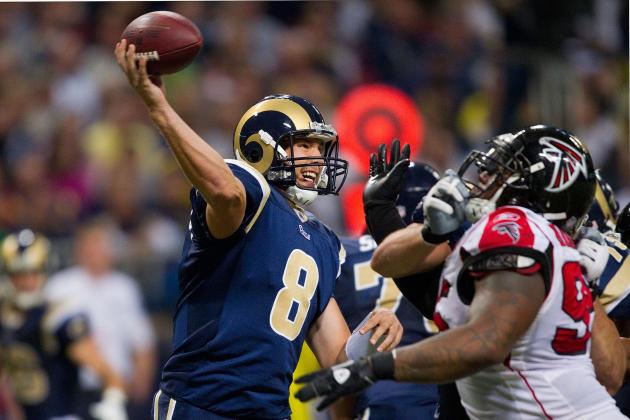 Dilip Vishwanat/Getty Images

Steven Jackson makes his regular season home debut in Week 2 as the Falcons welcome Jackson's former team into the Georgia Dome. Interestingly enough, the Falcons also opened their 2004 home slate with the Rams in Jackson's rookie season.
The Rams have a ton of young talent, and they're in position to make some noise in the NFC West this year after being very competitive in that division in 2012.
Even still, the Falcons prove to be too much for the young Rams this early in the season. The teacher beats the pupil as Falcons general manager Thomas Dimitroff's squad tops Rams general manager Les Snead's talented bunch.
PREDICTION: Falcons 28, Rams 17 (2-0)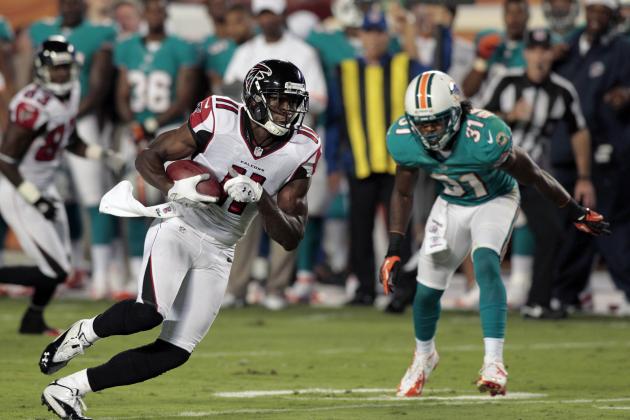 Robert Mayer-USA TODAY Sports

The Falcons head down to South Florida for the Miami Dolphins' home opener in Week 3. The Dolphins figure to feature a couple of ex-Falcons in prominent roles, as Tyson Clabo and Brent Grimes now call Miami home.
The Dolphins create a couple of early turnovers by generating pressure up front with Cameron Wake and company before holding on late for an upset win over the Falcons.
The next week, Atlanta sports talk radio is flooded with callers complaining about the fact that the Falcons let Clabo and Grimes go.
PREDICTION: Dolphins 26, Falcons 21 (2-1)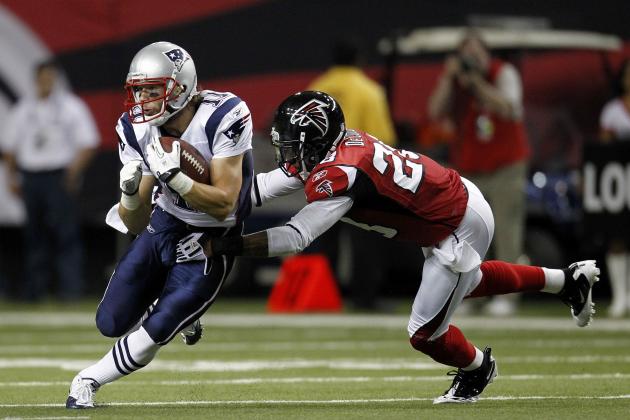 Mike Zarrilli/Getty Images

The Falcons look to bounce back from their first loss of the season under the national television lights against Tom Brady and the Patriots. Despite some notable absences on offense, Brady rallies his young receiving corps against Atlanta's young corners and out-duels Matt Ryan in an impressive offensive showcase.
The Falcons 2-0 start is erased as the team experiences a rare losing streak under Mike Smith.
PREDICTION: Patriots 30, Falcons 27 (2-2)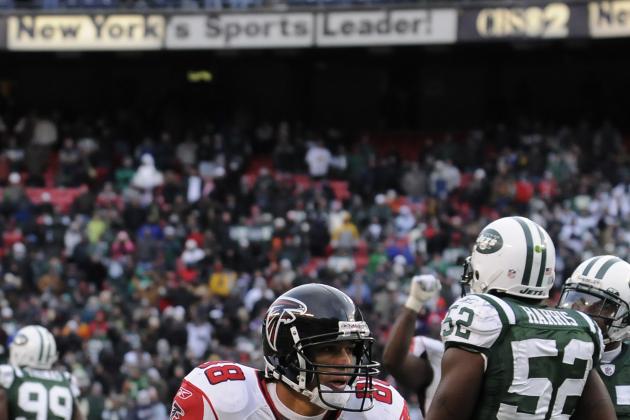 Jim Luzzi/Getty Images

Another week, another national television game for the Falcons (is that enough exposure for you Atlanta fans?).
The Falcons borrow a slogan from team owner Arthur Blank's old business venture and take care of business on Monday Night Football against a Jets squad still struggling to find its identity due to uncertainty at quarterback. The Falcons head into the Bye Week at 3-2.
PREDICTION: Falcons 37, Jets 13 (3-2)
Scott Cunningham/Getty Images

Fresh off of their Bye Week, the Falcons welcome a suddenly dangerous Buccaneers team that seems like it was built to beat Atlanta into the Georgia Dome for an NFC South tilt.
It's far from pretty, but the Falcons make the plays they have to make to win a slobber-knocker over Greg Schiano's physical Buccaneers to move to 2-0 in the division.
It's still relatively early in the season, but you could put an asterisk beside this game on the schedule because it represents something of an examination of the 2013 Falcons.
A true contender should not lose at home to a divisional opponent coming off of a Bye week.
PREDICTION: Falcons 24, Buccaneers 20 (4-2)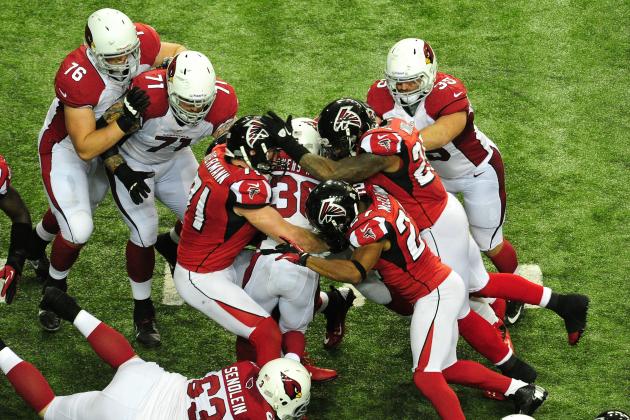 Scott Cunningham/Getty Images

The Falcons head out west in Week 8 to face a new-look Arizona squad. The Cardinals took the Falcons out of character in last season's sloppy Atlanta victory, so you can be sure that Mike Smith will have his team focused when they head out to the desert.
The Cardinals make a few plays to keep things interesting, but the Falcons prevail because they are the better team.
PREDICTION: Falcons 34, Cardinals 24 (5-2)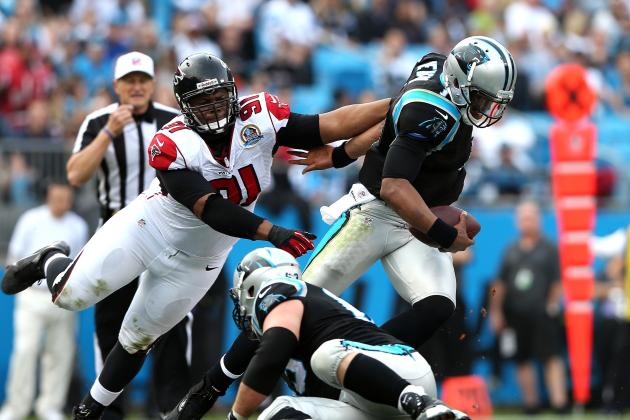 Streeter Lecka/Getty Images

The Falcons make a much-anticipated trip to Charlotte to take on one of their most famous fans: Panthers quarterback Cam Newton. The Falcons play much better than they did in last year's visit to Carolina, but Atlanta's defensive problems with mobile quarterbacks come back to haunt them again as Cam Newton leads the Panthers to a tight victory.
PREDICTION: Panthers 27, Falcons 24 (5-3)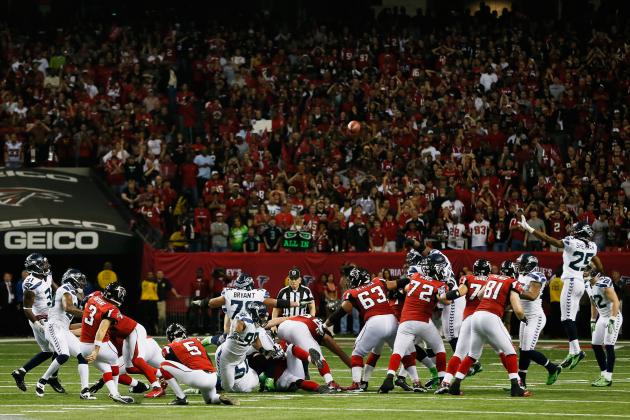 Kevin C. Cox/Getty Images

It's a playoff rematch as Russell Wilson, Richard Sherman and Marshawn Lynch bring the Seahawks back to Atlanta. Expect plenty of fireworks again, but the Falcons are able to avoid any late drama this time thanks to some timely running by Steven Jackson and an opportunistic defense that bounces back after a rough outing against Carolina in Week 9.
PREDICTION: Falcons 41, Seahawks 31 (6-3)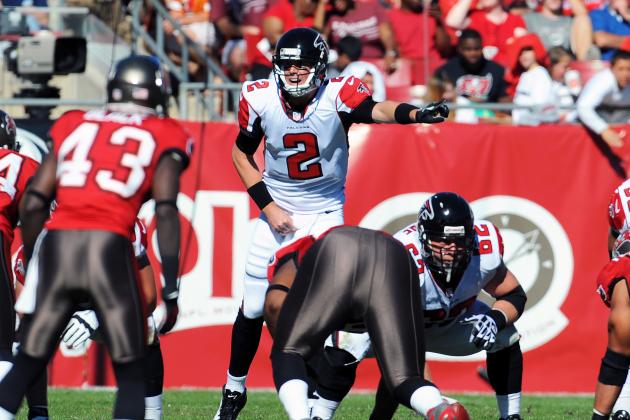 Al Messerschmidt/Getty Images

After nearly beating the Falcons in Atlanta earlier in the season, Tampa Bay dominates this matchup from start to finish after Atlanta comes out flat following its Week 10 win over the Seahawks. This loss keeps Atlanta from creating some separation in the division as the Falcons fall to 2-2 in NFC South play.
PREDICTION: Buccaneers 28, Falcons 17 (6-4)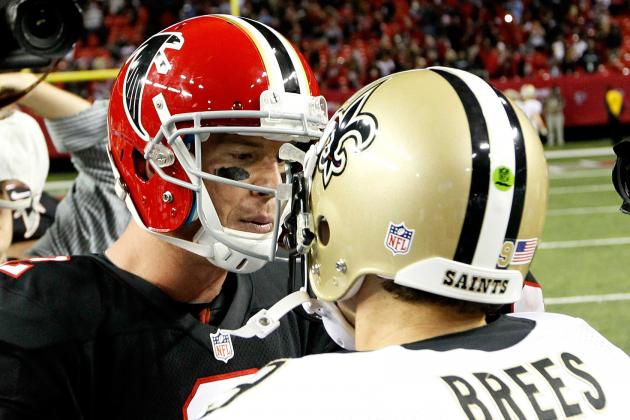 Kevin C. Cox/Getty Images

The Falcons don't have much time to fret over their loss in Tampa with the rival Saints coming to town for another Thursday night battle. Much like last season, the Falcons ride the wave of emotion in the Georgia Dome to a win over the hated Saints and sweep New Orleans for the first time since 2005.
PREDICTION: Falcons 26, Saints 17 (7-4)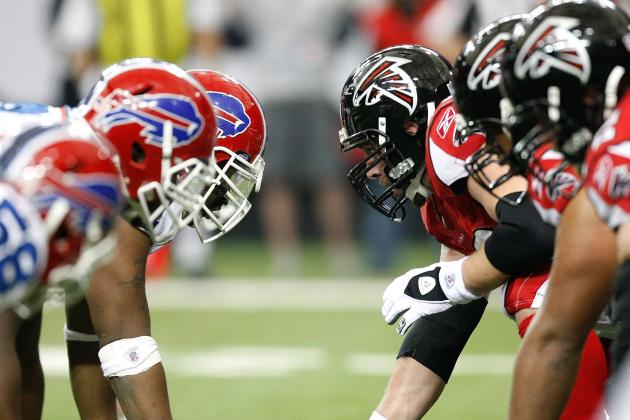 Kevin C. Cox/Getty Images

Atlanta starts a two game road trip against Sean Payton disciple Doug Marrone and his Buffalo Bills squad. The Atlanta defense plays its best game of the season, and the offense keeps things simple as the Falcons take down a transitioning Bills team.
PREDICTION: Falcons 24, Bills 10 (8-4)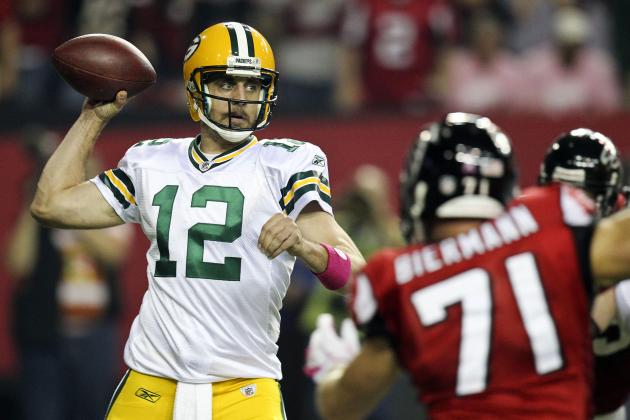 Daniel Shirey-USA TODAY Sports

Atlanta quiets some critics with its most impressive win of the season to date. Matt Ryan leads the offense on a decisive drive late, and Atlanta's young corners come of age in the spotlight against Aaron Rodgers.
Most importantly, Atlanta's offensive line holds up on the road in a playoff-like environment.
PREDICTION: Falcons 31, Packers 28 (9-4)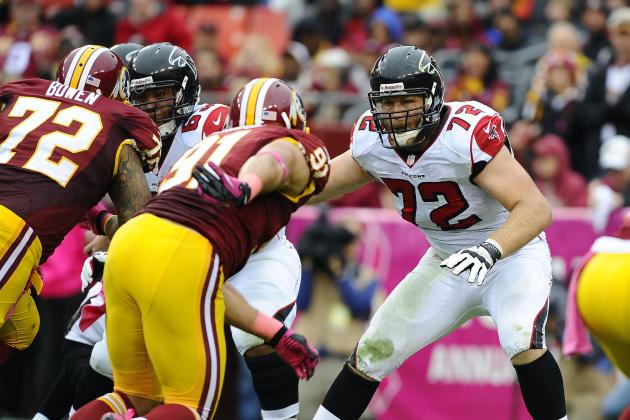 Brad Mills-USA TODAY Sports

The Falcons overcome an early deficit to beat Washington after Matt Ryan finds his rhythm versus the Redskins' thin secondary.
Like Cam Newton and Russell Wilson before him, Robert Griffin III gives the Falcons defense fits at times, but Osi Umenyiora and company step up in the red zone.
PREDICTION: Falcons 27, Redskins 17 (10-4)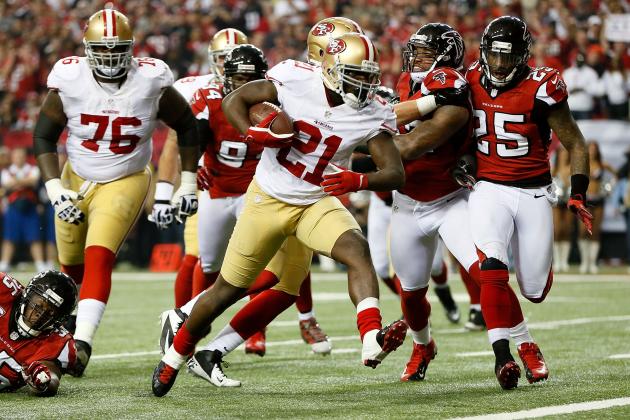 Kevin C. Cox/Getty Images

This game doesn't disappoint the national television audience as both teams play as though it's win or go home. The contest appears to be headed for overtime before the 49ers get a huge kick return that sets up the game-winning field goal as time winds out. The 49ers get one last regular season win at Candlestick Park.
Perhaps foreshadowing things to come in the playoffs, the Atlanta defense seems like it's finally figured out how to play the read-option and cover the tight end as Vernon Davis has a quiet night.
PREDICTION: 49ers 20, Falcons 17 (10-5)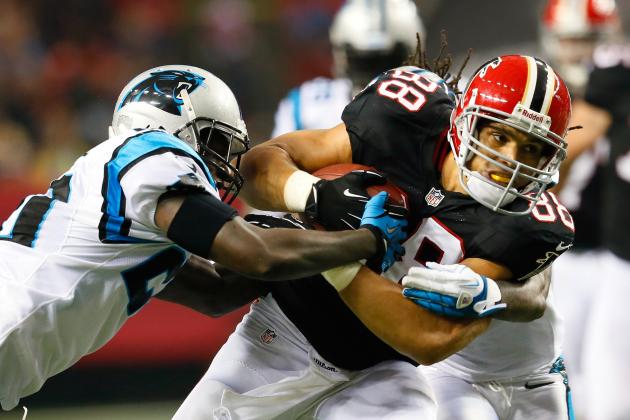 Kevin C. Cox/Getty Images

The Falcons have something to play for in Week 17 and so do the Panthers. The Falcons put together their most complete effort of the season behind a raucous home crowd and end their two-game losing streak to Carolina. Cam Newton and the Panthers prove that they aren't ready for prime time just yet.
PREDICTION: Falcons 34, Panthers 14 (11-5)